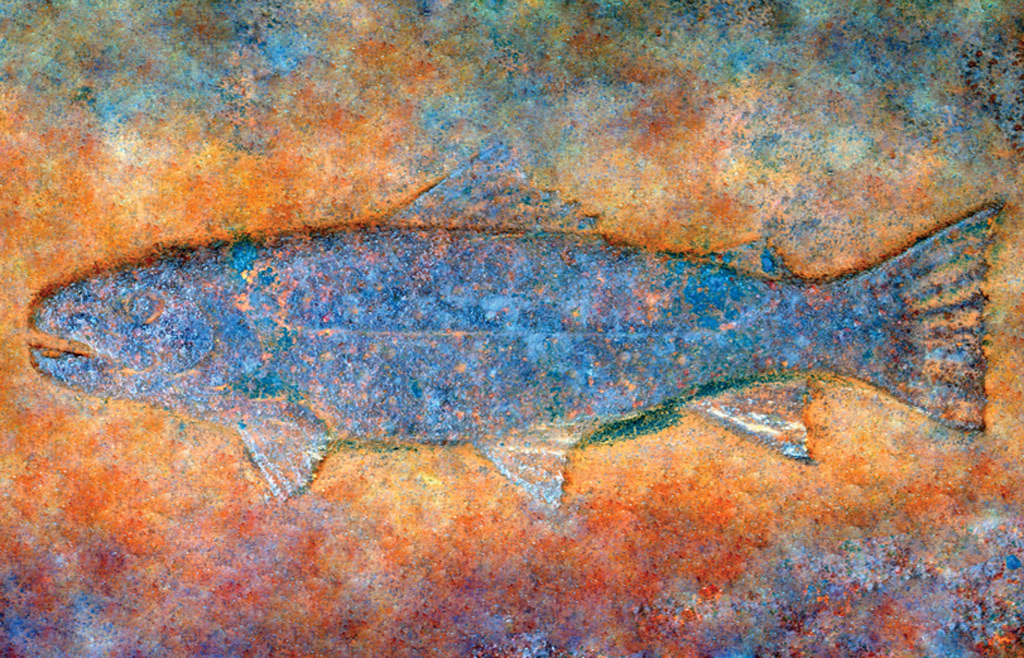 The Fairfield First Fridays event in November is a particularly special one. The weather has chilled (and a blanket of snow is on the ground!), bringing the focus of downtown activities indoors again—and back onto an astoundingly vibrant local arts scene.
This Friday, November 1, downtown visitors can obtain a "Passport" to take part in this month's Gallery Hop theme, collecting stamps at participating galleries to enter a drawing at the end of the night. Gallery hoppers can bring their Passports to ICON Gallery (58 N. Main St.) by 9:30 p.m. for a raffle of original artworks donated by area artists—as well as other prizes. Winners need not be present to claim their reward.
Here's just a snippet of what you'll find along the Fairfield First Fridays route this month, (roughly) between the hours of 6–9:30 p.m.!
 Golden Hour Trout by Carla & Duncan Brown
ICON Gallery, located on the west side of the square, presents Golden Hour Trout, showcasing photography by Carla and Duncan Brown. The exhibit reveals the rich variety of colors and textures in cast iron when photographed during the "golden hour." The artworks are macro photographs of cast-iron street gratings that have been cast with a bas-relief sculpture of a trout fish.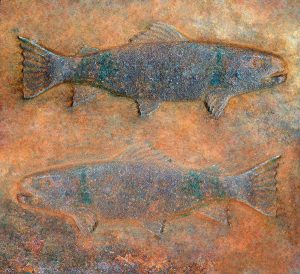 Cast iron in the open air differentially oxidizes, creating tens of thousands of mirror-like surfaces that catch incoming light at different angles and depths. The Browns' resulting images bring the viewer in close proximity to the delicacy of early-morning and late-afternoon golden-hour light during various weather conditions and seasons. Created using archival pigments, the Browns' work has the same ability as the original cast iron to reflect and mirror light at different times of day.
Duncan Brown (M.A., MIU) and Carla Brown (Ed.D, Harvard and B.A. in Fine Art, Antioch) discovered the gratings in 2018 near their home in Chicago. Duncan has now taken thousands of photos of gratings found in the upper Midwest, and Carla has been essential in the proper editing of the images.
Flowers by Irene Murphy
An exhibit of monochrome flower paintings by Fairfield artist Irene Murphy will also open on November 1st at ICON Gallery, with a reception and walk-through scheduled for Thursday, November 6, 7:30–9:30 p.m.
"I have worked with Irene for many years," says ICON Gallery Director Bill Teeple, who is eager to share this series with Fairfield audiences. "She focused on flowers as her subject early on and has stuck with it. I was really pleased when she developed this particular look." The 25 oil paintings, created in a style Irene explored in 2017–2018, are painted in a range of blacks, grays, and whites.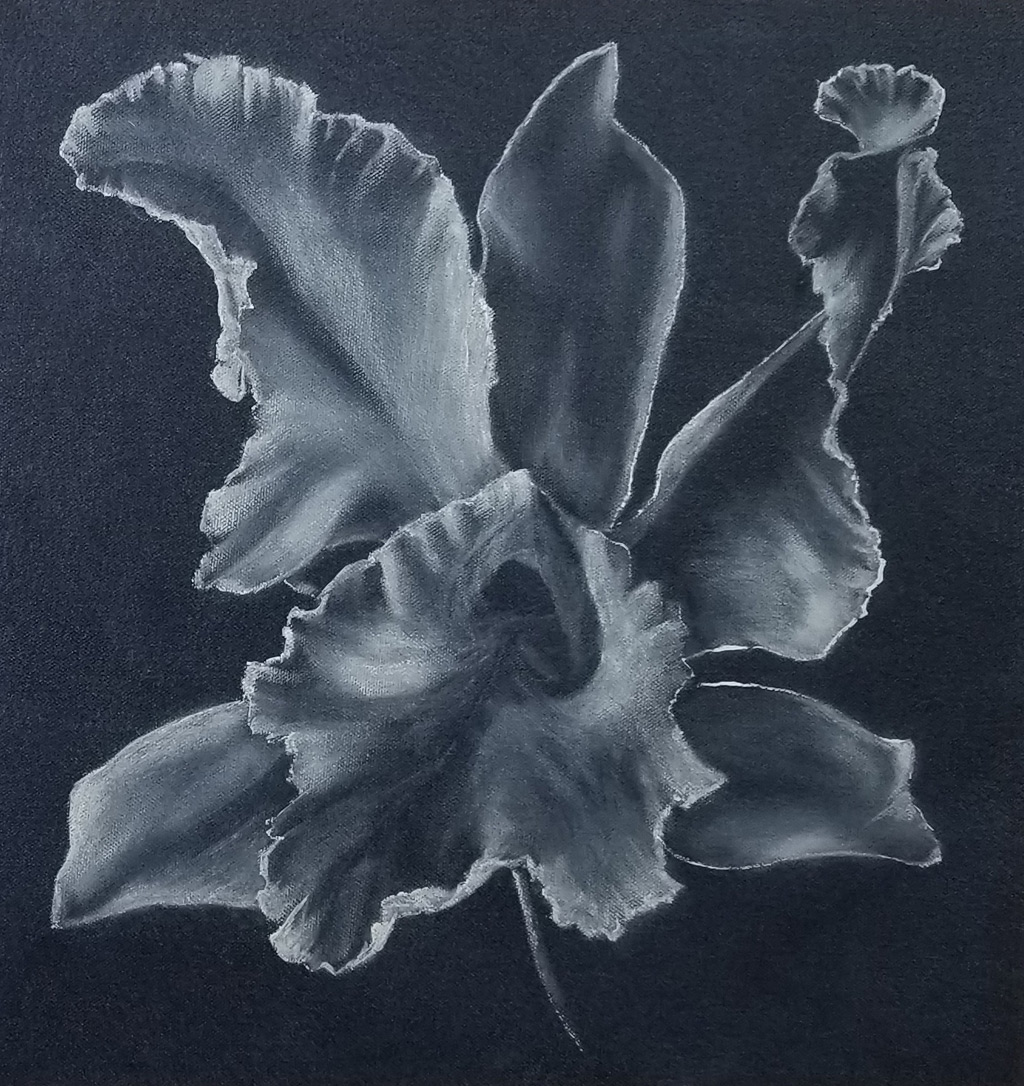 At Home Store Hosts a Fiber Arts Show … & Finn Sheep!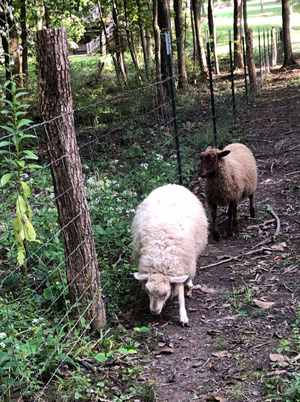 For the third consecutive year, the At Home Store invites you to "Meet Your Sheep" early in the evening during the Fairfield First Fridays event. Gemma and Rosie, two adorable Finn sheep from Prairie Farms Woolery in Danville, will be visiting the store garden from 5–7 p.m., bringing with them a selection of freshly spun wool yarn for sale.
At Home will also be exhibiting a wonderful, cozy collection of locally knitted garments. See yummy, colorful works created by talented local fiber artists—and a few other surprises—on display in the back of the store near the yarn, toys, and bath products.
You can also expect to find a freshly made recipe to sample in the store kitchen a little later in the evening, after the sheep have gone home to bed. The At Home Store is located at 52 N. Main Street. (641) 472-1606.
The Portrait Show at Henderson's Gallery
The Portrait Show, a group exhibit, is on display at Henderson's Gallery on the north side of the square through November 23, featuring Southeast Iowa artists Carlene Atwater, Cindy Ballou, Elaine Duncan, Carol Gunn, Jessica Kirby, Kella J, Irene Murphy, Tim Murphy, John Preston, Barry Ross, Cris Soth, and Bonita Versh.
Organizer Cindy Ballou is excited to spotlight the talents of area artists and their unique painting styles—which include portraits of dogs and foxes.
Lost Worlds, Forgotten Words by Ananda Kesler at ArtFiftyTwo
Stop by ArtFiftyTwo at 52 E. Briggs (across from the Courthouse entrance) for a gallery reception and walk-through of abstract paintings by talented Fairfield artist Ananda Kesler.
"My paintings are inspired by memories, dreams, subtle feelings difficult to describe with words, my interior landscapes and inner worlds," describes Kesler. Her explorations on canvas seek to give color to the ineffable, to describe that which is formless, and to dive into the  uncharted on a quest toward the numinous and sublime.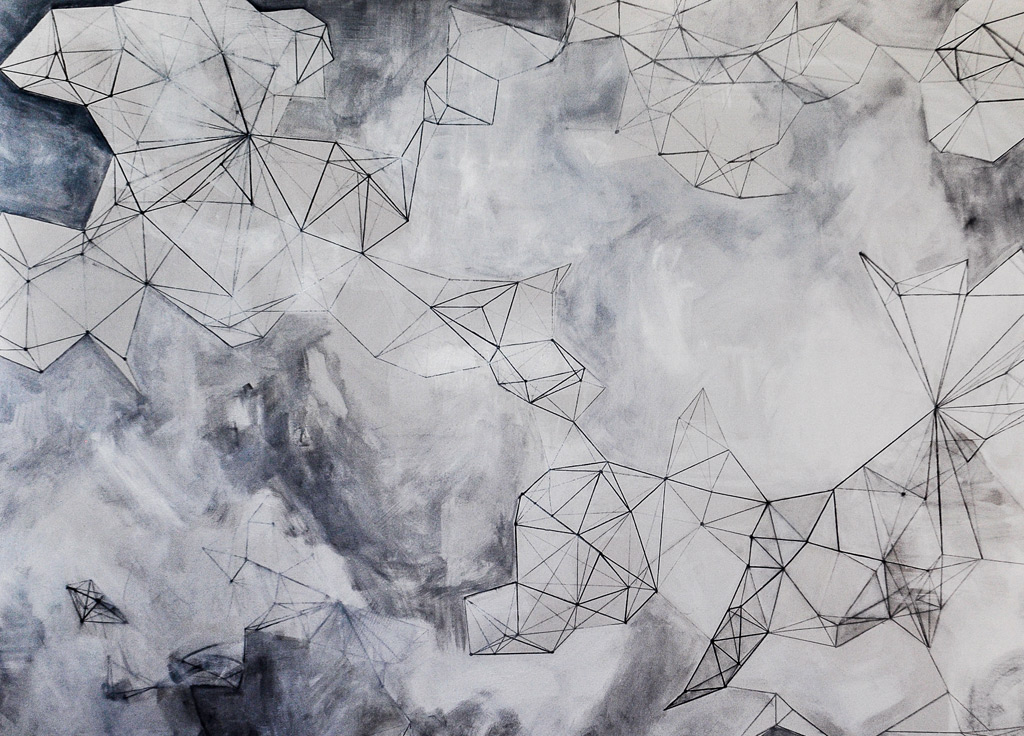 ***
To experience the full breadth of art activities, community, and conversation that make Fairfield First Fridays a favorite monthly tradition for Southeast Iowans, also stop by Crest Jewel, SOMM Wines, Stuff A Bear and More, Kim's Kottage by Missy, the Carnegie Historical Museum, the Fairfield Art Association (at the FACC), Americus Diamond, and more. Find information about participating shops at FairfieldFirstFridays.org.
Passports for the Gallery Hop raffle can be obtained throughout the evening at Fairfield Art Association, Crest Jewel, Cindy's Art Supplies/Henderson's, ICON Gallery, ArtFiftyTwo, and the Carnegie Museum.