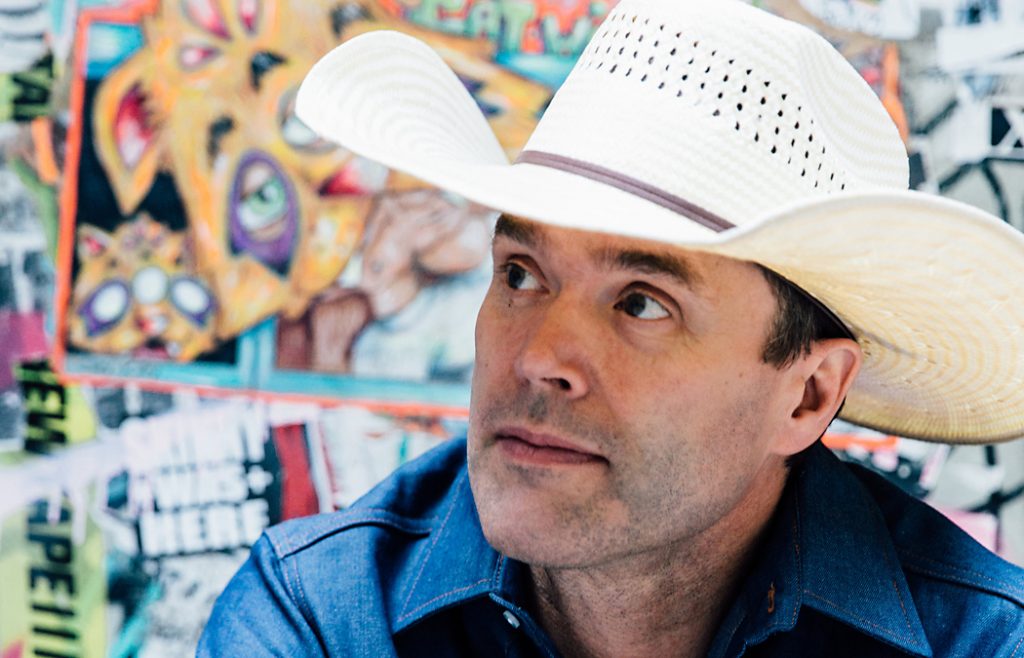 Corb Lund is a country and western singer-songwriter with an emphasis on the "western" part of the moniker. He grew up on a ranch in Alberta, Canada, and spent much of his youth on horseback. But for the past 15 years, he's been too busy touring and recording with his band the Hurtin' Albertans to herd cows.
"I'm not even home long enough to have a cat," Lund said over the phone. He's not kidding. Lund's latest tour will have him and the band (Kurt Ciesla, bass; Grant "Demon" Siemens, guitar and other strings; and Brady Valgardson, drums) play 23 dates between November 2 and 27 that will take him from Red Deer, Canada, through South Dakota, Minnesota, Nebraska, Wisconsin, Illinois, Missouri, Oklahoma, Texas, and Iowa.
Lund has released nine studio albums, three of which went gold in Canada, and he has received a number of awards and nominations, including five Junos (the Canadian version of the Grammys) and more than two dozen Canadian Country Music Association awards, in addition to being celebrated by country music organizations in the U.S., France, and Australia.
He compared being on the road to the cowboy life, one of roaming and never settling down. Making music has enabled him to travel the world.
But he doesn't know where his formal name "Corby" comes from. Lund thinks it may be British and that his parents found it in a book. "I've never asked them," he said. "I used to hate it as a kid. I like it now for the same reason. It's distinctive and different." The same could be said of his music, especially his latest release, an eight-song EP on the New West label, called Cover Your Tracks. As the title suggests, this disc consists of Lund's renditions of other people's songs.
The cuts are not what one would expect. They vary in style and include covers by such different artists as AC/DC, Nancy Sinatra, Billy Joel, Marty Robbins, Bob Dylan, the Eagles, Willie Nelson and Ray Charles, and Dr. Hook & the Medicine Show.
"I released a slew of albums of mostly my own material over the years," he said, "but we always do a couple of covers at our live shows. We put our own spin on the material and get a big reaction from the crowds when they recognize what we are doing. I know some people think cover records are lame, so we kept this one short and used songs that audiences have responded to. I have an album of new material coming out in March. Cover Your Tracks works as kind of a holding pattern in the meantime."
Lund will perform at two very different venues in Iowa, the country bar and grill Wildwood Smokehouse in Iowa City on November 10, and the eclectic rock club Gas Lamp in Des Moines on November 16. "That pretty much sums up the dichotomy of my career from being a rural rancher to an urban rowdy," he said, adding that he and the band perform a different set every night and feel free to improvise based on the crowd. Lund stressed that in all likelihood the two shows will be poles apart in content.
This makes sense considering the assortment of tunes on the new EP. There's not much in common between songs such as Nancy Sinatra's kinky "These Boots are Made For Walkin' " and Bob Dylan's gospel-influenced "I Shall Be Released," or Billy Joel's new wave-ish "It's Still Rock and Roll to Me" and Marty Robbins's gunfighter ballad "They're Hanging Me Tonight."
Two of the most interesting songs on Cover Your Tracks employ guest stars. Texan Hayes Carll joins Lund on a blissful version of Shel Silverstein's (via Dr. Hook & the Medicine Show) "The Cover of the Rolling Stone," in which the two singers amicably trade verses about being successful but frustrated rock stars. Lund said they've often sung it on the road together, adding, "I've always loved it because it has a kind of sweetness to it."
The two old buddies have recorded together before, on Carll's 2011 soused "Bottle in My Hand" and Lund's 2012 tall tale "Bible on My Dash." The two musicians share a kind of shaggy-dog innocence that makes their tales of wanton depravity seem almost wholesome.
The legendary Canadian folk singer Ian Tyson (best known as part of the duo Ian & Sylvia) joins Lund on AC/DC's tale of evil ways, "Ride On." Tyson still records cowboy-style music but mostly works on his ranch. "I've known Ian for a long time and consider him a good friend," Lund said. "That the song is not in his usual style makes it even better. His low voice adds a gravitas to the lyrics about a man who's had a rough life."
While Carll and Tyson won't be with Lund and the Hurtin' Albertans on tour, Lund said they will probably still try to work in these songs if it feels right. Or the band may do other covers that they have not recorded. "We have dozens and dozens of songs to choose from," Lund said. In the meantime, he can't wait to get on the road again, much like Willie Nelson, for whom he has nothing but high praise as one of country music's best.