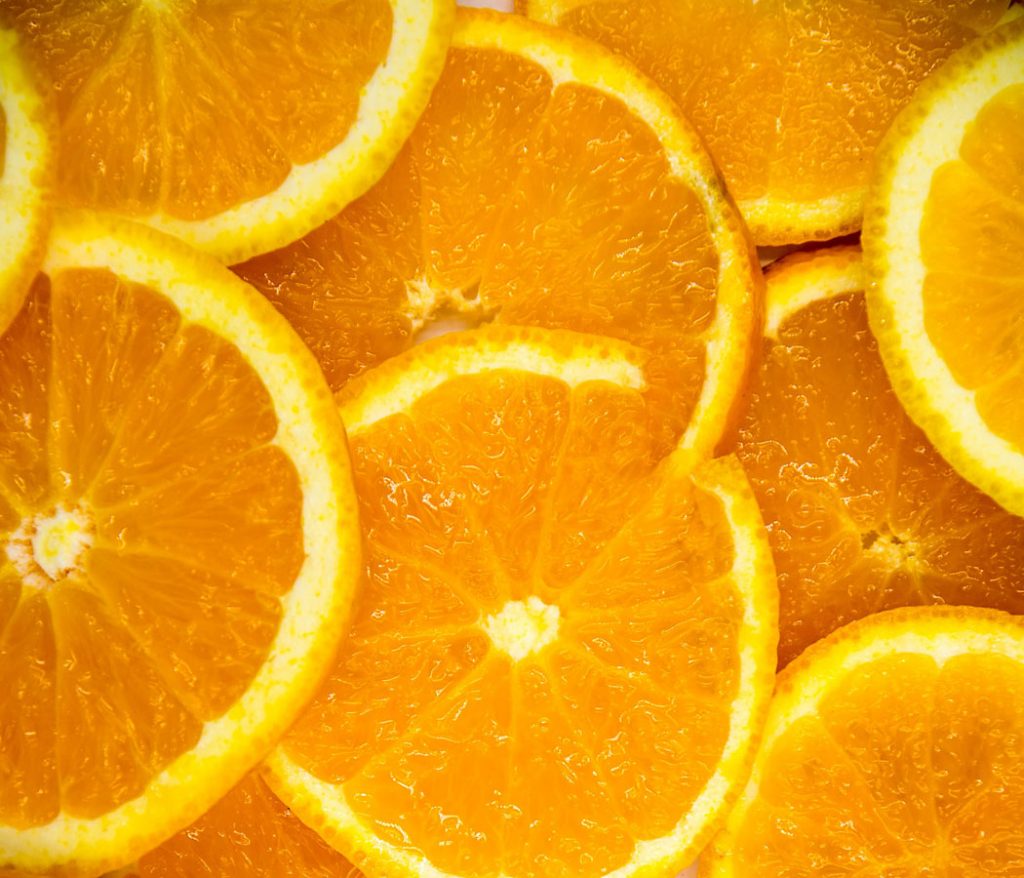 Oranges are one of winter's wonders and simple pleasures, and I am so thankful for the modern convenience of finding bright, beautiful navel oranges on grocery store shelves during the cold, gray winter.
Yes, oranges are the star of the bleak midwinter months. Stock up on citrus and you'll be sure to get your vitamin C intake to a healthy level and hopefully steer clear of any sickness!
Make sure to have a bowl of oranges displayed on your kitchen island for added winter cheer. Wearing and seeing the color orange is proven to radiate warmth and happiness, which are two key factors to surviving the winter months in good spirits. So lift your orange-infused mug of Glühwein and "prost" your friends and family by the fire this winter.
Austrian Glühwein
Once upon a time, in a land far, far away, I lived in the magical world of Christmas markets. As a citizen of Vienna for some years, I had the chance to frequent every Christmas market in the city. Not a cold winter evening passed by that I did not meet a group of friends at one. Huddled in cozy circles under the holiday lighting, we gripped quintessential "Christkindlmarkt" mugs and sipped on the elixir of surviving winter life abroad: Glühwein.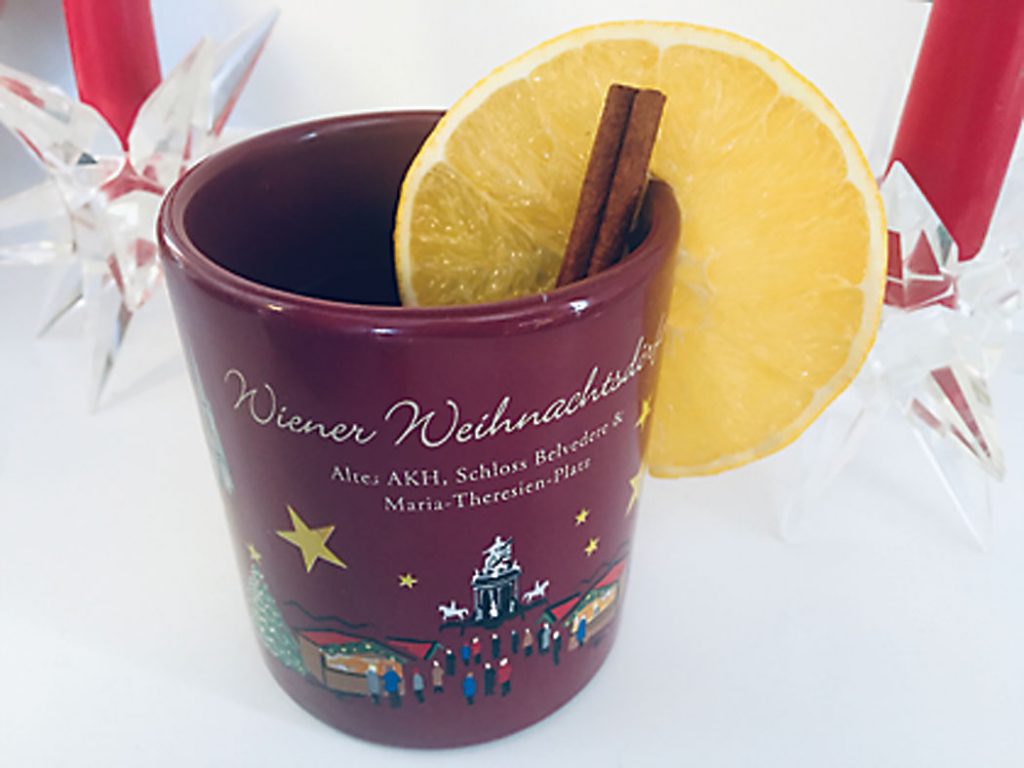 My friends, if you haven't tried Glühwein, please make sure to mark this year as a first. A simple yet delightful beverage sure to please the masses, Glühwein makes the perfect winter party punch. This recipe is easily doubled, tripled, quadrupled, or beyond to accommodate any size party.
1 (750 ml) bottle of dry red wine
2 oranges: 1 juiced and 1 sliced into rounds (peeled for a less bitter drink)
8 whole cloves
2 cinnamon sticks
3 star anise
1–8 Tbsp. sugar, honey, maple syrup, or other sweetener to taste
Optional: ¼–½ cup brandy (or your favorite liqueur)
Combine all ingredients in a slow cooker. Cook on low heat until hot, about 1 hour. Turn down the slow cooker to the "warm" setting. Serve in mugs with orange slices, cinnamon sticks, or star anise as garnishes.
If you are looking for a speedier version, combine all ingredients in a saucepan and bring to a simmer over medium-high heat. Be sure not to boil it! Reduce heat to medium low and let the wine simmer for 15 minutes or longer.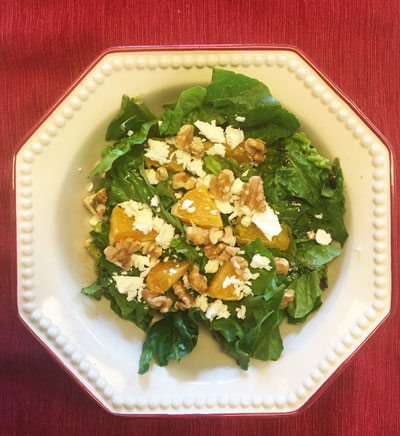 Winter Wonder Salad
Having family in Florida affords me the opportunity to experience true Southern hospitality and culinary delights. The following Winter Wonder Salad was first served to me by my sister-in-law's mother, who is a true Southern belle. She introduced me to the bliss of balsamic dressing paired with citrus fruits, and since that moment, I have never looked back. Originally, this recipe was created with grapefruit segments, but I took the recipe and ran with it—to the orange section, naturally, to showcase my favorite fruit!
2 romaine lettuce hearts (or your favorite leafy green mixture)
2–3 oranges, peeled and cut into bite-sized segments
5 oz. feta cheese
3 oz. walnuts, toasted and chopped
Vinaigrette Dressing
3–5 Tbsp. balsamic vinegar
3–5 Tbsp. olive oil
Preheat oven to 350 degrees. Place chopped walnuts on baking pan and toast for 7–10 minutes. Chop or tear lettuce into bite-sized pieces, and place in your favorite serving bowl. Peel oranges, cut into bite-sized segments, and place on top of lettuce, reserving a few for garnish. Place toasted walnuts on top, also saving a few for garnish. Sprinkle feta on top, and reserve a couple pieces for garnishing.
To make the dressing, measure equal parts balsamic vinegar and olive oil into a small jar, and shake it up really well. Pour the desired amount of dressing on salad and toss gently. Top with the garnishes and enjoy!
Cran-Orange Sauce
Lastly, a favorite holiday tradition I started a few years back is making homemade cran-orange sauce. Friends, this delicious treat is glorious coupled with almost anything. I encourage you to try it with your favorite dishes this winter, or even alone with your new favorite mulled wine. Seriously, anything goes, but an unlikely treat I've come to enjoy is crackers and cheese with a dollop of cran-orange sauce on top. You will not regret it.
¾ cup fresh squeezed orange juice
½ cup water
½ cup sweetener (maple syrup or sugar)
1 bag fresh or frozen cranberries
Zest of 1 orange
Pinch of salt
Bring orange juice, water, and sweetener to a boil in a medium saucepan. Add cranberries, orange zest (making sure to not use the bitter white pith), and salt, and bring back to boiling. Reduce heat and gently boil for 10 minutes or until most of the cranberries have burst apart. Let cool, and then transfer to a serving bowl. Cover and chill until serving time. Garnish with orange zest if so desired.