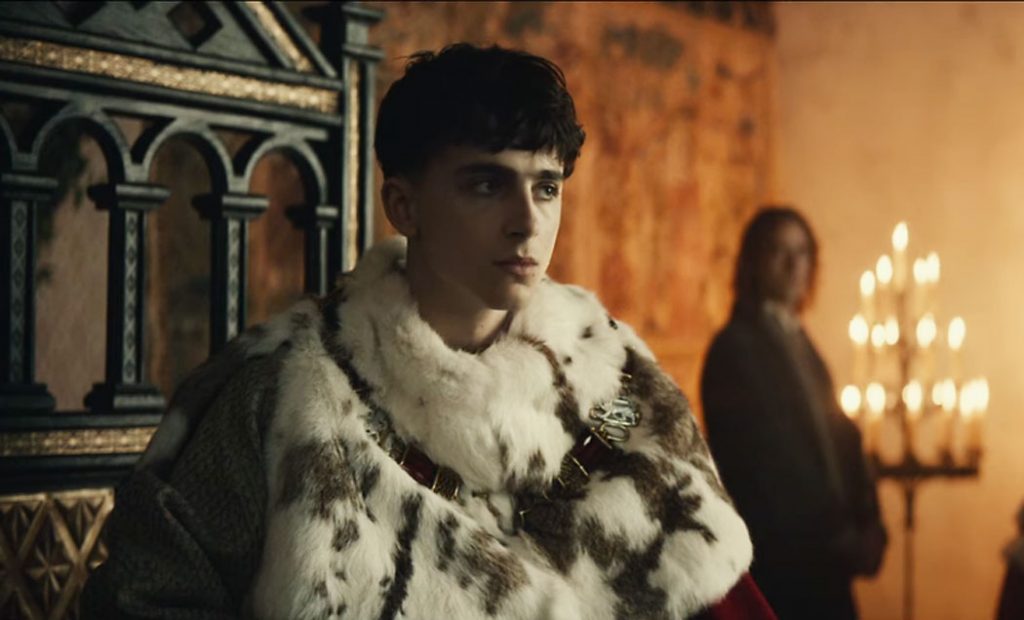 Note: This film is currently streaming on Netflix but may have a limited theater release in order to qualify for the upcoming awards season.
The excellent drama The King is based on the plot and characters of Shakespeare's Henry V (and on history, obviously), but writers Joel Edgerton and David Michôd have created their own dialogue and unique take on the unlikely ascension of young, carefree Prince "Hal" to the throne of England.
In addition to a gripping and nuanced screenplay and powerful cinematography, the film features an outstanding cast of top-notch actors: Timothée Chalamet as the rebellious prince, Joel Edgerton as his older best friend Falstaff, Ben Mendelsohn as his father Henry IV, and Robert Pattinson as the Dauphin, heir to France's throne. The film probes the dark dynamics of political power and popularity and the horrific cost of war as a means to those ends.
Henry IV's dysfunctional reign has been one of endless costly wars and chaos, with a callous disregard for the welfare of his people and of his nobles, who are beginning to defect. The king is old and ill but is bitterly disappointed in Hal, his eldest son and heir apparent, who has chosen to spend his days carousing with his pal Lord Falstaff. Hal has no interest in the throne, unlike his naive younger brother Thomas (Dean-Charles Chapman).
When events cause Hal to inherit the throne after all, he's at first bewildered, then determined to heal the nation and avoid the mistakes made by his father. He calls on Lord Falstaff, a veteran of many wars, to join him at court as his military advisor, while enlisting Lord William (Sean Harris) to advise him on affairs of state. Hal abhors the suffering and wasteful destruction that is the cost of war and is determined to avoid another conflict.
Chalamet delivers a compelling, complex portrayal in the lead,  supported by an outstanding performance from Edgerton as his loyal friend Falstaff, a seasoned warrior with no illusions about war or politics who tries to forget his past through drinking. Always excellent is Mendelsohn as the suspicious, ill-tempered king and Pattinson as the arrogant, sneering Dauphin. Other noteworthy roles include Harris as Hal's surreptitious advisor and supporter Lord William, Thomasin McKenzie as Hal's concerned sister Queen Philippa of Denmark, and Lily-Rose Depp as the proud and forthright Princess Catherine of France.
From the opening scene of the movie, the brutality and carnage of war become the vivid context from which the drama plays out, exploring what it takes to be a successful ruler and leader. By the end of the film, Falstaff has proven his worth as both friend and leader of soldiers, and Prince Hal has lost his youth and become King Henry V—at a personal cost he neither anticipated nor desired.