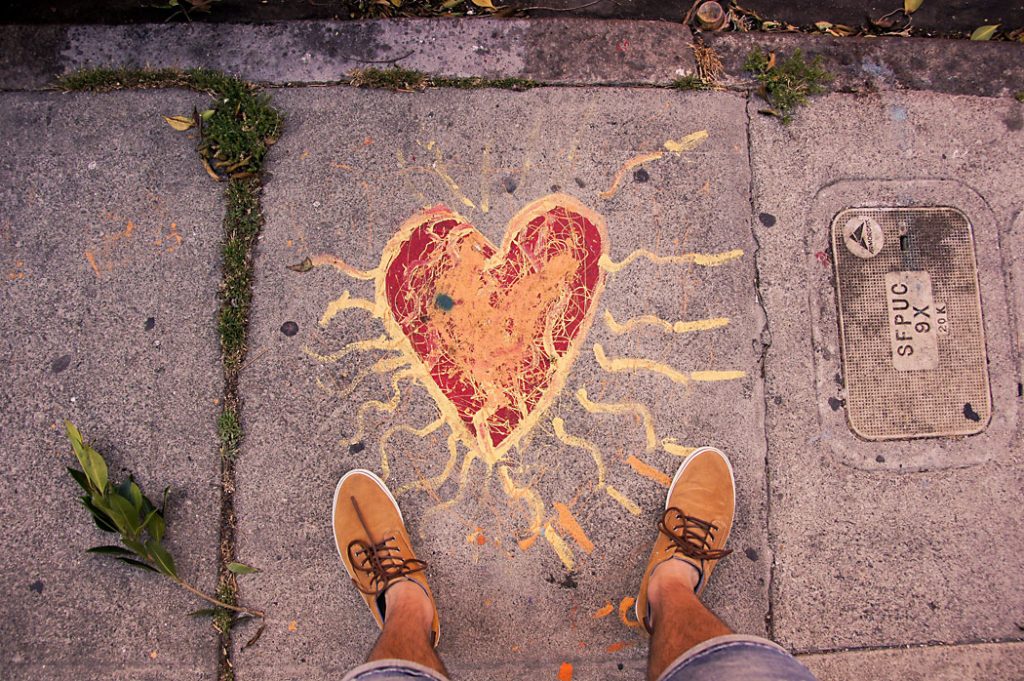 Over Rehearsed
by Meredith Siemsen
He smelled of honey and almond and had ironed his shirt. Impressivo.
Juan Carlos was a student of English, I had taken Spanish in middle school. At the table he'd chosen for us, we fumbled through broken sentences and awkward smiles, so decided on the language of food.
"Una cerveza por favor," I said to the waiter. "Con lima," I winked at Juan Carlos, surprising myself that I'd remembered the words for beer and lime.
He ordered "dos ceviches" in fancy glasses, la especialidad de la casa—and his favorite. Sweet mango, shrimp, and tangy red onion in a citrusy brine. I would remember that taste.
"Muy hermoso. Delicioso."
When our glasses were empty, we walked through his neighborhood, searching for more words. Mi familia . . . tu trabajo . . . were my pathetic offerings in the fading light. "Do you like to salsa?" he wanted to know.
I danced with the boy in his kitchen, the merengue and the cha cha to music he'd burned on CD. He had soft palms. And a gym membership.
My fingers found a home against the warm muscle of his shoulder, searching for that resting place again as he spun me away and then back across the checkered tile.
I couldn't look into his eyes for too long, those deep black pools. He was grinning from ear to ear. I was trying desperately not to laugh too much. And to keep my feet under me.
"I show you something," he said, gently pulling me down the hallway.
We stood together, facing our reflections in his bathroom mirror. I had a decade on him, but we looked nice together. "Que," I said, squeezing his hand.
"In the shower," he said calmly, clearly, "I use a water-activated gel cleanser, then a honey-almond body scrub. And on the face, an exfoliating gel scrub. Then I apply an herb mint facial mask, which I leave on for ten minutes while I prepare the rest of my routine."
Wow. His English was much better than I thought. And no wonder his skin looked so soft. It was quite the regimen.
"Dedicada," I said, nodding.
He continued in a measured pace, "I always use an aftershave lotion with little or no alcohol, because alcohol dries your face out. And makes you look older. Then moisturizer. Then an anti-aging eye balm followed by a final moisturizing protective lotion."
I pulled at the bottom of my sweater. Why is he telling me all this? It was a bit much.
"There is an idea of Patrick Bateman," he went on, "Some kind of abstraction. But there is no real me. Only an entity, something illusory—"
I was feeling very strange. Who the hell is Patrick Bateman?
"—And though I can hide my cold gaze and you can shake my hand and feel flesh gripping yours, I simply am . . . not . . . there."
I was beyond nervous now. What is he talking about? And why am I standing in a total stranger's bathroom?
"You don't know it?" he asked, finally noticing my puzzled stare. He sounded surprised, disappointed even.
"Know what?" I was desperate for an explanation.
"The movie. American Psycho." He looked at me expectantly.
My stomach tightened as an image of actor Christian Bale flashed through my head. I'd only watched a preview of American Psycho before deciding I never wanted to see that film. Because it would likely disturb me. Forever.
"You memorized the bathroom scene from American Psycho?" I asked.
"I memorized the whole movie," he said. "I learned English by watching it. Again and again."
I let go of his hand.
He's just a kid, I told myself, looking hard at his reflection. His ironed shirt. His slicked-back hair. There were lotions and balms and aftershaves in containers all around his sink—his filthy, disgusting, boy sink, with caked-on mineral scum and globs of shaved hair. Behind us, in the mirror, I could see a tube of Honey & Almond body scrub on the ledge of the mildewed shower.
I was desperate to hear the part of Juan Carlos's story that would restore him to innocence, that would make me feel safe, that would let me laugh again in his relatively clean kitchen. The music had stopped. The silence was heavy.
"It's getting late," I said.
It wasn't.
"I have to go," I said.
And I did.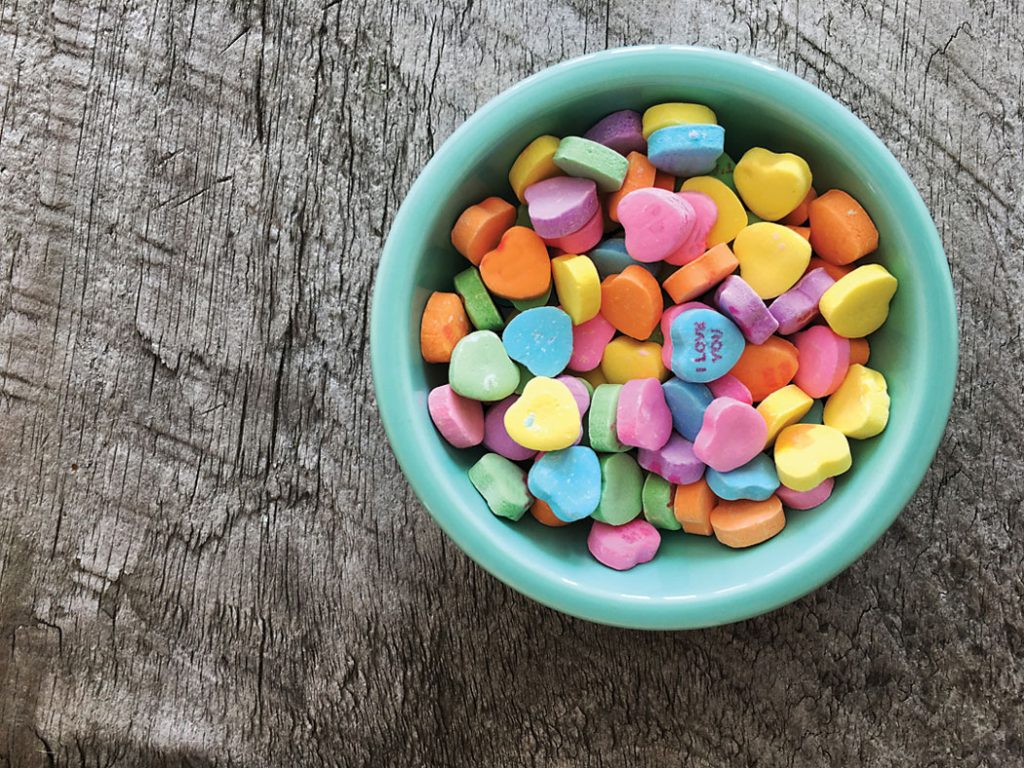 Valentine Message
by Betty Moffett
The next day would be our quarter-year anniversary—February 14th, Valentine's Day. "Aww, sweet," we said, and then laughed. Alex and I were students at the university, and far too busy and sophisticated to pay attention to such romantic fluff.
Still, I thought. Still . . . And we did agree to meet that night at the Rathskeller for hot apple pie and cheddar cheese, just because.
The next day between classes, I went to the bookstore, looking for—something. And there it was: a huge, bright red, heart-shaped sucker the size of a salad plate. The only problem was that right in the center was one of those candy hearts that taste
like sweet chalk and have little messages on them: "Be Mine," "You Cutie," "Hot Stuff." This particular heart proclaimed "I Love You."
Now Alex and I had certainly confirmed that we really liked each other. But we hadn't gotten to those serious words "I love you," and this being 1961 and I being the girl, there was no way I could say it first.
But I was sure I could just pop off the little heart and all would be well. That night in my dorm room, I ran into difficulty: the little heart had been melted into the hard candy of the sucker. Oh well, I thought, I'll just wash off the message. But the message was embedded deep, deep into the heart of the heart.
"What are you doing?" My roommate asked.
"Washing a valentine," I answered.
By the time I was finished, the little heart looked like a blob of toothpaste, but it was absolutely mute.
When I got to the Rathskeller, Alex was waiting. "Here," he said, slipping an envelope under my napkin. I opened it to find a handmade valentine. Alex had a flair for drawing, and with three magic markers, he had made a picture of a stick-figure couple walking through a tunnel of flowering trees. And then I saw, in the corner, under a daffodil, the three words we hadn't said. We held hands until the pie came and saluted each other with the lucky tips.
"So—do I get a valentine?" Alex asked as we forked up the last crumbs.
"Oh my gosh," I said.
Nothing to do but produce the giant sucker with the blob in its center—and explain the circumstances. We had a good, big, long laugh. And that exchange has become our Valentine's Day tradition: I get a handmade card, confirming what I've long and happily known, and he gets a box of Sweethearts with all the messages removed. He knows what they are anyway.