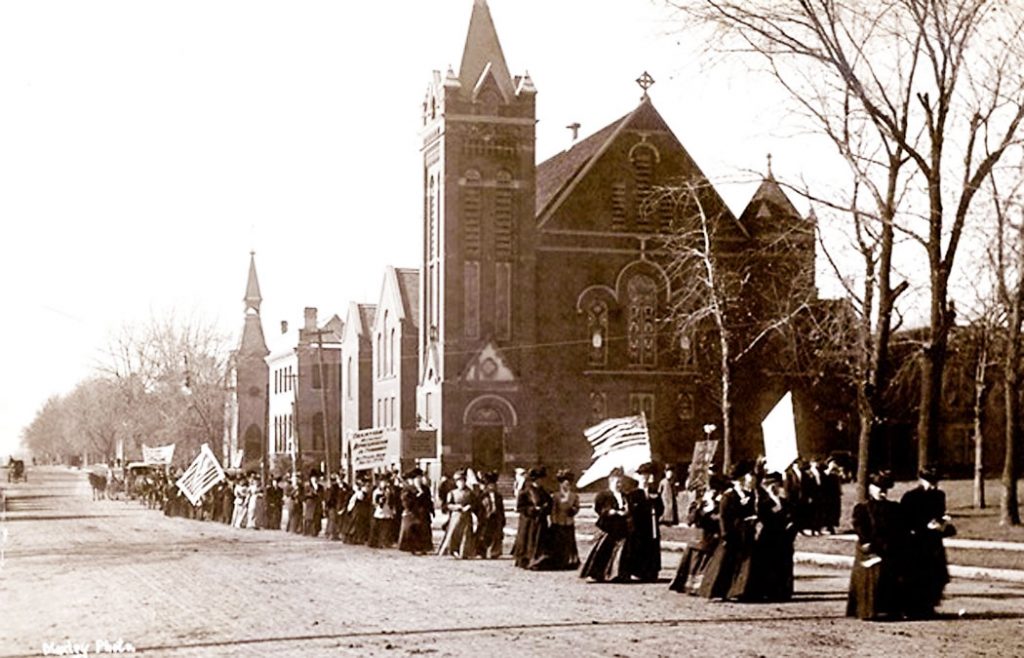 Iowa's involvement in the struggle for women to gain the right to vote emerged in the 1850s. During that decade, many future suffragists (including Amelia Jenks Bloomer) settled in Iowa. In 1854, Ohio women's rights advocate Frances D. Gage visited the state to lecture about women's suffrage. A women's rights convention held in Mount Pleasant in 1870 inspired the formation of the Iowa Woman Suffrage Association (IWSA). That same year, Iowa's legislature approved a resolution to amend Iowa's constitution to allow women to vote. Smooth sailing for Iowa suffragists, right?
Not quite. Before the resolution to amend the state constitution could become law, Iowa's legislature had to pass that resolution twice, during two consecutive sessions. At that time, the state legislature met only every two years. Before the second vote, in 1872, the national women's suffrage movement sustained a severe setback.
On November 20, 1871, in Steinway Hall in New York City, the prominent suffragist Victoria Woodhull (not an Iowan) delivered a very lengthy speech, "And the Truth Shall Make You Free." A charismatic character, Woodhull (along with her sister) had in 1870 become the first woman to operate a brokerage firm on Wall Street. They started their own newspaper that year, too. In 1872, as the Equal Rights Party's nominee, Woodhull became the first female presidential candidate.
Woodhull's Steinway speech in 1871 defended her advocacy of free love and splintered the women's rights movement. Should women demand equal rights or should they focus solely on obtaining the right to vote? Internal divisions weakened the suffragist movement, and in 1872 Iowa's legislature rejected the resolution to amend Iowa's constitution to allow women to vote. In 1894 Iowa suffragists achieved limited success: Iowa women were permitted to vote on ballot questions for bond or tax issues, but they still couldn't vote on other measures or for candidates.
Besides arguing about what to fight for, women's rights advocates differed on how their fight should be waged. In March 1916, the Muscatine News-Tribune reported suffragist Ruth Gallagher's contention that "Neither demonstration nor argument will gain the ballot for women in Iowa. To argue is fatal," she said. "The one thing we can do is distribute dignified, indisputable literature. . . ."
Despite some Iowa suffragists' reluctance to protest, on October 29, 1908, Boone, Iowa, was the site of one of the nation's first woman suffrage marches. Led by a band and carrying banners, about 150 women marched to the downtown business district. There, they listened to speeches delivered by two English suffragettes and by Anna Howard Shaw, then President of the National American Woman Suffrage Association (NAWSA).

Might the women have sung as they marched? Perhaps. Published in 1892 in Des Moines, The Iowa Collection of Readings and Recitations, Compiled by The Woman Suffrage Association contained at least one protest song—the "Marching Song for Children" by Irene G. Adams. Sung to the tune of "John Brown's Body," it went like this:
O, ye fathers of Iowa, we beseech you give fair play
To the brave and patient women who have shared your checkered way,
If your souls know Truth and Justice, prove it at the polls today:
Oh, vote for those you love!
Glory, glory, hallelujah! Glory, glory, hallelujah! Glory, glory, hallelujah!
Oh, vote for those you love!
Repeatedly, Iowa suffragists tried but failed to amend their state constitution. In 1916, they persuaded politicians to hold a state constitutional convention at the State Capitol Building in Des Moines. The politicians voted to amend the state constitution to include women as eligible voters. The next step was to put the amendment measure on the state ballot for voters' approval. Women couldn't vote on the suffrage issue. Iowa men voted down the proposed amendment.
Nationally, the suffragists were struggling, too. Under Shaw's leadership, NAWSA had become badly divided. Iowan Carrie Chapman Catt, who had led the organization many years earlier, was reelected as its president in 1915. In 1916 at a NAWSA convention, Catt unveiled her Winning Plan campaign.
Next month: Carrie Chapman Catt's Winning Plan