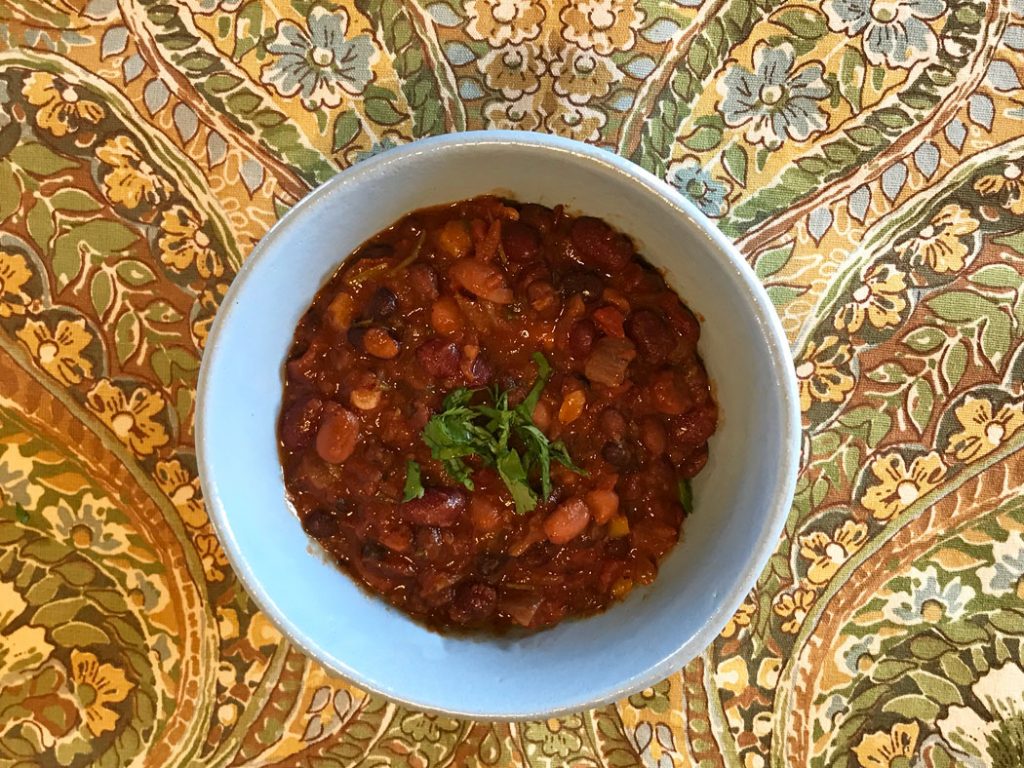 Bleak midwinter is best experienced with a good bowl of soup. It's the perfect antidote to the February doldrums and the best warm-up meal after a nice frolic in the winter wonderland. I grew up loving these staple warm-up soups from family recipes that take me back to watching the snow drift down from the sky or remind me of my dad cooking up a big batch of chili for a weekend of sporting events.
I'm proud of my dad for finding his way in the kitchen. His delicious chili was created from an old recipe found on a can of Red Gold tomato juice that he turned into a culinary masterpiece with a few of his own touches. I am happy I got the recipe passed on to me, and now you too can add it to your soup repertoire.
Dad's Delicious Chili
This recipe is easily made vegan by replacing the ground beef with white beans.
2-3 Tbsp. olive oil
1 lb. ground beef OR 1 lb. ground turkey OR 15 oz. can white beans
1 medium onion, diced
2 cloves garlic, thinly sliced
1 tsp. ground oregano
1 tsp. ground cumin
¼ tsp. cayenne pepper
1 tsp. ground black pepper
2 Tbsp. chili powder
15 oz. dark red kidney beans
15 oz. chili beans
15 oz. tomato sauce
15 oz. diced tomatoes
46 oz. tomato juice
Salt to taste
Brown ground beef or turkey (if using) with onions and garlic in olive oil. Then add spices, beans, tomato sauce, diced tomatoes, juice, and salt.
Simmer on low heat for two to three hours, stirring regularly. If you're not eating it right away, store chili in the fridge or freeze it for later consumption.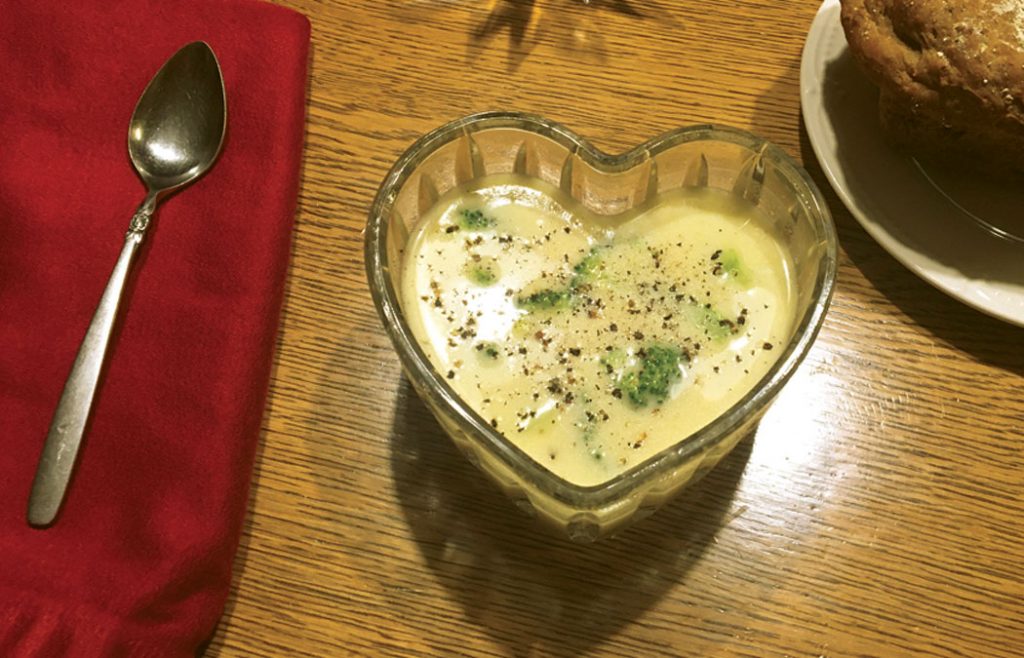 Broccoli Cheese Soup
There is nothing better than a bowl of broccoli cheese soup to warm your belly on a day when the wind chill is beyond bearable. Add more vegetables if you desire. I tend to go overboard on the broccoli, since cruciferous vegetables are a favorite of mine.
¼ cup butter
¼ cup flour
1 can chicken or vegetable broth
1 cup milk
1 cup shredded cheddar cheese
⅛ tsp. each salt and pepper, or to taste
2 cups chopped, cooked broccoli
Melt butter, then stir in flour. Add broth and cook over medium heat until soup thickens slightly, about 5 minutes. Add cheese, salt and pepper, and broccoli, and stir to mix.
Chicken and Rice Soup
This recipe is a true winner, often served in my family as a get-well-soon soup, and was even sent to college in freezer bags! It's perfect for fresh or frozen consumption, and guaranteed to heal you in minutes. Well, maybe a few hours, but I believe it to work serious wonders. Veganize it by adding vegetable bouillon to replace the chicken. I will testify that it is excellent and healing no matter which route you choose.
2 cups cut-up organic chicken
3 quarts water
1 cup uncooked rice (brown, wild, or white)
8 carrots, cut into slices
1–4 stalks celery, cut into slices
1 tsp. dried sage
¼ tsp. pepper
3 chicken or vegetable bouillon cubes
Heat all ingredients to boiling in 4-quart Dutch oven. Reduce heat, cover, and simmer until rice and vegetables are done, about 45–60 minutes.
• • •
Soup is on, and hopefully so is your bright light to fight seasonal affective disorder! Go outside and enjoy the sunlight bouncing off the snow, so as not to let your vitamin D levels get low. Then enjoy the soup you simmered during your fun outdoor extravaganza, and remain thankful for modern-day heating systems.