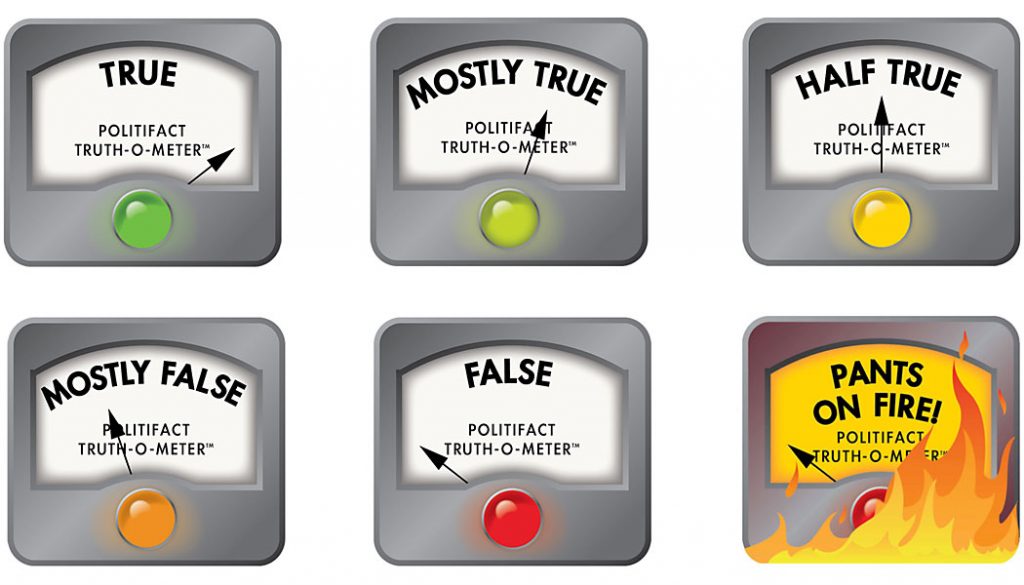 As I write this, President Trump has recently given a press conference in Davos, during which he said that Democratic Representative Adam Schiff lied about the content of Trump's July phone call with the President of Ukraine—a lie that was exposed when the rough transcript of the conversation was released.
Is it true that Schiff lied? No, according to CNN's Facts First website. The phone call occurred in July and Representative Schiff's summary was during a Congressional hearing in late September. The transcript came first and then later Schiff's summary, just the opposite of what Trump repeatedly claimed.
But what about Schiff's summary itself? Was that accurate? Facts First examined that, too. Facts First said that Schiff prefaced his remarks by saying that he would be presenting the "essence" of what Trump said. But the analysis also faulted Schiff for not making clear which words he was taking directly from Trump, which were his own analysis, and which were meant to be parody. The analysis then goes on to examine all of Schiff's statements for accuracy.
What about the claim by Representative Jerrold Nadler on Face the Nation that Trump "worked with the Russians to try to rig the 2016 election." Is that true? No, according to FactCheck.org. The special counsel found that there were multiple contacts between the Trump campaign and individuals with ties to the Russian government, but didn't find evidence of coordination between the two.
You're going to be bombarded with false assertions this election season. Be skeptical of extreme claims, and take advantage of some excellent nonpartisan websites that sort out truth and falsehood.
Let's look at some of the best.
Facts First (CNN.com/specials/politics/ fact-check-politics). CNN leans left, but as you can see from the example above, the site is nonpartisan, finding fault with assertions from both Trump and Schiff. The Facts First page says "CNN strives to hold elected officials and candidates accountable—to point out what's true and what's not." They then offer headlines featuring their recent fact-checks, sorted by subject and speaker.
Trump is taken to task for saying that he "saved" health insurance protections for people with pre-existing conditions. Amy Klobuchar is faulted for claiming that Iran is "announcing" it will develop a nuclear weapon. And Joe Biden's suggestion that he opposed the Iraq war from the beginning is false.
FactCheck.org (FactCheck.org). This well-respected site, which has a reputation for being nonpartisan, monitors U.S. politicians, TV ads, debates, interviews, and news releases. It's a nonprofit project of the Annenberg Public Policy Center of the University of Pennsylvania.
As I write this, the site is not only calling to task the statement by Jerrold Nadler mentioned earlier, but also false claims by Trump's lawyers during the Senate trial, including the claim that Trump was denied the opportunity to cross-examine witnesses during the impeachment proceedings. FactCheck points out that the chair of the Judiciary Committee did indeed invite Trump and his lawyers to participate.
PolitiFact (PolitiFact.com). PolitiFact, a Pulitzer Prize-winning website run by the Tampa Bay Times, examines claims by elected officials and rates them as "True," "Mostly True," "Half True," "False," and "Pants on Fire." The site has a Pants on Fire link that lets you go directly to the assertions they deem to be lies, among them being Trump's claim, "I was the person who saved Pre-Existing Conditions in your healthcare."
Fortunately, this site includes viral Facebook posts in its purview. Among the posts it determined to be pants-on-fire lies is one saying that Fox News changed their accreditation to "entertainment" so they could avoid being factual. PolitiFact points out there is no such accreditation. Another viral post shows a screenshot of an alleged Twitter post by Democratic Representative Ilhan Omar that called for violence against President Trump. PolitiFact found that the image was Photoshopped.
Snopes (Snopes.com). Launched in 1994, this venerable site may have been the first fact-checking site on the internet. Early on, the site researched the truth of so-called urban legends, such as the one that a colony of alligators lives in the New York City sewer system (false). In more recent years, the site has broadened to include rumors and extreme fake news claims, such as the viral Facebook post that said House Speaker Nancy Pelosi used $15,000 worth of pens to sign the articles of impeachment.
The Daily Scam (TheDailyScam.com). Okay, so let's end with a site completely unrelated to politics. The Daily Scam alerts you to common internet and telemarketing scams—falsehoods that could cost you a lot of money.
The internet is a source of a huge amount of misinformation, so take advantage of these websites to help determine what's true.
Find column archives at JimKarpen.com.