Carrie Chapman Catt played such a pivotal role in U.S. women's fight to win the right to vote that her family's Iowa farmhouse is listed on the National Register of Historic Places. Born in Ripon, Wisconsin, in 1859, she moved to Iowa with her family when she was seven years old. Carrie, her brother, and her mom, Maria Clinton Lane, lived briefly in Charles City, while her dad, Lucius Lane, finished building them a modest brick Victorian, three miles away.
As an adult, Carrie fondly recalled the 11 years she spent living in that house on the Spring Brook Farm. She rode horses and, perched on the bough of a large oak tree, read books. When she was 13, though, something troubled her. Noticing that her father and his hired man were voting in the 1872 election, she asked why her mother wasn't voting. The response? Laughter. Carrie was told voting was too important to be left to women.
After high school, Carrie attended the precursor to Iowa State University (the Iowa Agricultural College) in Ames. Her father didn't want her to go to college, so she washed dishes, taught in a rural school, and served as a librarian's assistant to help pay her expenses. The only woman in her class, she graduated in 1880 with a Bachelor of Science degree. After college, she worked in Iowa as a law clerk, teacher, and school principal. In 1883 she became one of the first women in the United States to be appointed as a school superintendent. Carrie married in 1885, but a year later her husband died of typhoid fever in California, where they'd planned to settle. In 1887 she returned to Iowa and dedicated herself to the cause of women's suffrage.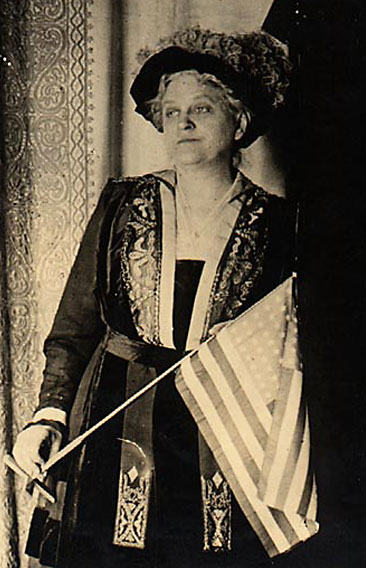 George W. Catt, the wealthy engineer Carrie married in 1890, endorsed her suffrage work. In 1900 Carrie succeeded Susan B. Anthony as President of the National American Woman Suffrage Association (NAWSA). George died in 1905, and Carrie's mother, brother, and close friend Susan B. Anthony all died soon afterward. Emotionally drained, Carrie left the country to recover. While living abroad, she continued to fight for women's suffrage as president of the International Woman Suffrage Alliance (IWSA).
In 1915, Carrie returned to the United States to lead NAWSA again; its effectiveness had dwindled in her absence. In 1916 she unveiled her Winning Plan. Focusing solely on women's suffrage (not on equal rights), her plan pushed simultaneously for the right to vote at both state and federal levels. The Carrie Chapman Catt Center for Women and Politics at Iowa State lists her plan's details:
"Women in states that already had presidential suffrage (the right to vote in presidential elections) would work to pass a federal suffrage amendment. Women who believed they could successfully amend their state constitution would press for a referendum in their state, with most states working toward presidential suffrage. Southern states would work toward primary suffrage (the right to vote in primary elections), which requires only legislative action rather than amendment to the state's constitution."
In other words, Catt advocated enlisting the help of supporters regardless of their level of backing. She funded the Winning Plan campaign with over $1 million dollars bequeathed to NAWSA by New York City magazine editor and publisher Miriam Folline Leslie "for the cause of woman suffrage."
By the summer of 1920, 35 states had voted to ratify the proposed 19th Amendment to the U.S. Constitution, which reads: "The right of citizens of the United States to vote shall not be denied or abridged by the United States or by any state on account of sex." If one more state ratified the proposed amendment, women could legally vote! A veteran of many ratification battles, Catt rushed to Tennessee to help its suffragists succeed. Tennessee State Senators voted quickly for ratification, but the Tennessee State House resisted. People for and against women's suffrage pitched a fierce fight for legislators' support. When the vote was called, the House appeared evenly divided. Unexpectedly, 24-year-old Harry Burns switched his nay vote to an aye because his widowed mother had sent him a seven-page letter urging him to help Mrs. Catt attain ratification.

For a glimpse of history, visit the Carrie Chapman Catt Girlhood Home and Museum (near Charles City). Restored by the National 19th Amendment Society, it's open Memorial Day to Labor Day. Or venture further to Nashville, Tennessee's Centennial Park to view the Woman Suffrage Monument there. In honor of Tennessee's pivotal role in the fight for U.S. women's suffrage, the monument features statues of Catt and four prominent Tennessee suffragists.