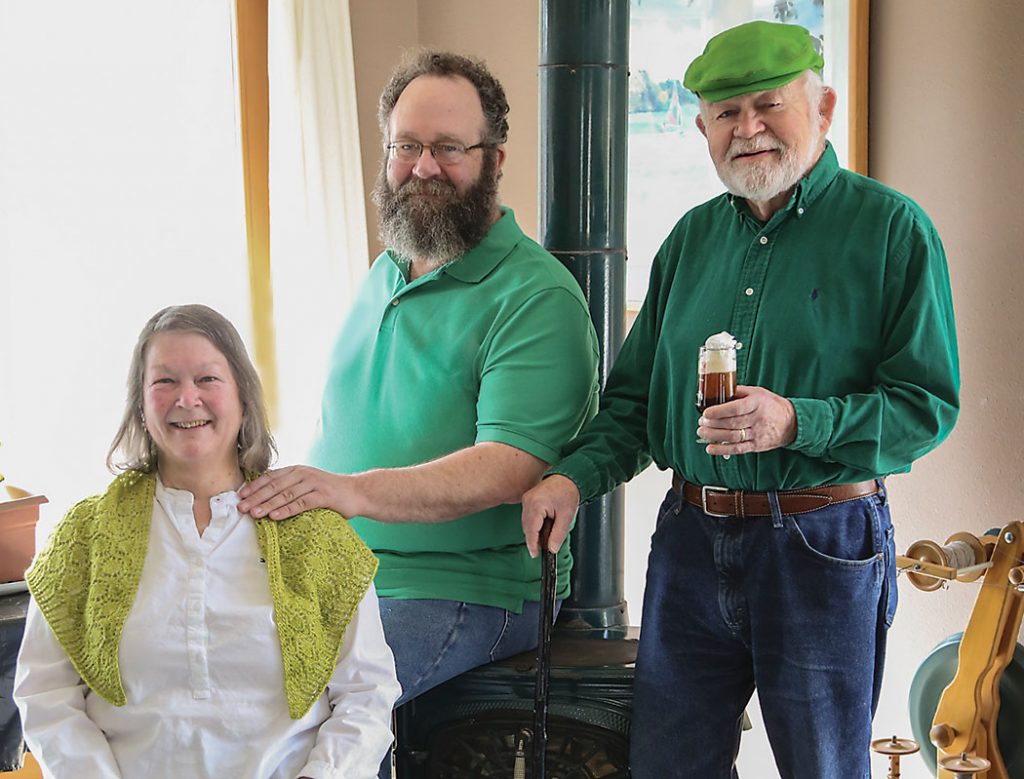 I thought I knew how Irish the Hickeys were. A gathering of knitters collects in the Hickey living room once a month for fiber fun and general revelry. Judie Hickey welcomes all, then sits and works on a sweater or shawl made from wool—on occasion, I'm told—from the Emerald Isle. The crafters are well plied with espresso coffee and Baileys Irish Cream, graciously made to order by Bill Hickey.
From November to March, Bill's red brandy-apple cheeks shine under the greenest woolen cap you've ever laid eyes on—the precise color of a blade of grass with the sun shining through. That hat comes all the way from Donegal Town.
Although I've spied Guinness in their fridge and whiskey in their cupboard, on Sunday afternoons Bill and Judie prefer a glass of something to the tune of "Jolly Tinker" or "The Frieze Britches" at the local Irish music session. Their eldest son, Sean, joins them on occasion, sporting a jovial paunch and tight curls spun with copper, always on the ready with a sly jest or fangled story. The Irish are good at telling stories.
If you know the Hickeys even a little, you know they are a grand balance of fiery and felicitous. Their house is green. Their cat is red. Could they get any more Irish?
As it turns out … yes.
May your home be filled with laughter
May your pockets be filled with gold
And may you have all the happiness
your Irish heart can hold
The Hickeys host a humdinger of a St. Patrick's Day party every year, welcoming close friends and a few lucky strangers to their home. If there's one thing the Hickeys know, it's how to celebrate with fine drink and good food.
Sean has worked for decades in the culinary arts, his mother has been touched with the gift as well, and Bill knows his way around a good brew, the lot of them creating an adventurous and skilled trifecta of chef-baker-connoisseur. St. Pat's at the Hickey home is a rip-roaring, merry, and savorous affair.
"What's your favorite part of the St. Patrick's Day feast?" I ask Bill. I've been welcomed as an honored guest over breakfast.
"Irish whiskey," he tells me without hesitation and a totally straight face. Tullamore D.E.W. Triple distilled. Irish, of course. "I have a bottle of it," he offers with a wink, glancing at my coffee cup.
"Ya had to ask," laughs Judie.
"St. Patrick's Day … is a drinking day," she says. The pause in her statement is pregnant with unspoken Hickey stories—to be shared on another day.
But the drinking part of the holiday—which has gotten a rather bad rap as of late—might conveniently, and ironically, be blamed on church tradition. Historically, for practicing Christians, Lenton restrictions on drinking were lifted for St. Patrick's Day, which quite early on propagated the holiday's ties to alcohol consumption. No going back now!
Judie shows me Grandpa Hickey's old whiskey jug they discovered in his closet after he passed, a relic they are proud to bring, refilled with "the Dew," to parties. The back of the antique bottle says in Gaelic "water of life." We have a good laugh about it.
Fierce Irish pride and celebrating the Feast of St. Patrick, as it was originally called, was something the Hickeys learned from William Edward Hickey, Sr., Bill's dad. (There's a Billy III, too.)
"My grandfather had his green shoes," says Sean.
"He was buried in his green shoes," adds Judie. Green socks, too. The man was known for sometimes wearing a plaid shirt with plaid pants.
"For our family," says Sean, "St. Patrick's Day has always been a big deal. Grandpa made sure it was celebrated on time and well done. But you go to Ireland and I don't think anybody related to us would even think of celebrating the way we do … St. Patrick's Day in the United States is a very big thing."
Well Begun
If you're going for it, the day ought to start with a piping hot cup of Irish coffee. Judie pulls a tea towel out of a box of Irish heirlooms, printed with the ingredients of this beloved elixir: whiskey, sugar, coffee, cream.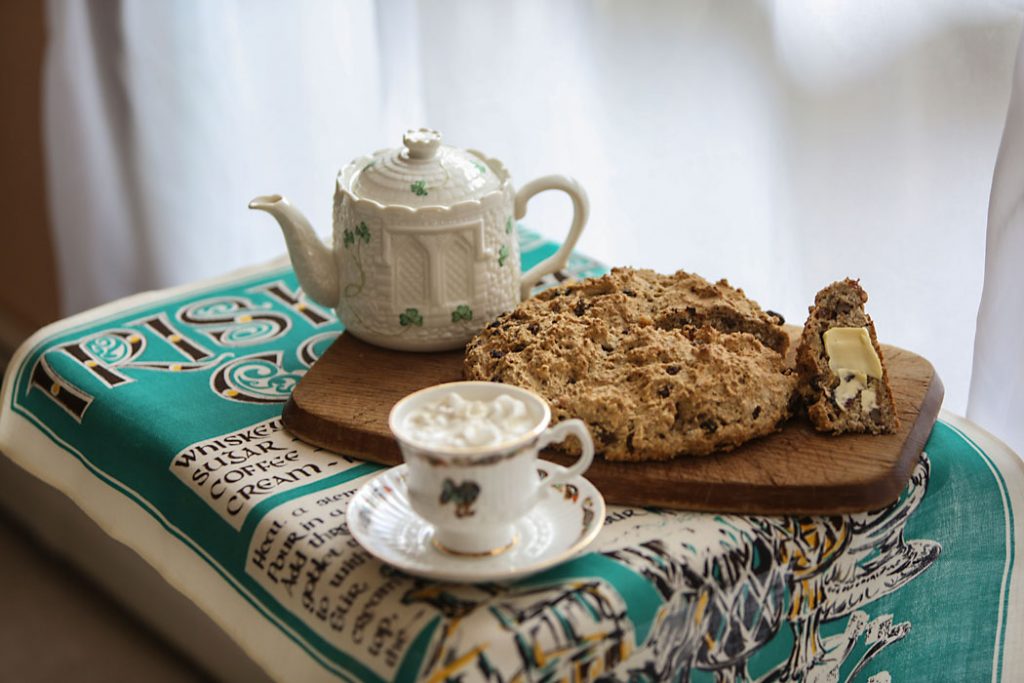 The Hickeys have a set of stemmed glasses delineated with horizontal marks to mix their Irish coffee perfectly right in the glass. "This line is for the liquor, and this is for the cream, de-dah, de-dah, de-dah," says Judie.
"They have a glass for everything," adds Sean, "at least a hundred kinds," but their favorites are of the Irish variety. Judie brings out her Irish Waterford crystal.
"Sean only broke two of the Waterford goblets as a boy," says Judie with her famous Judie growl. Forgiven perhaps, but not forgotten. Next, she shows me her shiny white Belleek China teapot made from braided clay. Cute as a button.
Even their everyday creamer and sugar set has shamrocks on it.
Irish Coffee
(Makes 1 serving)
1 jigger (1.5 oz) Tullamore D.E.W. whiskey
3 sugar cubes
Strong hot coffee
Whipped cream
Heat a steamed whiskey goblet. Pour in a jigger of Irish whiskey. Add 3 sugar cubes. Fill goblet with coffee to within an inch of the brim. Stir to dissolve sugar, and top with whipped cream. (Do not stir in the cream; the flavor created by drinking coffee and whiskey through cream is sublime.) Enjoy. ☘
An Irish(ish) Entrée
Judie describes the typical St. Pats. "So in the morning we put a little Tullamore D.E.W. in our coffee … and then we start our corned beef." This scrumptious, spiced, pickled meat dish must be started in time to cook for several hours before being served at the "three o'clock dinner." Complete with cabbage, onions, potatoes, and carrots, this stuff, I can attest firsthand, is mouthwateringly good.
"We do serve it with mustard, too," says Judie. "Which is German. But whatever." The main course itself is not altogether Irish, so what's the difference? "We've always cooked corned beef as part of our feast, which isn't so big in Ireland!" she says.
Chef Sean explains that an authentically Irish St. Pat's meal "more traditionally would be a boiled dinner, not corned beef, cause it's way too expensive. It would be a piece of salt pork—it's almost like European bacon—boiled with potatoes. Also, depending on where you're from, peas. It's not a really nice piece of meat, it's usually a really fatty piece of meat, but the fat boils and cooks all the vegetables, and that's what makes it delicious."
However, the Irish-American version of a St. Patrick's Day feast is what the Hickeys have embraced over the years, and they're darn proud of it.
"The first time we invited everybody, we had one or two corned beefs," says Judie. Their friends, at the time, were vegetarian types. It was a gamble. "Non-meat-eating guests," Judie continues, "but it was gone! So the next time we cooked three or four. And it was gone! I mean, no matter how many corned beefs we cook, they get eaten."
Corned Beef Brisket & Cabbage
(Serves 8)
1 3–4 lb. corned beef brisket (pre-brined)
1 spice pack (comes with the beef,
contains yellow mustard seed, black
peppercorns, bay leaf, red pepper flakes,
coriander, and anise seed)
4 medium potatoes, quartered
4 medium carrots, quartered
8 small onions
1 small cabbage, cut into wedges
Optional:
3 medium parsnips, peeled & cut into chunks
2 small rutabagas, peeled & cut into chunks
Place meat in a Dutch oven, adding brining juices and spices from package. Add enough water to cover the meat, and bring to a boil. Reduce heat and simmer, covered, about 2 hours or until meat is almost tender. Add all veggies except cabbage, cover, and bring to boil. Then simmer for 15 minutes. Add cabbage, cover, and simmer for 15 to 20 minutes or until meat and veggies are done. Remove meat and let rest for 10 minutes on a platter, under foil, before slicing. Serve with veggies all around.
What's in a Name?
The Hickeys' ancestors hail from Counties Cork and Wexford, and even further back than that, the Hickey handle comes from "O'Hickeldey," Bill tells me. "It's a name that comes from the old healers for Brian Ború [941–1014 A.D.], the first King to unify Ireland. The O'Hickeldeys were the healers, the court healers." That's so cool. Oh, did I mention that Judie's a retired nurse? She fits right in.
And I ask you, what's more healing than a warm piece of homemade bread? Irish soda bread is a staple of the St. Pat's meal. Although Sean and Judie make two soda breads every year for the feast, and very often a guest will bring a third, "this one is the best," says Judie. "It's basic. Simple." And it comes from Gramma.
Raisin-Filled Soda Bread
(Makes 1 loaf)
1 cup unbleached flour
1 cup finely milled whole wheat flour
1 tsp. baking powder
½ tsp. baking soda
½ tsp. cream of tartar
1¼ tsp. salt
1 Tbsp. dark brown sugar
1 cup milk mixed with 1 Tbsp. lemon juice
¾ cup golden raisins
¾ cup coarsely chopped walnuts
Preheat oven to 350° F. Sift flours, leavenings, salt, and sugar. Add milk mixture and mix well. Work in raisins and walnuts. Turn into a buttered 9″ round baking pan and bake 1 hour. Serve with Kerrygold butter.
Irish Pride
Bill's relatives were able to trace their Irish family tree as far back as the oral and paper trail could take them, coming to an abrupt end around 1649, the year of the Cromwellian conquest of Ireland. The churches had been the safekeepers of family records to that point, but along with crops, people, and the Catholic churches themselves, "the English burned many of the church records, under Lord Cromwell," laments Bill. "My aunt told me that there was a bishop in the family who was hunted by Cromwell. And killed."
Though he doesn't flaunt it, Bill is actually an ordained priest himself. Retired now. Between his faith and his fascination with the mysteries of Irish history, I suspect Bill has a broader take on St. Patrick than most Irish Americans.
The Wikipedia version of the patron saint of Ireland echoes the same version I was fed as a kid: "An escaped Irish slave turned priest … Saint Patrick returned to Ireland to convert the pagan Irish to Christianity. His evangelizing efforts were later turned into an allegory in which he drove the 'snakes' out of Ireland." Sound familiar?
"This whole things weaves in and out of Roman history, and Celtic history, and Christian history," says Bill. "There are many St. Patrick stories. Some are more true than others."
Bill shares with me a letter he scribed a few years ago to his loved ones in anticipation of the holiday, painting versions of history I hadn't heard and a refreshing view on Irish pride.
"To My Dear Brothers and Sisters, Happy St. Patrick's Day!" he wrote.
"We celebrate this day by the Wearing of the Green. It is said to originate as the celebration of St. Patrick's death on March 17, about 492…. The story goes that about half were celebrating due to his passing, and were sad; and about half were celebrating due to his passing, and were glad. It is good to know that all Irish wakes are ritualized by celebrating, no matter who he or she was.
"One side says Patrick brought Christianity to Ireland. But the other side says he brought Roman Christianity to Ireland—and that Celtic Christianity was already there—Celtic priests had adopted the stories of Christ before the canonical bible was even assembled." There is strong historical evidence that the Druid priests had many Celtic-Christian priests among them, "and they lived in the harmony of 'both/and' rather than 'either/or.' It is one of the reasons my church motto is Live Unity; Celebrate Diversity," wrote Bill.
"And the story goes on (it is good to know that all Irish stories go on and on to the discretion of the storyteller) and says Patrick negotiated with the Druid priests … and concessions were made on both sides."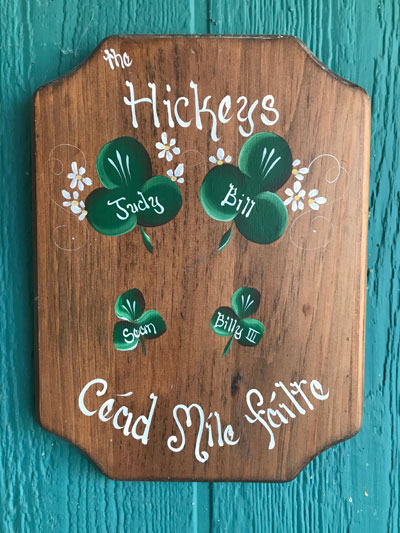 After a final swig of coffee, Bill reiterated one point, which made me laugh out loud. "Some were happy about Patrick, and some were not so happy about Patrick, but they all had a drink anyway."
On St. Patrick's Day, there's room for just about every story—and everybody, as evidenced by the placard at the Hickeys' front door: Céad míle fáilte. "A hundred thousand welcomes."