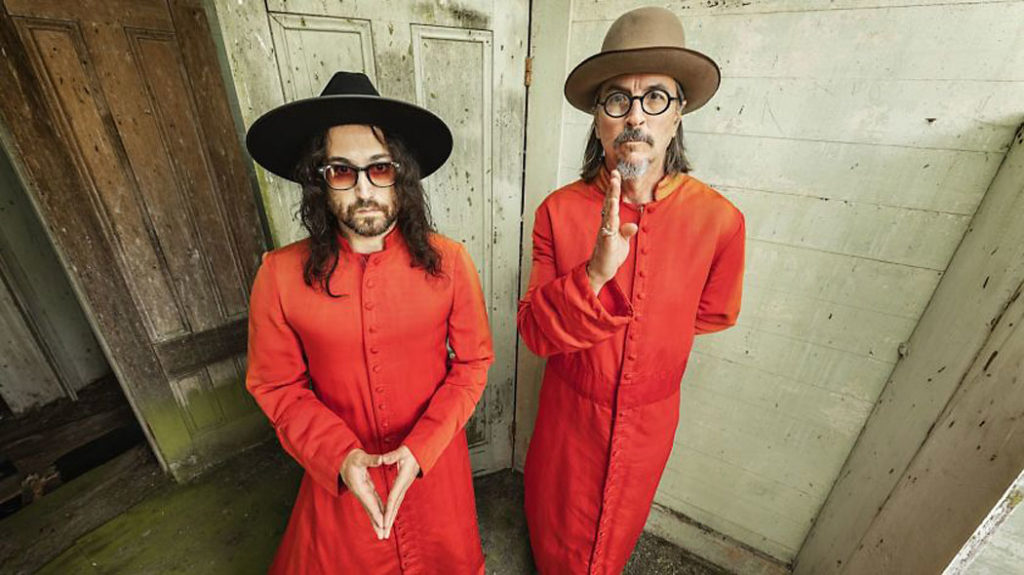 Last month I shared ten tracks released in 2019 from female singer-songwriters. This month, the fellows come to the forefront. The artists may not be familiar, but their polished performances and creative compositions will lift you into endorphin highs. Find these playlists on my free streaming website FringeToastMusic.com under "2019 Best of Fringe Toast Music," or under this name on Spotify associated with DJ Andy Bargerstock.
"Blood and Rockets: Movement I, Saga of Jack Parsons / Movement II, Too the Moon" by the Claypool Lennon Delirium. In their second CD, guitarist-vocalist Sean Lennon (John's son) mixes his Beatlesque DNA with the talents of Primus bass player Les Claypool. Sink into Sean's instrumental fade in the track's last two minutes and experience John Lennon's spirit.
"Runaway" by Dennis Lloyd. The Israeli singer, songwriter, and producer shows his R&B and synth-pop chops on this song asking the age-old question, "Why did you . . . ?" with its hauntingly great backing vocals and trumpet.
"A Song for You" by Kishi Bashi. Originally a member of the band Of Montreal, Kishi is an American classically trained violinist, songwriter, and vocalist who shines on this loving, sweetly nostalgic song from his CD Omoiyari honoring the memory of someone lost in war.
"White Coat" by Tyler Ramsey. Former lead guitarist for Band of Horses, Tyler now lives in Asheville, North Carolina. His songs settle into folk realms, like this acoustic track with his pleasant voice, banjo, and lilting steel-pedal guitar lurking in the background. Beautiful.
"I've Been Dazed" by Michael Kiwanuka. The London-born singer-songwriter with a voice like honey creates a mood of wonder and amazement, with pleasing choral harmonies backing up his subtle guitar and the main theme to "carry on."
"Flying" by Moon Duo. The San Francisco-based retro-psychedelic band lays down a very cool track complete with melodic male and female vocals, keyboards, electronic wisps, and percussion reminiscent of UK electronic legend William Orbit. Love this stuff.
"Uneventful Days" by Beck. From the album Hyperspace, Beck sparkles with this blending of Afro-beat, rap, and choral swell. Experience your heart soaring across the sky.
"Cannon Hill (Intro)" by Manatee Commune. Imagine a casual stroll through the park on a spring day with this instrumental music hovering nearby. Its bouncy, midtempo glide is the product of a young man named Grant Eadie working from his basement studio in Seattle. He started as a violinist at age six, and now his swirling creativity emerges through electronic music and beats.
"Breaking Down" by Frameworks. The UK producer and composer released his third album in 2019, named Imagine Gold, through Loci Records, which also supports Seattle-based Emancipator (another one of my long-time favorites). This layered, downtempo acoustic-electronic delight features piano, soft electric guitar, synth-treated backing vocals, violin, and flute. Emancipator's track "Time for Space" shimmers in the same vein.
"YaYaYa" by RY X. Now living in Los Angeles, 32-year-old Australian guitarist, vocalist, and singer-songwriter Ry Cumming cites Jeff Buckley as an early influence. Enjoy two folktronica tracks from his 2019 CD Unfurl: "Mallorca" and "Howling."
Do yourself a favor by listening to the treasures you find in this column every month. Set up a free Spotify account and follow DJ Andy Bargerstock. More fine tunes are coming your way next month.
Enjoy this list at FringeToastMusic.com, where Andy shares regular Spotify playlists.