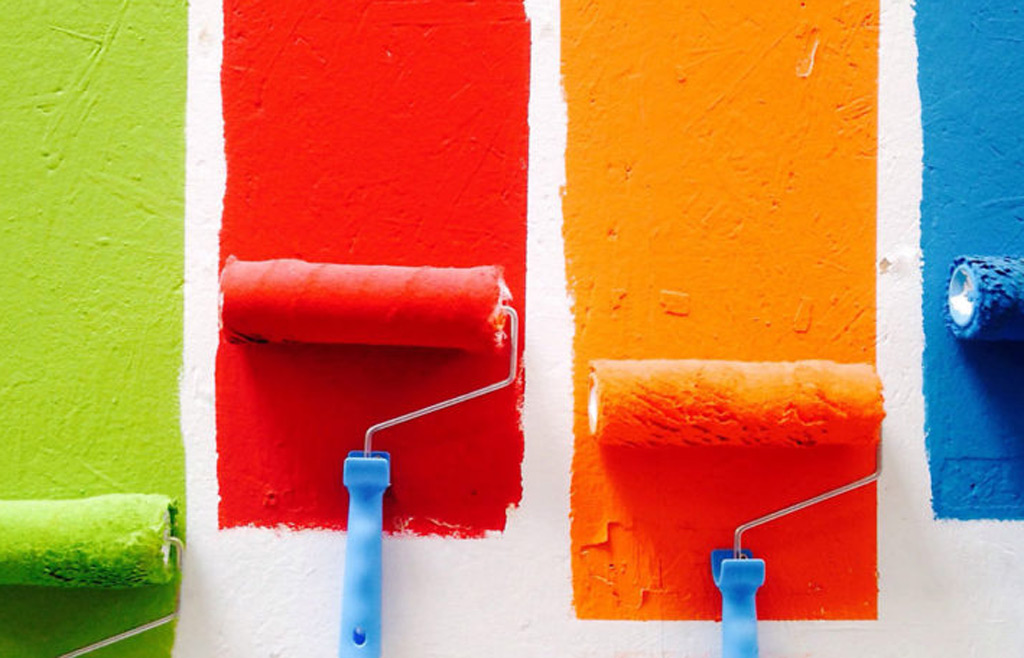 I've been caaaasually shopping for houses, and I'm amused at what some folks call "freshly painted!" Ummmmm, you missed a spot. Or maybe it was just a bad color match? Yeah, I'm talking about that three-foot-wide patch next to the front door roughly the shape of a Brontosaurus.
I know, I know, most homebuyers will want fresh colors of their own anyway, so why kill yourself being careful—or thorough?
Because a terrible paint job hurts my soul, that's why.
A beautiful room gives good energy, I swear it, and goes a long way toward making a person feel prosperous, happy, home. So in my lifelong love affair with interior painting, I'd like to pass along a few things I've learned. Take 'em or leave 'em.
Prepare Your Canvas
I know you're chomping at the bit, but before you get out the rolling pan and brushes, take the time to do a little prep. A decent paint job is in the details.
It's not that hard to take a blade and knock down the sharp bubbles, random granules, and immortalized, paint-preserved lint blobs left behind by the last guy. A pinky finger is usually all you need to spackle in those errant nail holes.
And while you're at it, smooth down the edges of the crusty crack in the window joint or that gap betwixt the wall and baseboard with a sanding sponge, and fill those seams in with a creamy bead of fresh caulk (or "cork" if you are saying the word in the presence of refined ladies). A caulk gun can take practice to master, but you'll sigh with satisfaction as you flatten any excessive blobs with a moist rag, as needed.
Getting rid of those annoying bumps and holes will soothe your jangly nerves and make your new paint look snappy. Subtle differences might even fetch you a better price on your house later on when you've decided to finally pack it in and move to Canada.
Know Your Limits
"Hand me the three-inch putty," our family friend Steve used to say in jest about any sizeable home repair job he was helping my father with. For those of you just tuning in: there is no such thing as "three-inch putty."
Although there's nothing more seductive than the "quick fix," there are a lot of things you can't—and shouldn't—fix with putty. Or foam. Or "cork." Or Scotch Tape. Or toilet paper. Or contact paper. Or fabric. Or Band-Aids. Yes, I've come across all of these slap-dash methods while fixing other people's paint jobs. For the love of Pete, if it's a repair beyond your skill level, get a guy. Or a gal. Or call your brother.*
Baby That Brush
Treat yourself to one top-of-the-line paintbrush. Medium to small, wooden handle, angled sash. Make friends with it. Don't dip it too deep. Let it be your teacher.
Clean it well, comb its hair back into a perfect point, and sing your dear one a lullaby as you put it to bed inside the sturdy cover it came in. Don't let anyone touch it. Keep it under your pillow if you have to. It will give you many good years and many clean edges. Sweet dreams.
Color Yourself Happy (Go Big or Go Home)
1. Bold is beautiful. I've heard people whining for years, "But a dark color will make the room feel smaller." I don't think that's true, and frankly, I don't care. Rich, velvety colors will make you feel just that. You can't put a price on feeling rich and velvety.
I love it when I walk into somebody's home and they've chosen a room color or an accent wall that is not messing around. A deeeeep midnight blue against white trim or a consciousness-altering poppy red makes me want to steal a phrase from Dirty Rotten Scoundrels, "I want this! THIS IS WHAT I WANT!!"
2. Volumes have been written on the topic of home décor color theory; it's a very complex and very personal thing, of course. But one rule of thumb I've often used to help simplify things is: Pick a color that doesn't make you look sick. It's your home. You should look good in there.
I chose a bedroom color once to match the exact grey-green of my client's eyes. That earthy, soul-soothing master bedroom could have been on the cover of Better Homes & Gardens, but Brighid would have been the true star.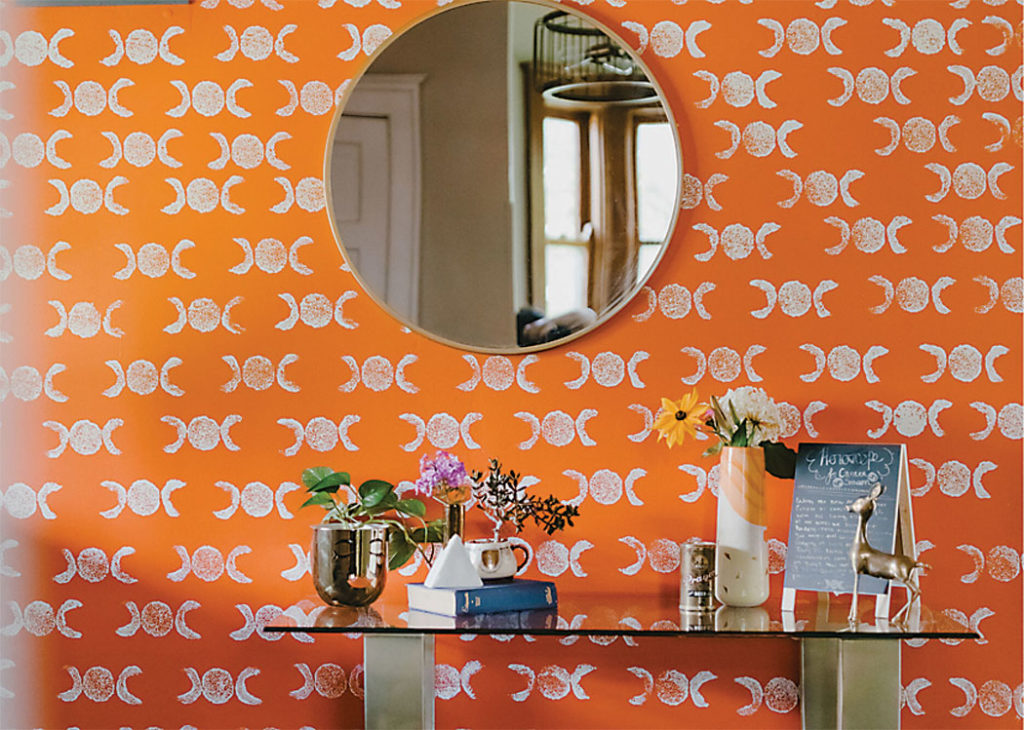 3. If the "I'll look so hot in here" color theory isn't working for ya, fine. Just promise me either way you'll do some test painting before you commit. You might get lucky shooting from the hip, but the 1″x1″ swatch you plucked from the shelf at Benjamin Moore won't typically be enough to prove that "Passion Plum" is going to look voluptuous, not vomitus. So go big. Paint a large enough area that you can get a bead on how the new hue looks against your flooring, trim, and any furniture you're hell-bent on keeping. If you still like the tint after sunset, in lamplight, you're in business.
However, if color is a language you just don't speak, please call your sister.*
Protect Precious Fibers with Your Life
In 2009, I got hired to paint the backdrop wall of a professional casting studio in Chicago where I regularly auditioned for fast-food and laundry-detergent commercials. The faux-finish "color wash" of blues and mauves they chose might sound disgusting, but the combo was rather handsome on camera and coordinated perfectly with the studio's newly updated chairs, hallway color, and blue-flecked white carpet. That's right, white carpet.
To protect against splatters and drips, I put down thick plastic, meticulously taped from the seam of the wall to about 15 feet out. That oughta do it! I spent the day delicately brushing my four-color masterpiece, with my paint containers taped securely to the ladder—a foolproof system for tidiness.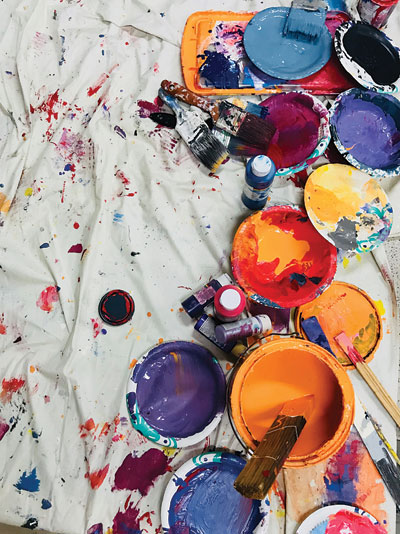 The details get a bit hazy, but in my final cleaning-up moments, during a slight lapse of judgment—you guessed it—one little paint container was knocked from the tippy top rung of my Gorilla Ladder. I watched it fall in slow motion 18 feet to the floor, land sideways, and projectile-barf its contents diagonally across the room. One long finger of deep, wet, blue—the color of Superman's tights—reached mere inches beyond my industrial-strength plastic.
As the pigment seeped into the brand new white carpet of the Tannenbaum, Peck, and Ruby Casting Studio, I knew my life was over. No amount of sobbing or rented carpet-cleaning machines, baking soda, salt, peroxide, or hairspray could get that blue out of the white. "It's time to pack my bags," I thought, "because I'll never work in this town again—as a painter or an actor."
The powers that be took pity on me. I got paid for the job, but I didn't book a single on-camera gig after that fateful incident. Even now, I imagine the casting directors reviewing my audition tapes. "Why is that woman sweating profusely? Look, she is physically shaking."
It wasn't stage fright. I was displaying severe symptoms of PTPD. Post Traumatic Paint Disorder.
Cover your carpets. Every. Single. Inch.
***
*My apologies for playing into gender stereotypes, but I'm referencing the skills of specific family members here. Your results may vary.