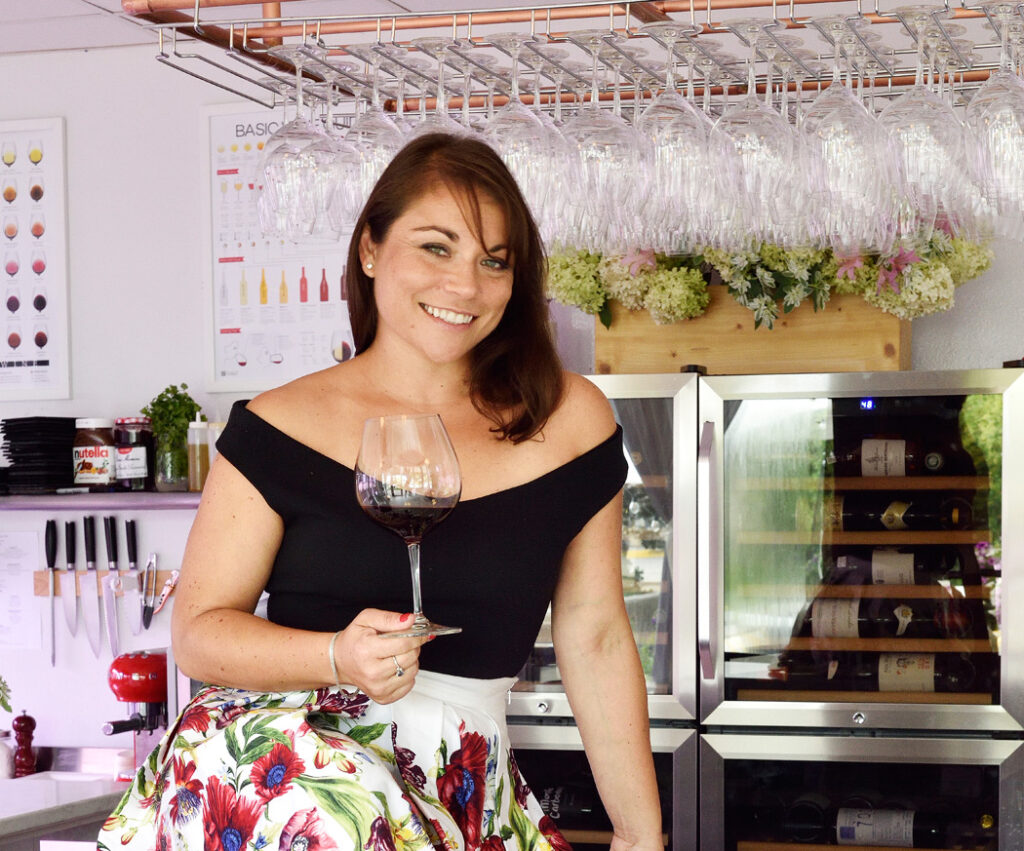 An elegant new wine bar has opened in Fairfield, giving customers a taste of European vineyards and Mediterranean-inspired tapas. Owner Julia Punj wanted to create an oasis, a small vacation away from daily life, where visitors can savor the flavors of world-renowned wines, Basque cider, and light, sophisticated meals and snacks in a cozy, continental atmosphere.
"Veraison means the onset of the ripening of a grape," Punj says, adding that it's a beautiful phenomena as the fruit sweetens and transforms from green shades into a range of purples. Punj feels the name is also significant because it marks a new step in her life.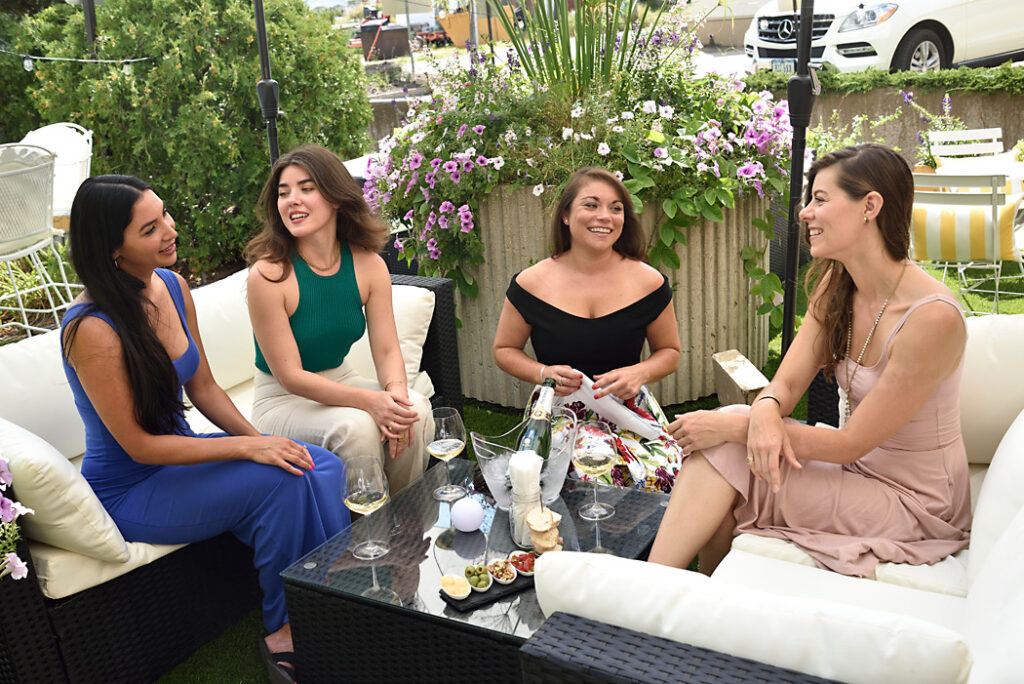 The location's primarily outdoor seating makes it easy to follow social distancing protocols. An enclosed patio lined with hedge lights, large flower accents, and white umbrellas feels like a secret garden. Both table and lounge seating are spaced at the requisite six feet apart. Inside, a brand-new bar features peacock-blue barstools and copper accents, along with a few socially distanced tables.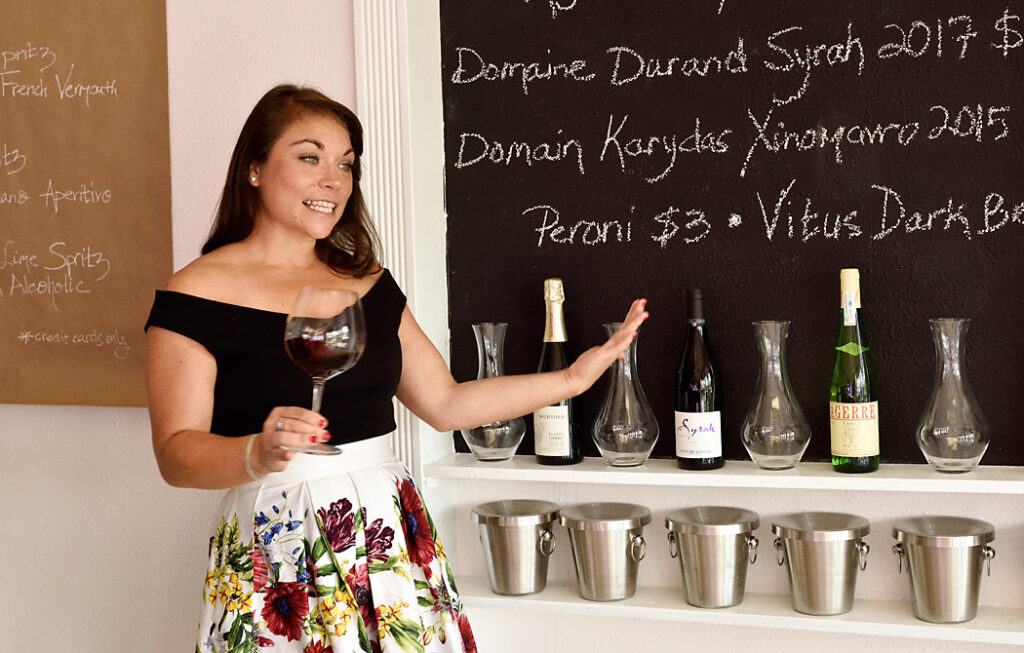 Originally from Fairfield, Punj studied at the Pacific Institute of Culinary Arts in Vancouver, Canada, where she fell in love with the sommelier field through an introductory class on wine. Punj received sommelier certification through the London-based Wine & Spirit Education Trust, and is only two exams away from its highest level of certification. The extensive exams can take as long as six hours to complete and include blind tasting and essay questions that require in-depth knowledge of grapes from around the world.
After graduating from the Pacific Institute of Culinary Arts, Punj spent the last six years in Aspen, Colorado, working as a sommelier and financial advisor. With family, friends, and business ties in Fairfield, Punj has returned frequently, and had her eye on a potential business property. When the space became available in May, she grabbed the chance to come back and create her own wine bar.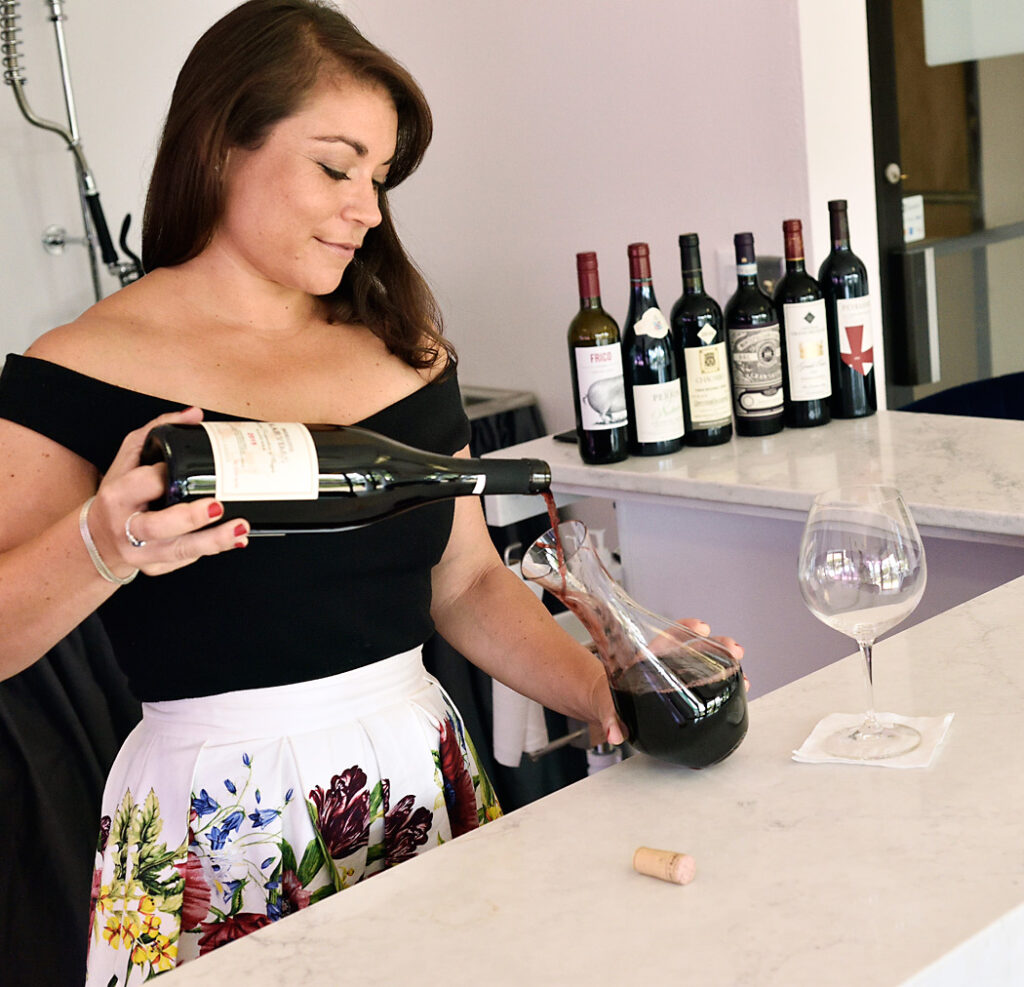 Punj has traveled all across Europe to study at regional vineyards, and she brings a European sensibility to her business. Her love of fine wine and knowledge of good food pairings have created a tempting menu. Veraison's small plates and tapas, inspired by the Iberian Peninsula, include nuts, olives, La Quercia meats, cheeses, a variety of toasts, gorgeous marinated seafoods, and a few other surprises. The freshly baked bread, also available gluten free, is provided by Breadtopia.
Veraison offers a laid-back European atmosphere conducive to leisurely appreciation. And Punj is happy to report that business has been steadily growing. "Fairfield is having a little bit of a wine renaissance," she says.
Veraison offers an extensive collection of European wines personally curated by Punj. The list features 120 different wines, with prices ranging from $20 to $350 a bottle. "People don't have to spend a lot of money," she explains. "I think I've done a great job on the wine list so people are comfortable ordering a bottle." Punj also sells wine by the glass, using the Coravin wine system, which allows her to pour through the cork. This way, people can splurge on a glass when the price of a bottle would be prohibitive.
Most of Veraison's wines are natural, organic, or biodynamic, from vineyards and wineries using sustainable practices. "I believe I am the only natural wine bar in Iowa," she says. Natural wines are made with the least human interference. They use indigenous yeast, avoid additives, and may forgo filtration and fining. Punj is happy to offer these wine options to Fairfield, a place, she says, "where everybody's excited about organic foods and eating clean."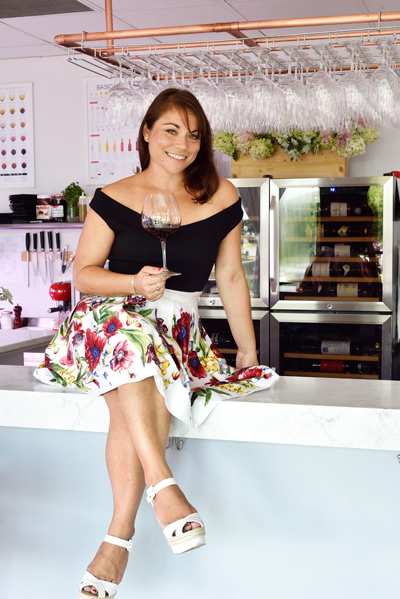 Punj enjoys sharing her expertise with patrons and prides herself on finding a wine they will like. All of the wines from Greece on her wine list are from vineyards she has visited. "Winemaking is extremely personal to the winemakers and the location," she explains. "Having spent time in those areas, I understand what has gone into making the wine. The winemaker's style and the regional terroir affect the final product. Because I curated each and every bottle on my list, I can help people find a bottle they enjoy."
In addition to table spacing, COVID-19 precautions include cleaning tables and chairs between guests, the use of disposable flatware and dishware, and masks. To minimize contact, Veraison accepts only credit cards, and contactless payment is available.
Veraison is located at 508 N. Second Street in Fairfield. Hours are Wednesday to Saturday 4–10 p.m. and Sunday 2–8 p.m. Veraison will be open through the end of October, and will reopen next spring on May 1st.
Learn more at Veraison's Facebook page and Instagram.