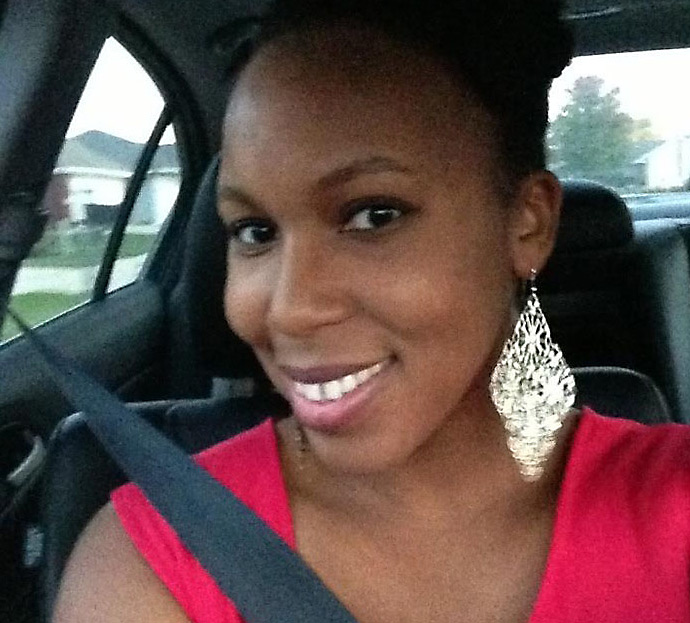 Eliza David writes about love and lust—and holding one's life together while grappling with both. After discovering a paucity of Black and brown women in the pages of the romance books she loved, David introduced readers to CeeCee Banks, the protagonist of her Cougarette series, whose relationship with a younger man gives CeeCee and the series their sobriquet.
David is a prolific writer with 12 self-published books to her credit. Her fiction also appears in a number of anthologies. She lives in Iowa City and is one of the leaders of the Writers' Room's "Scarlet Boudoir," a collaborative space for writers of romance and erotica (currently meeting online). She answered questions about her indie author endeavors via email.
Tell me how you got started as a writer. Did you always know you wanted to write? What was the spark that got you going?
Like most writers, I was a lifelong reader before I picked up the pen. Through reading stacks of mass-produced romance and chick lit, my writing bug sparked after I realized the lack of Black and brown 30- and 40-something women characters in my collection. Characters who were sexy, funny, great at their careers but clumsy in their personal lives. After going online, I quickly found and read Black women who were writing love stories as indie authors. They further inspired me to do as Toni Morrison once advised in one of her many inspirational quotes: "If there's a book that you want to read, but it hasn't been written yet, then you must write it." And that's how my first novel, The Cougarette, was born.
What inspired you to create CeeCee Banks? Did you always imagine you were writing a series or did that develop book by book?
CeeCee Banks was a character based on an amalgamation of women I've known in real life and women I've read and watched in books and movies. She's trying to start her life over post-divorce, when her personal and professional lives collide in front of clicking cameras, turning her into a reluctant social media sensation. CeeCee is witty, bold, and relatable—a friend, a mother, an executive, and most of all, exquisitely human.
When I wrote The Cougarette, I didn't intend to write an additional five books in 18 months revolving around her busy and wacky life. The words just flowed from me; her energy was contagious and inspirational. CeeCee Banks was and continues to be a creative gift for me.
What have you liked and disliked about being an indie author? Do you have any interest in a traditional publishing deal?
I love the freedom of independent authorship. No deadlines, no creative demands outside of my own. For my busy life (I'm a full-time librarian with a husband and two kids), being an indie author gives me the flexibility to attend to the many facets of my life without feeling as if I'm slacking on anything.
As for traditional publishing, I've tried querying my last novel (The Lamar St. Jon Experience) and it was an experience. It taught me that what's for me is for me. While I won't rule out getting back into the querying rat race again, it's not an immediate goal for me.
You've had a number of stories appear in anthologies. How did you get involved in those projects?
I adore anthology projects and highly recommend them to writers! It's less daunting and time consuming than writing a full-length novel, but nonetheless creative. Several of my published anthology entries have come from networking with fellow writers and searching for opportunities online. From my local collaborations with the Writers' Rooms to my steamy stories featured in Best Women's Erotica, anthologies have provided me with an opportunity to not only flex my creative muscles in a condensed format but have also opened up my reading audience.
Sex is right at the heart of your books. What's your approach to writing sex scenes and how do they reveal character or drive your plots?
There's a fine difference between writing erotica, a love scene, and a sex scene (and I've done all three—sometimes in the same book!). My approach to crafting these specific scenes is to read as much romance and erotica as possible. I also like to pick the brains of my fellow writer friends, maybe swap manuscripts to get advice on how to best enhance the scenes. One of the main goals of the more intimate moments of my novels is to develop a closer bond between the characters (only for me to shoot down all of their expectations once they get out of bed, of course!).
You're originally from Chicago but you live in Iowa City now. Do you think of yourself as an Iowa writer? And if so, what does that mean to you?
While I'll always be that Southside girl who spent her growing years in Chicago libraries before becoming a writer, I have to give love and props to Iowa City for being my literary home. My local writing community here has been a godsend, a collective of like-minded creatives who are just trying to bring their best selves to the page. We encourage one another to write the words and gather to support each other once we've completed a project. Some of my favorite collaborations have been with Iowa writers, artists, and healers. I'm so lucky to be a part of this literary force.
What are you working on now?
After a bit of a writing hiatus last year, I'm easing back into the writing saddle by working on some anthology pieces and revisiting some unfinished manuscripts. You can catch my most recent words of healing inspiration on my blog at ElizaDavid.com.
What important thing am I forgetting to ask you?
My top five desert island books, of course!
In Search of Our Mothers' Gardens, by Alice Walker
Wifey, by Judy Blume
The Universe Has Your Back, by Gabby Bernstein
Sula, by Toni Morrison
Sex and the City, by Candace Bushnell