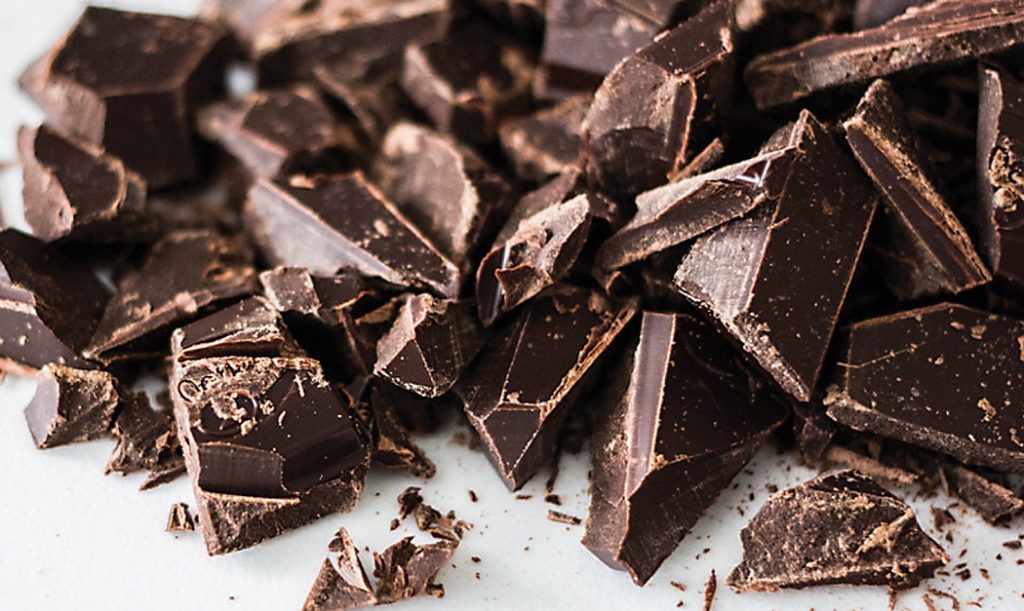 Editor's note: Balanz shipments have been delayed several times. If you need to cancel an order or have other customer service questions, please email: celesta@balanz.gives
I wouldn't call myself a chocoholic, but if you give me a 2.5-ounce chocolate bar, it's not going to last more than a few hours. So when my friend Chris Clark told me that he and his buddies were starting a company called Balanz to make chocolate that actually improves immunity and balances the mind and body, I was all in.
Could such healthy chocolate taste good too? Let's just say that when I tasted the samples—dark and milk chocolate truffles and bars—I was ecstatic. Rich, velvety texture. Truffle fillings that melt in your mouth like elixir from the gods, bars as rich and creamy. And the exotic flavors—from sweet, soothing Vanilla-Cardamom to the cozy allure of Cinnamon-Nutmeg—left me feeling light, not guilty like I normally would after eating a bar of chocolate.
Give me more, I said.
How Balanz Started
What's a retired doctor to do during a global pandemic? Think of creative ways to boost immunity, of course.
As a medical doctor, Chris Clark has had a lifelong interest in Ayurveda, the ancient science of health and immunity, and in the 1990s served as the medical director at the Raj Ayurveda Health Center in Fairfield. Since retiring from his most recent position at Kaiser Permanente Santa Rosa, he's been working as a consultant at Garten, a company started by millennial Michael Heinrich to bring well-being to the workplace in the form of healthy snacks, meals, and workshops on meditation and Ayurveda.
Michael and Chris share a passion to bring the benefits of Ayurveda beyond the workplace, and by the time the lockdowns began in March, they were ready to launch.
"The name Balanz grew out of the goal of Ayurveda, which is to create balance. And our company grew out of the desire to reach a wider spectrum of people with healthy, Ayurvedic products," says Michael.
It was Chris who wanted the first Balanz product to be chocolate.
"People reach for comfort foods in stressful times," says Chris. "We thought, Why can't we make chocolate that is balancing and good for you—guilt free?"
The Ayurvedic Difference
Not only does chocolate lift your mood, it lowers the risk for cardiovascular disease and diabetes, reduces stress, and even improves memory.
Chocolate is chock full of antioxidants. Then there's the hormone-boosting "bliss molecule" anandamide, which makes you feel good, and the "love molecule" phenylethylamine, which raises the level of endorphins in your brain.
"The problem comes when you eat most commercially made chocolate, which tends to be ultra-processed and contains all kinds of added fats, trans fats, high fructose corn syrup, preservatives, and other harmful additives," says Michael.
Balanz solves this problem by using the finest organic Swiss chocolate, certified in the EU, as its base. There are no preservatives or additives, and the other ingredients are also organic, including the cream for the truffle filling.
There's another problem with chocolate, though. Because cocoa is cooked and fermented like coffee, even the finest chocolate has a heating effect on the liver.
So Chris invited Vaidya Manohar Palakurthi, a world-renowned Ayurvedic expert, to formulate a combination of Ayurvedic spices to mitigate this effect.
"Balanz chocolate contains antioxidant spices to cool the excess heat and create balance and immunity," says Vaidya Manohar. "With Ayurvedic ingredients and processes, the whole character of chocolate changes to become healthy."
Vaidya Manohar explains that in the Vanilla-Cardamom Bar and Truffles, vanilla is settling, because it relaxes the mind and calms anxiety. It also strengthens the nervous system.
"Cardamom, on the other hand, has a cooling effect, nourishing the heart and moderating the digestive system," he says. "It's soothing to mucous membranes of the throat and intestines and works to prevent coughs."
For the Cinnamon-Nutmeg Bar and Truffles, the cinnamon curbs sugar cravings and is an important spice for preventing diabetes. It's also good for circulation and the brain. Nutmeg soothes and relaxes the nervous system.
"Balanz chocolate does contain organic sugar in small amounts, which counteracts the bitter, astringent taste of chocolate," says Vaidya Manohar.
Taste is All-Important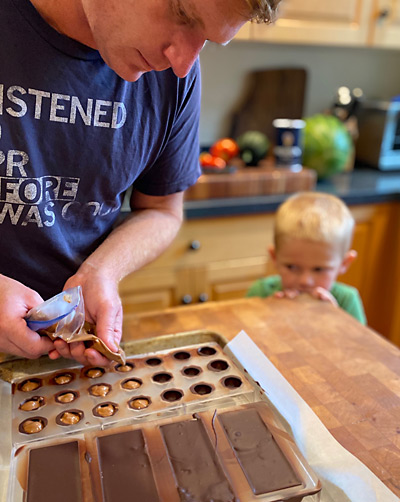 "Above all, we wanted the chocolate to taste good," says Chris, so he reached out to Justin Vigmostad. Currently vice president of buying and operations of Collective Goods in Boulder, Colorado, Justin knows chocolate, having worked seven years for a chocolate company startup while studying for his accounting degree at the University of Iowa.
"The connection with Justin was key," says Chris. "He's worked in the chocolate world, learned from Swiss chocolatiers how to create artisanal chocolate, and knows how to source the finest Fair Trade chocolate."
This being the era of lockdowns, Justin ended up testing recipes in his home kitchen after his four young sons (who also love chocolate) were in bed. "Recipe development is both a science and an art, and I love spending time in the kitchen finding out which Ayurvedic ingredients taste great in chocolate," he says.
From product testing to web design to locating manufacturers, it's taken passion and dedication to create a new business during a pandemic, says Chris. "We want to stay true to our mission of creating bliss and health through Ayurveda, leaving you transformed by products that you didn't even think were possible."
Visit the Balanz Chocolates website at Balanz.gives

Linda Egenes is the author of six books, including Super Healthy Kids: A Parent's Guide to Maharishi Ayurveda, co-authored with Kumuda Reddy, M.D. She is thrilled that her chocolate habit is now a healthy one.