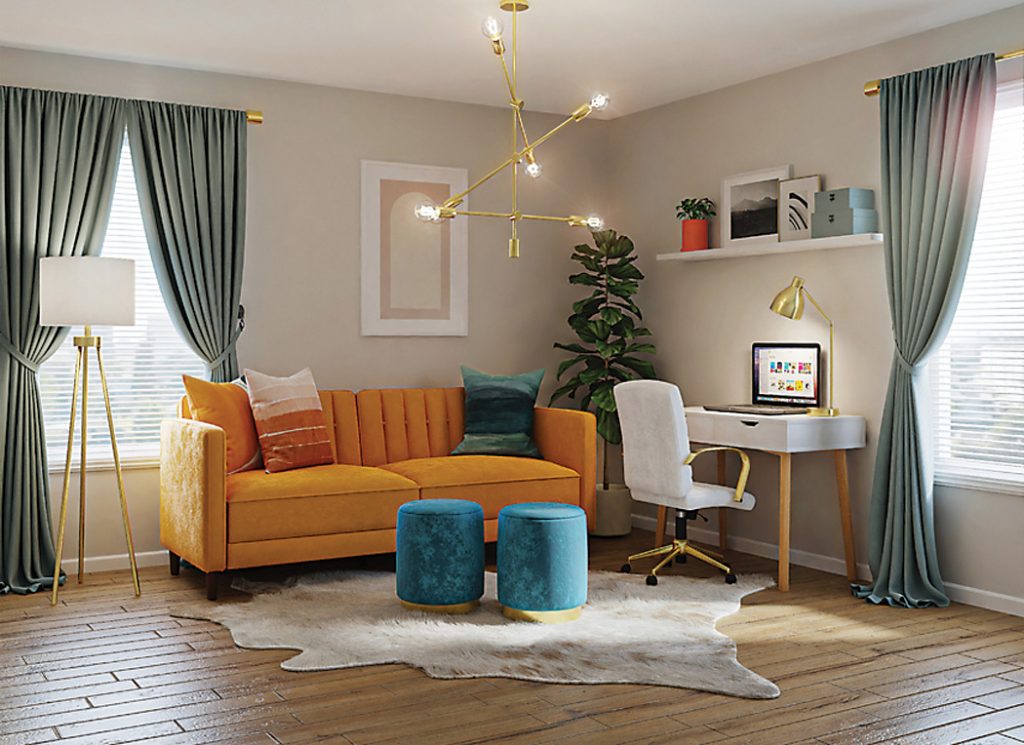 If the pandemic is keeping you looking at the same four walls day after day, perhaps you need to upgrade the walls. That's what I did, shopping almost entirely online, including swapping out about half the furniture, all for about the same cost as our latest stimulus check. Applying Marie Kando's advice to shop for joy, redecorating has made staying home as good as a vacation.
In my tiny senior apartment, I had to work magic to create an illusion of roominess, but I found that using feelings, flavors, and illusions—trickery of style, placement, and color—produced the effects I wanted. More than the merely visual, I wanted a specific feeling. My budget didn't allow me to buy new to meet a particular style, so I used many pieces I already had while adding flavors—bits and pieces of the style I wanted. Using this method, anyone with a little flair for decorating can probably rework their own home to get an entirely different look.
Themes
Most pro decorators advise starting with a central theme, usually beginning with a special object, such as a painting or family photos, to build a theme around. I prefer visual, intellectual, and feeling concepts to name my themes, like "A cottage in the woods at 4:00 in the afternoon."
This time, for my 208 square-foot space, I wanted the impossible: "Timeless silence in a 20th-century, old money mansion, with Art Deco." More than mere looks, that long theme describes the feeling I wanted— an antidote to pandemic anxiety, and a deep settledness that brings contented solitude.
Online Shopping
Buying online is an art in itself. It isn't as much work as driving from place to place for physical shopping, but it requires more careful scrutiny to details—size, quality, and color (which may be misleading due to individual computer monitors). Once you find a piece you like, use a search engine to comparison shop. A lamp I wanted ranged from $117 to $345.
Good questions become especially important if you are buying from places like Facebook (Buy Sell Trade), Craigslist, and classified ads, where you are unlikely to get your money back. Don't make assumptions. A bed headboard I liked looked like rattan in the tiny photo but turned out to be wood.
Important Questions
In small space like mine, every element becomes critical. Of each I asked, "Does it serve to bring silence? Does it bring joy?" For each purchase, I learned to ask more questions, such as:
Is it pleasing to the budget?
Pleasing to the eye?
Pleasing to the touch?
Pleasing feeling, look of quality?
Does it fit the style, shape, color?
Does it make me feel good?
Does it have good vibes? This is particularly important if you're buying used goods.
We should never settle for less than the best we can afford, or settle for less than what actually works. Pay particular attention to how objects feel to the touch. The higher the quality, the more it brings underlying feelings of wealth, substance, and security.
Less is More: Using Illusions
Artists know that illusions help the eye see what isn't really there. We can use illusions, or "flavors" of what we want, to make affordable changes. For instance, maybe you can't afford to bust though a wall to install a new window, but you can rework an old window frame (Habitat for Humanity Restore) to create the illusion of one.
In my case, a few unmistakably Art Deco designs coupled with elements of that style (such as metal, velvet, the feminine) were enough to create the sense of that style throughout.
Space
Flavors means using select pieces of that style, with elements such as fabrics and materials associated with it. For instance, instead of overwhelming my small living area with wallpaper, a 3×6 section of peel-and-stick was sufficient to make an Art Deco statement.
Spaces that are too large or too small can be manged by using groupings, which can create the illusion of spaciousness or coziness.
For instance, how would it be possible to get a feeling of limitless wealth and a mansion's worth of space in a tiny apartment in which the landlord refused to repaint or replace ugly carpet? I used illusion by creating four sections—entry, living area, dining area, and office, each artistically self-sufficient. A 4×6 rug created boundaries for a leather loveseat ($100 from Facebook), credenza/TV, easy chair, and bookcase (thrift or consignment shops). Turning the loveseat perpendicular created the feeling of a wall. Beyond that "wall," an Art Deco dining table maintained the illusions.
The biggest problem I faced was how to hide unattractive office paraphernalia and a hospital bed required by old injuries. From the entry, this mess is all but hidden behind an Art Deco-flavored screen. Before a guest's eyes fix on that eyesore, they are lured toward the more attractive side of the room. When seated and when leaving, they face away from it.
Color
Judicious use of color is necessary for creating flavors and illusions. Colors typically should be in 60/30/10 proportions—sixty percent one color, thirty percent of another, then blended with a third color at ten percent. Warm tones are energizing, cool tones are relaxing. Neutrals create less distraction in small spaces like mine, or create a sense of sophisticated comfort in larger ones. To "disappear" the awful carpet and paint in my apartment, maximize an illusion of space, and create feelings of richness, I used mostly neutrals. There are only three splashes of color in the entire room—a canvas-printed pastel painting, matching pillow covers (Amazon), and an area rug (Home Depot).
Trust Your Intuition
Sometimes we also get pleasant surprises that break the rules. I repeatedly rejected a favored Oriental rug because it didn't fit my limited color scheme. However, looking back and forth between the photo and the space, I realized that the darker color picked up the brown in the credenza to create a dramatic wholeness. Besides adding to perceived richness, it created an illusion that extended the space.
Flavor
To solidify the 100-year-old Art Deco style with mostly traditional furniture, I placed a Tiffany style table lamp (Amazon) on one side of the room and my most expensive piece—an Erte's sculpture lamp (eBay) on another. To add to the illusion of timelessness and perceived silence, I bought an antique ticktock clock (eBay). The beat enhances the illusion of unhurried silence while reminding me of my grandmother's home, thus triggering memories of contentment.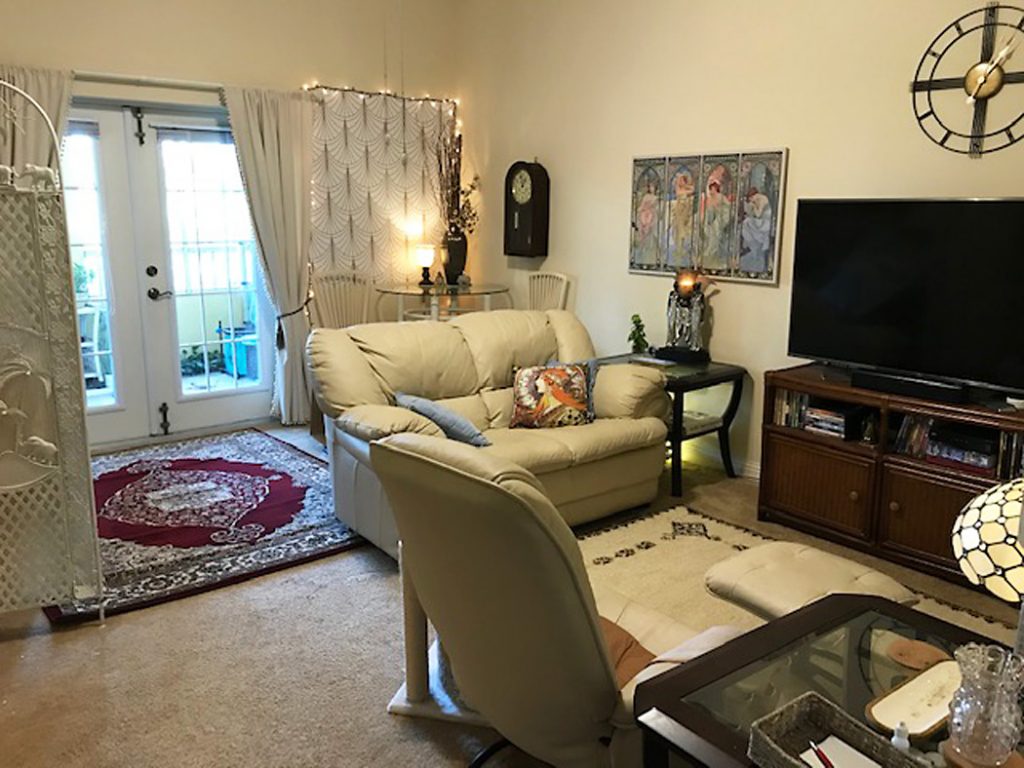 The End Result
It took hours of visualizing, scrolling through page after page of items, fiddling with placement, repainting, and selling old pieces to fund some of the purchase. In the end, I think I achieved the impossible. With lights low in the evening, the clock ticks in the background and the atmosphere brings me what I wanted—a deep sense of wealth, security, and ease. I bet you can get the feelings you want too.