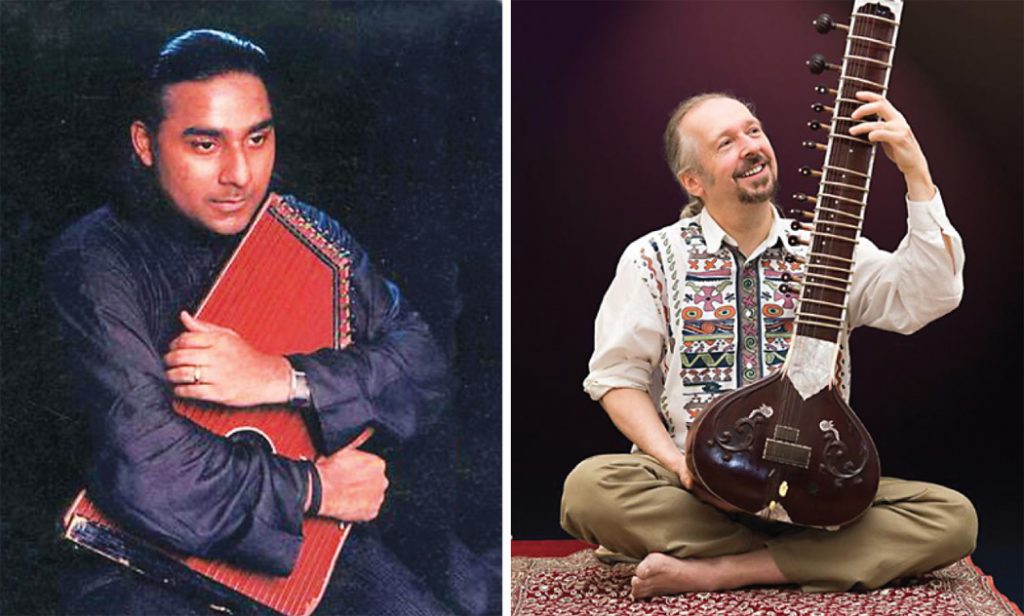 While pursuing the path to inner peace over many decades, I've come across some sublime musical tracks. These extraordinary performances that inspire transcendence can be traced to Sufi, Buddhist, and Indian Vedic traditions. If you want to experience the music beyond these descriptions, you can find a specially prepared Spotify playlist, "Sacred Songs from Asia," under the handle DJ Andy Bargerstock.
Beyond the Beyond (CD, 2004), featuring singers Shafqat Ali Khan and Annapurna. This album offers a sublime, ethereal blend of voices, acoustic instrumentation (sitar, tanpura drones, prayer bells), and synthesizer keyboards. The production of this album is world class.
Lead singer Shafqat Ali Khan is descended from a line of Pakistani Khyal classical singers that goes back 400 years. Female vocalist Annapurna is a Tibetan-Buddhist singer who colors the mind of the listener through aalap, free improvisations on primordial sound. To start, listen to these 16-minute companion tracks: "Emptiness is Form" and "Form is Emptiness."
Sacred Chants of Shiva (CD, 2008) features Craig Pruess and the Singers of the Art of Living associated with Indian guru Ravi Shankar. This extraordinarily well-produced album was guided by American musician, arranger, and sound engineer Craig Pruess, who has lived in the UK since 1973. The recording location appears to be a vast temple with hauntingly beautiful reverberation that embellishes the acoustic instrumentation, including tanpura drones, the zither-like swaramandal, prayer bells, and the bansuri flute. But the vocals truly carry the day. Slow ambient chants and instrumentation rise and fall in resonance to facilitate the listener's inner journey. Start with the tracks "Shiva Manas" and "Atmastakam."
"Shiva Nam Kevalam" from CD Dreams of the Deer (2008) and "Ware Soku Kami Nari" from CD Lakshmi Smiles (2008), both by Starseed. Three California-based musicians perform instrumental music in a meditative trance while delivering a swoon of bliss on sitar, tanpura, and synthesizers. The Starseed website (StarseedMusic.net) explains how the design of Indian instruments stimulates a sympathetic vibration in the listener.
"Adoration" by Craig Pruess from CD Language of Love (2004). Another great album from Pruess, this one has my favorite track. Pruess has produced various CDs based on East Asian music, and over the years, much of his work has been commissioned for TV and film scores.