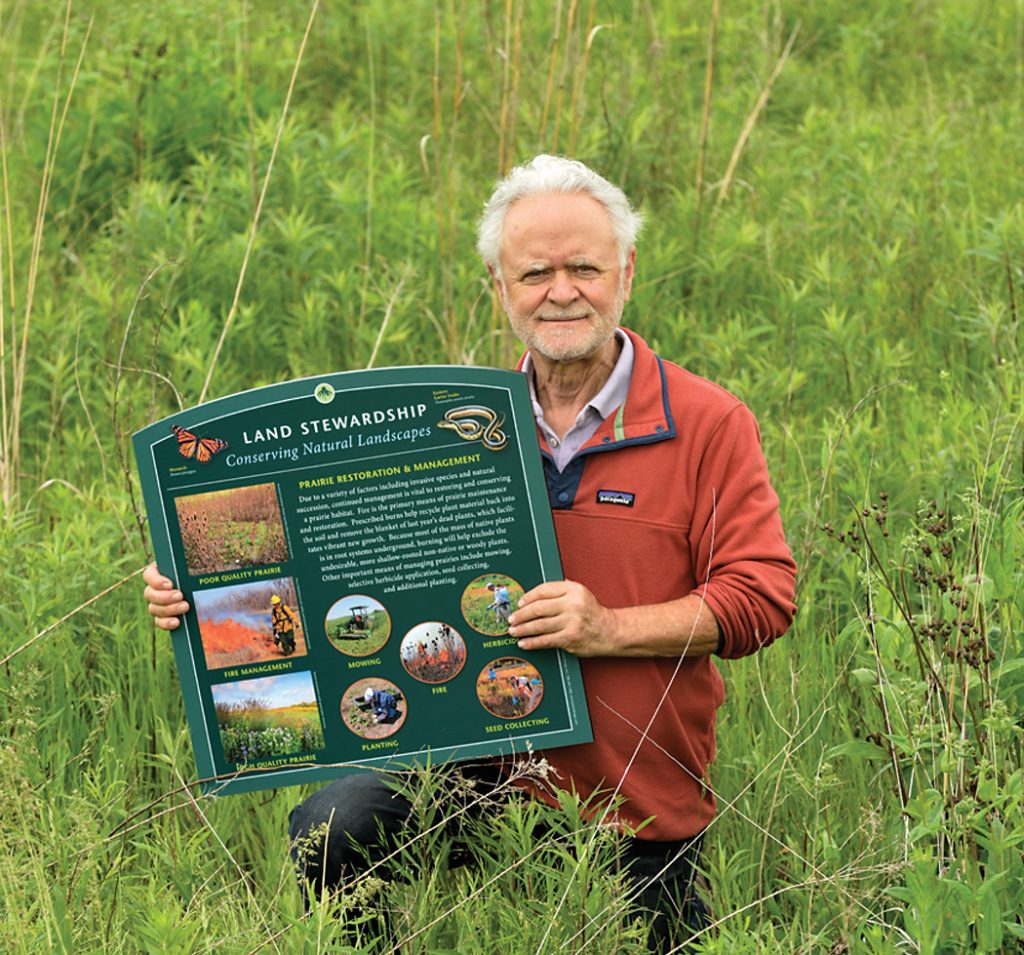 The journey began in 1999 as a group of Fairfield recreation enthusiasts sought to locate the out-of-town owner of property abutting the newly planned Fairfield Loop Trail.
Luckily, we found our man—Robert McElhinney Nady, retired ISU professor of engineering, glider pilot, international businessman, and philanthropist.
The Fairfield land Bob owned had been in the McElhinney-Nady families since 1844, and although he was an absentee landlord (the 50 acres were cropped by a tenant farmer), he had withstood the onslaught of developers eager to create high-end residential housing. "Maximizing the value of the land" is how they put it. Because the land is prime real estate located between Silver Lakes and Lakeview Estates, it was valued at over $1 million.
But Bob wasn't interested. Named after his maternal grandfather, Robert McElhinney, one of Fairfield's founding citizens, he was emphatic that the land would never be sold for development or altered from its original state.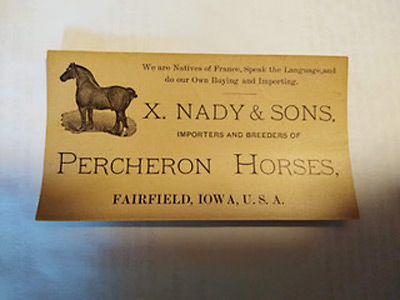 Bob came from solid stock: his paternal grandfather, Francois Xavier Nady, immigrated from the Alsace region of France and was the first importer of Percheron draft horses to Southeast Iowa.
I put Bob in touch with the Iowa Natural Heritage Foundation, the state's pre-eminent conservation organization, and together they crafted a conservation easement, now held by the Jefferson County Conservation Board, that protected the land in perpetuity. It would never be built upon.
When Bob's health began to fail in 2011, he and his family deeded the land to the City of Fairfield. After the appraisal report was received, I feared his family might not support his altruistic motives, but they backed his decision to donate the land without hesitation.
Next, a mayor-appointed committee sprang to life and decided to restore the land to its original state, Iowa prairie. Yahoo! A big win for biodiversity and environmentalism.
But how to accomplish such a feat and where to obtain funding? Small towns don't readily possess funding for such projects. The answer came from Doug Ensminger, of the local office of the Natural Resource Conservation Services (NRCS), a federal agency.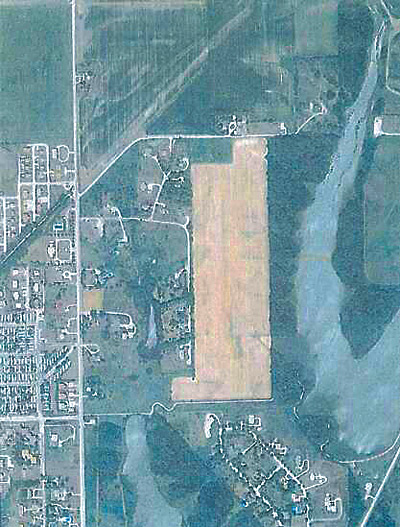 The Nady land, Doug explained, having been farmed for decades, was eligible to apply for Conservation Reserve Program (CRP) status, a federal land conservation program. In exchange for a yearly rental payment, a landowner agrees to remove environmentally sensitive land from agricultural production and plant species that will improve environmental health and quality. Bingo!
The next step was to find a landscape architect who understood prairie restoration and design. Sources led us to Steve Brower from Burlington, an adherent of Otto Leopold, who had the knowledge and passion to work the Leopold philosophy within the required limitations of the CRP program. Alakazam! A Leopold mix, containing over 100 native Iowa grasses and forbs, was planted. Trails were planned, a master plan conceived.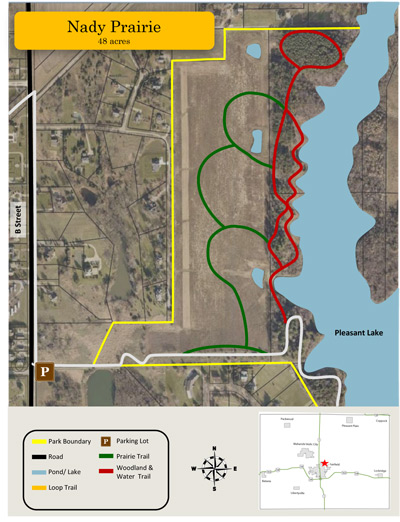 The now-named Nady committee, with a diverse and knowledgeable spectrum of personalities and specialties, forged ahead. Kevin Andersen, DNR, was particularly adept at finding the right balance of seeding and mowing with weed burning. Mark Smith, owner of The Ride, is a professional burn specialist. Shawn Morrissey is director of the County Conservation Board. Naturalist Brittney Tiller and educator Kari Bede were essential to the development and strategy of sign design and placement.
To be sure, there were successes and failures—drought and improper mowing technique yielded only partial results. We learned over time what worked and what didn't. Prairie evolved over the millennia and won't be rushed. As my mom reminded me when I was growing up, "Rome wasn't built in a day."
At the same time the nascent prairie was being birthed, the city-owned adjacent woodlands and lake were being readied for their role in this landscape tapestry. The rustic walking trail was widened and a tranquil, scenic path alongside the lake was added.
Now the prairie is coming of age and it's time to show off her splendor to the public, with forbs and grasses growing from May through October. Prairie insects, birds (including quail and pheasant), and other critters are taking up residence.
The 48 acres of Nady Prairie contain roughly 4,000 feet of mowed walking trails, replete with colorful educational signs, benches, and bicycle racks. But wait, there's even more! The prairie trails were designed to intersect with the adjacent woodland and water trails, and it now connects to the Fairfield Loop Trail at three entry points.
The Nady committee lobbied the Fairfield City Council to allow them to use future CRP funds for the protection and expansion of other city-owned sensitive wildlife areas, such as the entire Pleasant and Bonnifield Lakes watershed area, the Eastman Wetlands and Community Orchard (adjacent to Chautauqua Park on its eastern flank), as well as Lamson Woods. Bravo!
Kudos to the Fairfield Parks & Recreation department, board, and Foundation who have been supportive throughout the process and who will assume some of the ongoing maintenance along with community volunteers and dedicated prairie enthusiasts. And finally, thanks to the local chapter of the Sierra Club and Iowa Prairie Network, whose members kept the faith and turned up the heat!
The Nady Prairie will open to the public on June 12, 2021.