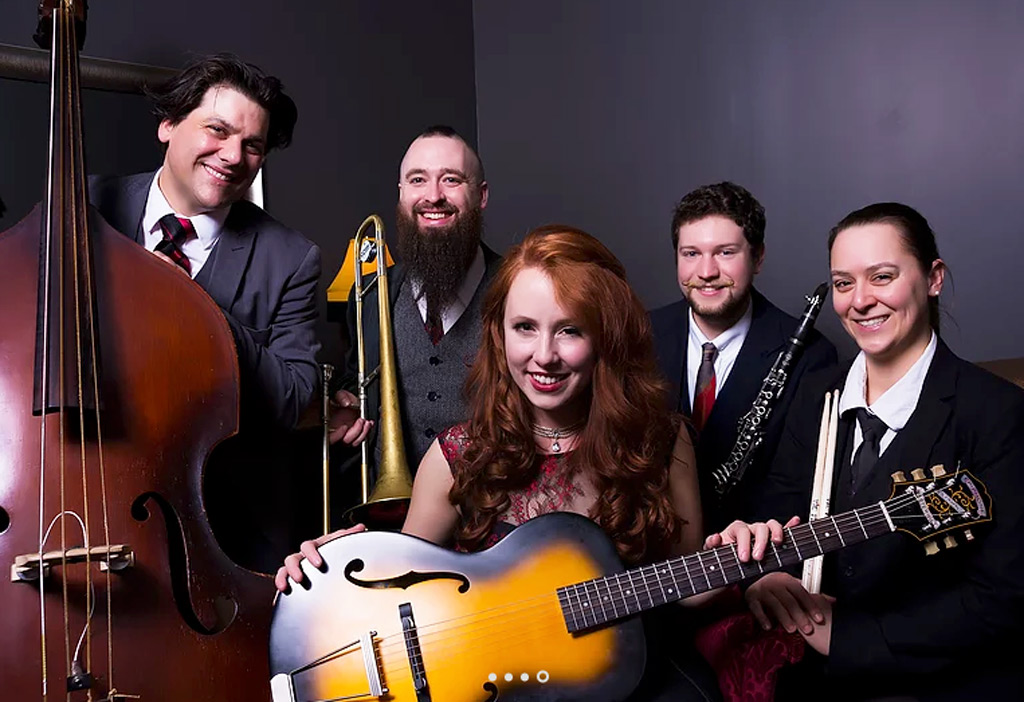 On Thursday, October 7, the Sondheim Theater brings a celebration of sizzling jazz to Fairfield. Miss Myra & The Moonshiners, a formidable five-piece swing band, offers a fresh female-driven perspective to traditional New Orleans and Hot Club jazz. Playing a broad repertoire of classic tunes from the 1920s and '30s alongside inspired originals, with powerful vocals, a smoking horn section, and sweet rhythm, they are guaranteed to lift your spirits and set your feet to tapping.
"It is literally impossible to be sad or still when listening to these guys. More infectious than yellow fever, more personality than Sybil, more fun than bathtub whiskey, and more soul than any kids this age should have. I love this band!" —Kevin Bowe, producer, songwriter (Etta James, "Let's Roll")
Miss Myra is a threat on every level. Her golden voice will bring you from rock bottom to ecstasy and back, while her driving guitar rhythm holds the Moonshiners together. Her style of hard-hitting swing guitar is reminiscent of Django Reinhardt, but she also draws influence from legendary blues guitarists like Leadbelly and Blind Boy Fuller. And if you let her near a piano, you'll hear virtuosity from ragtime to Liszt.
Showtime for Miss Myra & The Moonshiners on Thursday, Oct. 7, is 7:30 p.m., and tickets are $20. The Sondheim Theater is located at 200 N. Main Street, Fairfield. FairfieldACC.com.