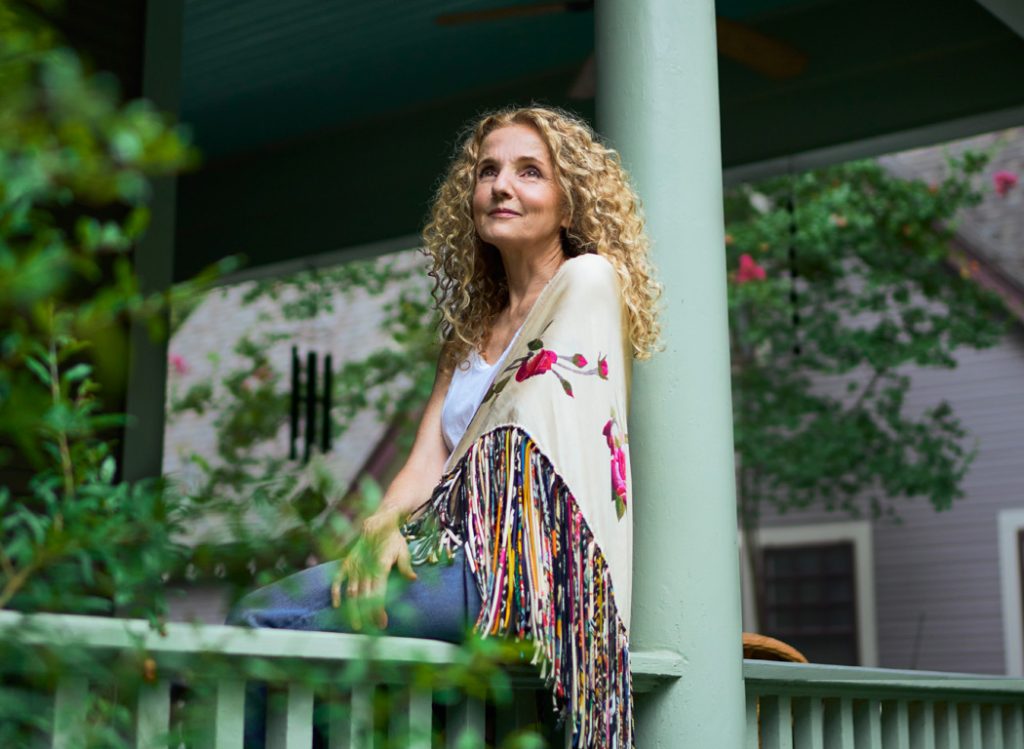 Twenty-five years ago, Patty Griffin recorded a set of songs on a demonstration tape. She was trying to get a record contract. The music had a rough quality, as it just featured her singing and playing acoustic guitar without overdubs or additional instrumentation. A&M Records liked what it heard and promptly signed Griffin up.
The company planned to have her re-record the material with studio players. The disc was produced by Nile Rodgers, who by then had already worked with such notable acts as Diana Ross, David Bowie, Madonna, and Duran Duran. However, the record label was dissatisfied with the results. They decided not to release the polished product and instead put out the demo tape as a finished recording. The result, Living With Ghosts, was a critical and commercial success that sold more than 200,000 copies.
Since then, Griffin has won a slew of awards, including Grammys in two different categories (Best Folk Album in 2019 and Best Traditional Gospel Album in 2010) and has been nominated five other times. She has also won the Americana Music Association's prize for Artist of the Year and Album of the Year (Children Running Through, 2007). She's released 10 studio albums. and 3 live ones, and even started her own label (PGM). She hopes to perform selections from each of her records during her return to the Englert Theatre in Iowa City on January 23. She will be accompanied on stage by multi-instrumentalist and fellow Austinite David Pulkingham.
"David and I move the set list around from show to show, messing with the materials from different eras," Griffin said over the phone from her Texas home. "I'm more partial to doing recent stuff, but the art of performing live is to be true to oneself and the audience." She knows people want to hear their favorite songs, even if they are from 25 years ago, and she feels an obligation to entertain. Although she currently has nothing planned, Griffin expects that she and Oklahoman Parker Millsap, who opens for her on this tour, will join each other at some point on stage.
The singer-songwriter has a laundry list of impressive achievements. She has recorded and collaborated with a host of important artists, including Emmylou Harris, Robert Plant, Kelly Clarkson, the Chicks, and Raul Malo. Her songs have been covered by such luminaries as Bette Midler, Linda Ronstadt, Solomon Burke, Ruthie Foster, Jeff Beck, and Miranda Lambert. Her songs have been featured in movies (Elizabethtown; Niagara, Niagara; Loggerheads), on television (Crossing Jordan, Smallville, Sons of Anarchy), in theater, and in commercials. Griffin has also done considerable charity work on behalf of causes ranging from environmental issues, the refugee crises, Civil Rights, and the arts.
Griffin has a husky voice with an expansive range. She can sound like a little girl or an old lady, a brute or a lover, depending on the song. She giggles a bit when she talks as if she doesn't want to come off as overly heavy, even when the topic is serious, such as the recent pandemic or the current state of the nation.
"I went bananas during the lockdown," Griffin said. She initially enjoyed the respite. The COVID crisis hit as she finished a lengthy tour, and she was glad for the rest. But as time went on, not performing took its toll. "I didn't write or play music. I worked on my paintings, which I had not touched for several years, and did other creative work. I was glad for the quiet. There was a lot of noise last year, and I didn't want to add to it." After not touring for more than a year, Griffin was happy to get back on the road, visiting venues in the south and east in the fall. She is still cautious about COVID and playing in public, and expects her audiences will be masked and vaccinated. (Please note that the Englert requires masks and proof of a recent negative COVID test.)
Griffin mentioned that she saw a 103-year-old woman on television who got up each morning and made a list to help her get some joy out of every day. The singer-songwriter said she's not good at scheduling, but she wants to be like that old woman and look forward rather than backward. The accomplished 57-year-old still has many goals, and most importantly, she wants to continue working. "I do know that music is hand in hand with breathing for me. I didn't realize that so clearly until last year. I feel more gratitude, love, and respect now for audiences and other musicians who keep going." She said she feels blessed for being able to go back out on the road, even if it means trudging through the Iowa cold in January.
"I remember how darn cold it gets up there," said the Texan. "I remember driving the backroads through Iowa small towns and how pretty they looked from the car and how frigid it felt when we got out." Still, Griffin had no hesitation about returning to the Hawkeye State. "If the farmers can bear it, so can I," she joked.