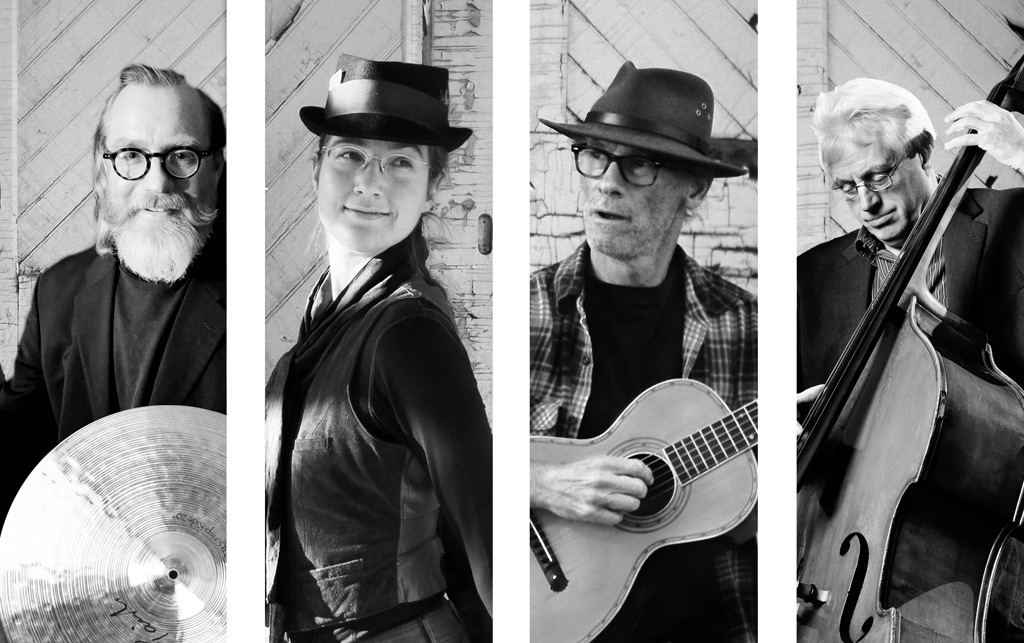 Max Hatt / Edda Glass have "an incomparable spook" and a "unique sound" (Nashville Scene; NPR's Larry Groce) that's taken them across the country from NPR and PBS to NYC's Lincoln Center and DC's Kennedy Center.
Praised for the "hushed sophistication, poetic density, and narrative heft" (Yes! Weekly) of her lyrics, and her "impeccable vocal command" (PopMatters), Glass is ultimately "one of a kind . . . you cannot confuse her with another artist" (NY Theatre Guide). Hatt's equally distinctive guitar work combines the harmonic innovations of jazz with the melodic resonance of folk, creating compositions that are "direct yet take unexpected twists and turns"—together they create music that is "subtly poignant, elegantly funky, and haunting without trying to be" (Nels Cline, Blue Note Records). Their award-winning original Jazz Americana and unique interpretations create a swoon-inducing soundscape that is both epic and intimate, making one feel "both lost and found, all at once" (NY Theater Guide). If we live in uneasy times, this music is both a reflection and antidote, an escape that is really a healing-in-place.
Max Hatt / Edda Glass will be touring as a quartet joined by bass virtuoso Clipper Anderson and percussionist John Bartlit. This tour is made possible by a grant from Jazz Road, in coordination with South Arts, the Doris Duke Charitable Foundation, and the Andrew W. Mellon Foundation.
Clipper Anderson is a virtuosic bass player and soloist based in Seattle, who has played with a long list of jazz greats, including Madeleine Peyroux, Michael Brecker, Arturo Sandoval, Peter Erskine, Bob Mintzer, Bucky Pizzarelli, Benny Golson, Paquito D'Rivera, and Buddy DeFranco. Max and Edda add, "his intensely melodic yet rhythmically angular bass-lines and solos truly thrill us and transform the music—it was absolute magic and kinship from the first time we played together."
John Bartlit received a music degree and taught for 12 years at the University of New Mexico and has worked with the New Mexico Symphony, John Lewis of MJQ, Chris Calloway, John Cage, and Lou Harrison. He is a composer and recording artist, and has a platinum album with Robbie Robertson, film credits, and premier recordings of works by modern classical composers.
Showtime is Sunday, March 27, at 8 p.m. Tickets are available online and at Café Paradiso, 101 N. Main Street in Fairfield.