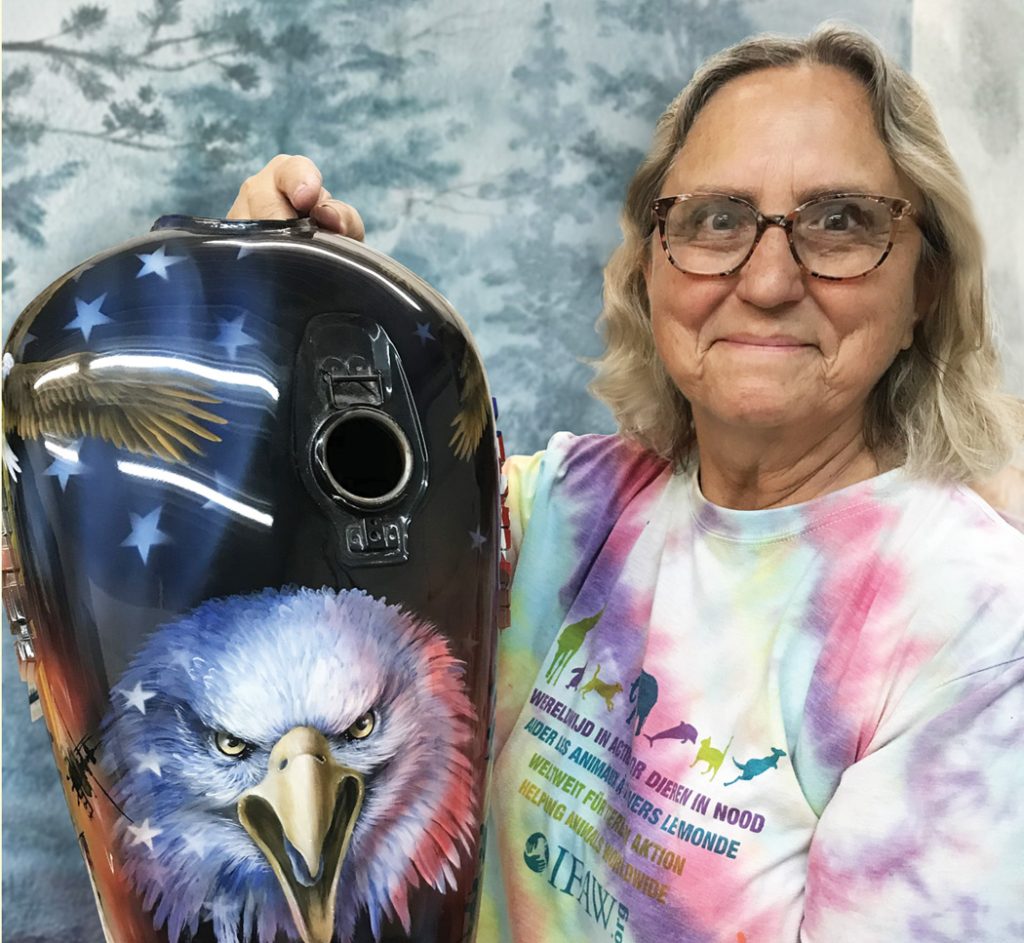 You'd think Sue Hopper had happened upon some kind of magic elixir to look so vibrant, have so much creativity, and be so productive at age 70. And in a way she has.
It's called doing what you love. Saying yes. And having faith. Faith that you can put a "for sale" sign in front of your Lockridge, Iowa, house and start cleaning out your closets—knowing that the 100-acre property you've had your eye for years will soon be on the market.
Faith that when your granddaughter calls you up on the phone, sad because she's only four and not allowed at day camp, you can tell her, "You get to go to camp! You get to go to Camp Grandma because they take four-year-olds," and trust that in a few weeks' time you will have all the resources—and the kids—to make it happen.
And faith that when people discredit your talent or your success because "you didn't go to college," the voice in your head that says you are worthy is the only one worth listening to. Ever.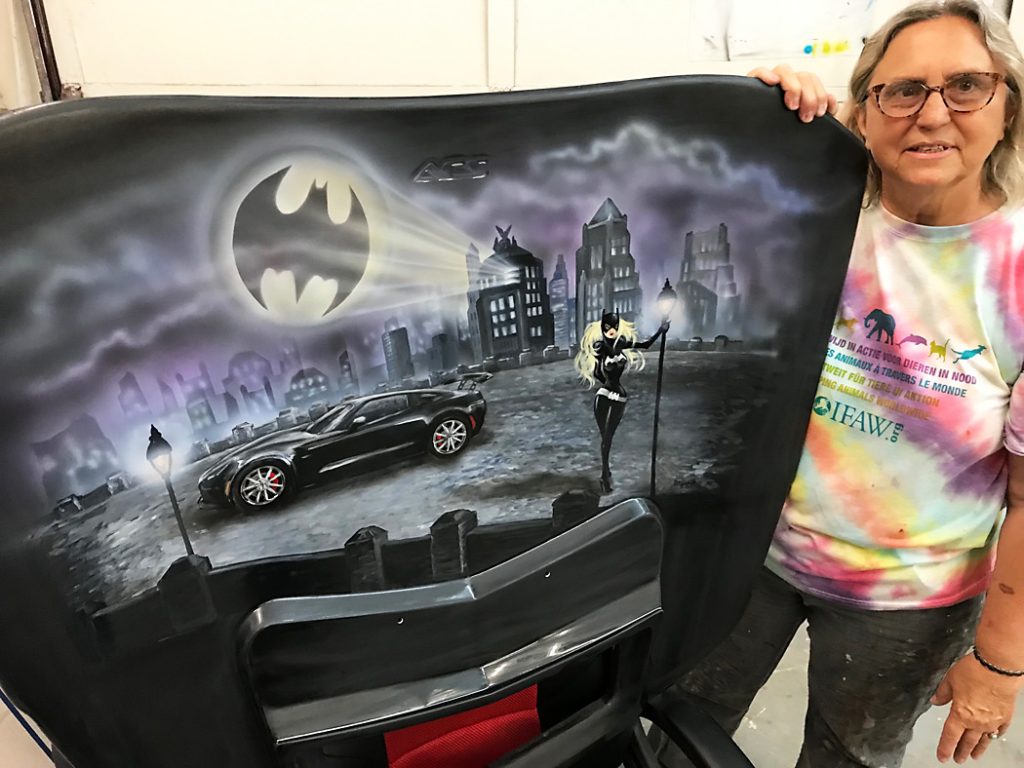 You could say Sue Hopper, internationally in-demand painter of custom motorcycle art, is a self-made success, but she would likely argue with you on that score. She'd tell you stories about all the people who helped her—and believed in her talents—and then she'd give mad props to the Big Man Upstairs for giving her those talents in the first place.
She knows some will relate to it, and others might think she's off her nut, but throughout her life she's gotten a lot of messages from God. And she listens—because she trusts that even though she can't see the whole path, it doesn't mean there isn't one. Yes, she puts in some long hours, and takes leaps of faith that would make most of us shudder, but ultimately she's just along for the ride—with her hair blown back and a gentle grip on the handlebars. Her journey has been remarkable thus far; the signs and wonders never cease. Which happens to be the name of her business.
Signs & Wonders
Sue Hopper had raw artistic talent from a young age, but it took a while for her to trust it. Her elementary art teacher saw promise in her gift, and would give her special projects in the mornings before school, but Sue didn't connect to her art lessons in high school, and began thinking, "Okay, never mind, maybe it's not my thing." She put her paint away for six years, she says, "until my brother-in-law, John McLain from the Johnny Clock Museum [a Lockridge attraction] brought me some old barn boards and said, 'I want you to paint me some pictures for my gift shop."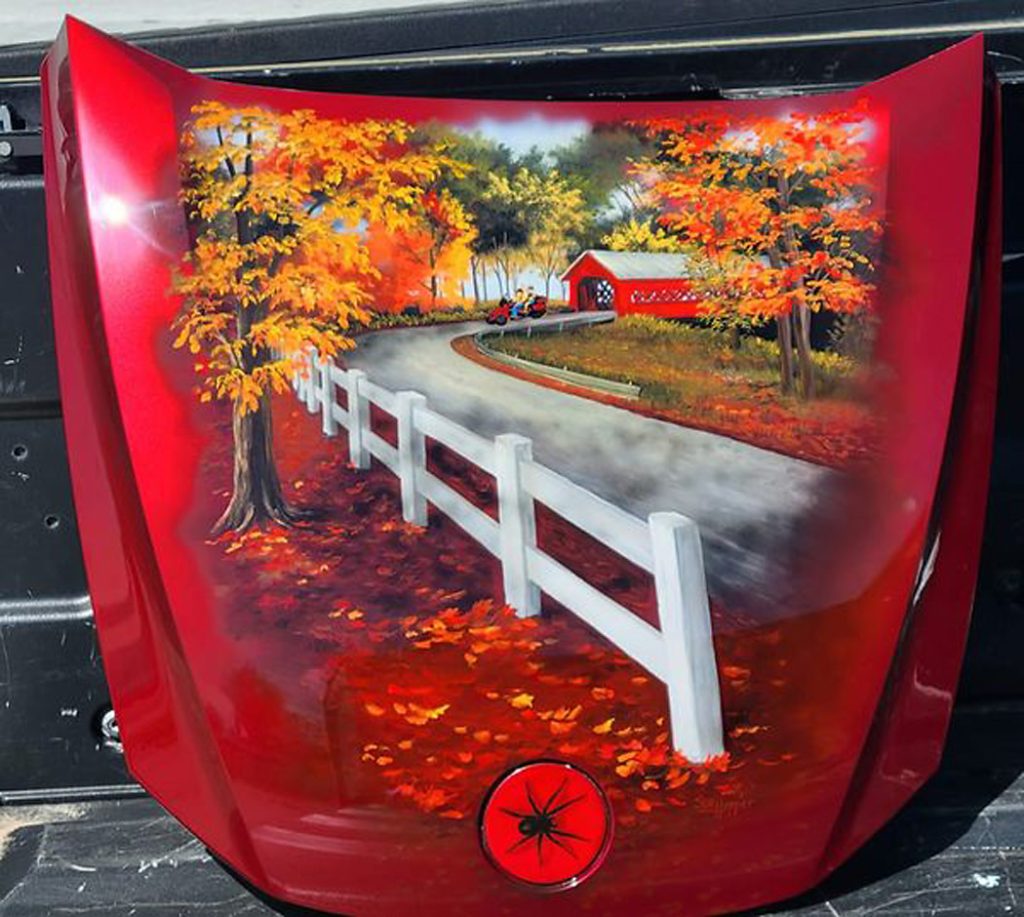 They turned out pretty darn well. "It must be the wood," she thought to herself. "I wouldn't paint on anything but wood for two years because I thought that was the only reason they were good." But she began getting sporadic requests for custom work on canvas, and tentatively started branching out to other mediums.
After eight years, Sue extricated herself from a difficult marriage, and her sister moved in to help with the kids. Sue got a job at the Rockwell factory in Fairfield, "Six days a week for two years."
During that time, a friend asked for Sue's advice on creating a rendering—vases on a windowsill—that she'd sketched but didn't have the skill yet to paint. After an impromptu lesson, Sue's friend "was excited she learned so much in such a short time, and said, 'Can I come once a week for art lessons?' Two weeks later the woman says, 'Can Betty come? I've been showing her what I'm learning!' And the next thing you know, I'm getting calls from Burlington, Ottumwa, Pulaski, all word-of-mouth."
In 1983, when Sue got laid off from her factory job, she had 42 more students lined up—enough to start teaching eight classes a week. With her kids in school just across the street, a house, a barn, a garden, and a cow, and with a flexible self-set schedule, Sue had time to be a mom and to make a living. "That was my happy life," she recalls.
Sue has learned over the years, "When you have a talent, just say yes and figure it out." Leaping into unknown territory led to her first custom hand-painted sign project. Word spread like wildfire, and suddenly everybody wanted a sign. "Well, cool," Sue thought to herself, "I'm never going back to the factory."
Sue also painted some wildlife scenes on her brother's van. "Who painted your van?" somebody asked him. "Do you think she'd paint on my motorcycle trailer?" Her brother replied, "Oh, she'll paint on anything."
When that motorcycle and trailer rolled in, Sue was a bit awestruck. "I'd never seen a big ol' honkin' Gold Wing before. And he wanted a Snake Alley mural on the trailer." It was a big machine, and a big job, and Sue needed to haul the trailer to a friend's shop where she'd have enough room to work on it.
"So I'm pulling the trailer by hand, you know, down the street, and the guy that used to own this place," she motions to her paint shop where we're currently sitting, "comes out and says, 'Sue, you're supposed to get the motorcycle first'—you know, pickin' on me—and I'm thinking, 'Yeah, I'll own that building some day.' I never thought about it again, though—until I had a dream that I bought it." (And eventually she did—but that's another story. Signs and wonders, signs and wonders.)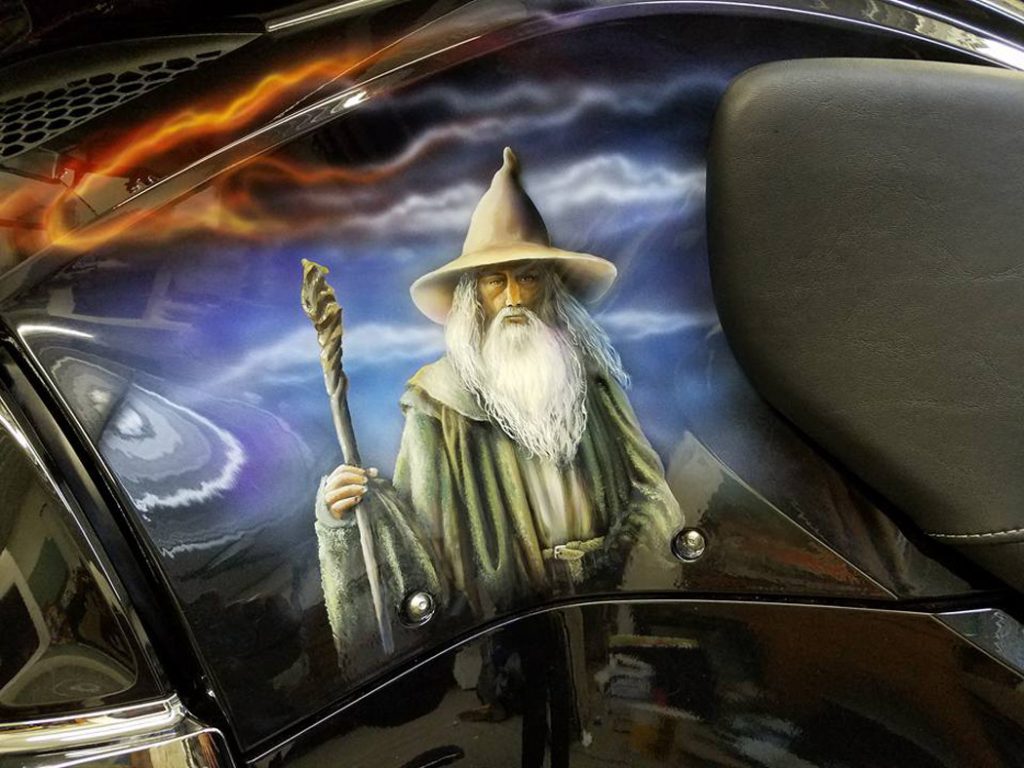 The owner of the Gold Wing trailer was so thrilled with Sue's rendition of the Burlington, Iowa, landmark, "he said, 'I want you to paint my bike, too.' Of course the neighbor saw it and so he had his trailer painted. And then his nephew saw it and he brought his down for Elvis Presley murals all over, so that was fun. Always loved Elvis," she says.
"When I painted the third bike, they invited me to a mall show, and I said, 'What's a mall show?' 'Well that's where the chapters get together and show off their bikes.' And he tells me, 'and bring a calendar.' So I go in the Burlington mall carrying a calendar. It was People's Choice, so everybody that came in shopping could vote on the bikes. Well, my three bikes won first, second, and third People's Choice. I was booked for six weeks."
The work kept flowing in. "So I just saved my money, saved my money, and one day," Sue explains, "I do Bible Roulette—you just open it up and see what you see first … and it said, 'This is the year to extend your tents.'" It was time to "build on." Bit by bit, dollar after hard-saved dollar—and with the boon of an eight-foot picture window she bought at auction for two dollars, "everything fell into place, and by fall [of 1983] I had my garage—my shop," built right onto her house.
Sue Hopper painted custom "Signs & Wonders" in her new garage for a time—and eventually ran a small team of employees to handle the work pouring in. When the market for custom sign-painting dropped off due to changing technology, the demand for her motorcycle art was booming and she didn't miss a beat.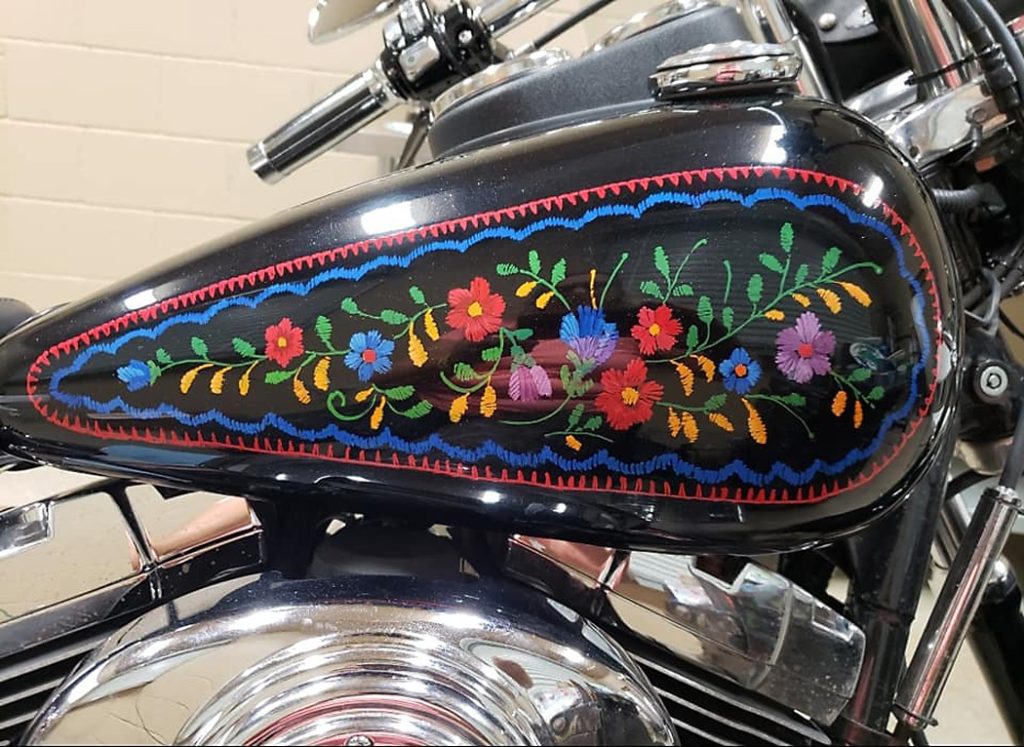 "For six years, I just did little rallies close to home. But people kept inviting me to the big rallies: Sturges, the Gold Wing Rally, Americade—those are the big ones, thousands and thousands of people. They kept hounding me to go to the Gold Wing National Rally, and I said, 'But that's in other states and big cities!' I hadn't been out of my little circle here, ya know. But I finally agreed. The first one I went to was Knoxville, Tennessee, and when I saw the Smoky Mountains, I was hooked on traveling. When I went home I started thumbin' through all the invites." Her world got big—and beautiful—fast.
Sue has traveled for 38 years now—creating custom art everywhere she goes. "I've painted on bikes from every state—and eight countries. Coast to coast, border to border." If you Google Sue Hopper you'll find pictures of her spectacular art—and high praise from a lot of happy customers.
The weirdest thing she ever painted? A wolf howling at the moon on somebody's artificial eyeball. And although she loves patriotic themes best, the most memorable thing she ever rendered was the luminescent world of Pandora from the movie Avatar. She's painted on golf clubs, antique safes, vans, cars, semis, tractors—and, of course, everything related to motorcycles—trailers, bikes, helmets, and vests.
Hopper uses a combination of hand painting and airbrushing to make her magic. "You get the detail of the hand painting and then the softness and the color of the airbrush," she says. And boy, once it gets "cleared," (she takes her stuff to Henry County Customs for the clear-coat finish), her stuff really wows—and shines like glass.
Sue shows me some projects in progress in her shop. "That one's going to Massachusetts," she points to a large Gotham City scene, Catwoman included. "It's going under the hood of this woman's [Corvette] Stingray, so when she raises the hood at car shows, people can see. I put iridescent in the paint so when the sun hits it you'll see it sparkle."
She shows me a motorcycle tank cover and a helmet that are getting bald-eagle makeovers. Zowie. Those piercing yellow eyes are lookin' right at ya.
"I get to paint so many different things, I never get bored," she muses. From koi fish and frogs to the Millennium Falcon and Gandalf the Grey, your wish is her command. And if she can work it into her travel route, she'll even stop at your house to paint on your bike. "Oh, and bring your friends!"
The Eagle Has Landed
Yes, Sue Hopper loves her work. And yes, she can't wait to see more of the world and meet more of its people. But toward the end of our time together, what I started to get was that the summer camp she started many years ago—for the sake of that four-year-old girl who was getting left out—is where the magic is really happening these days.
Her popular kids' camp outgrew her downtown shop and was rebuilt from scratch on that land Sue bought 19 years ago without a plan—just a message loud and clear while driving down the road, "Buy it."
"Mind you," Sue tells me with a grin, "this wasn't the first time God has said, 'do it,' or 'buy it,' and it ends up blessing other people. It's never about me. It's about having the faith to step out and do stuff, when other people would say, 'Oh, she's crazy.'"
On the day of that message, she let go of what she thought her life was supposed to look like and went to find the man who owned the land. He wasn't ready to sell, but made her a promise, and they shook on it.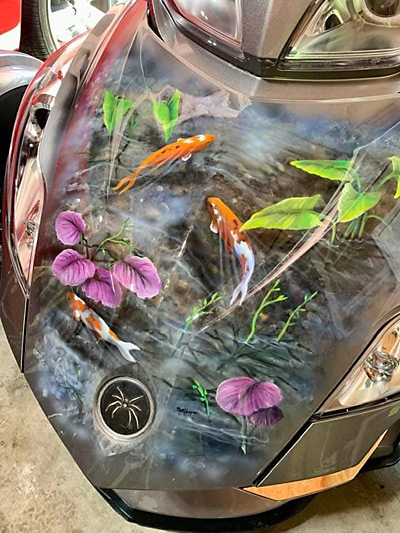 Well, the eagle has landed, and what was once "Camp Grandma" in the front of her shop has blossomed into Eagle Lake camp, complete with three cabins—the kids' sleeping quarters, buildings for art classes and play, a building for church ("you wouldn't believe how much these kids love to sing"), a kitchen and dining area, an outdoor playground, a beautiful two-acre pond ("we like to call it a lake") with some of the cleanest water around, the longest slip 'n' slide you've ever seen, and a modest (but spectacularly muraled) home for Sue and her husband, Hopper.
The camp is rough around the edges, as any camp oughtta be, but it's a cheerful place that inspires creativity, resourcefulness, song, confidence, and play—for kids 4 to 16 and even adults.
"When I was a kid, I never could have guessed I could make a living as an artist. Part of why we do this camp—where kids can learn airbrushing and pinstriping and do all kinds of things—is I want these kids to have a place where they can 'explore their talents,' we like to say. Everybody has a talent. And I feel like if you aren't using your talent, you're not living your purpose."
She knows that she's on the right track when she hears it from the kids. "I wanna come back to this camp," they say. And the people who meet Sue, both out on the road and in her shop in Iowa, learn about what she's up to and are inspired to help—by donating kitchen equipment, food, and craft supplies or volunteering their time and labor. "It just moves the heart of other people to volunteer to help," says Sue. Even the kids themselves have wanted to give back to the camp with proceeds from their car-wash and lemonade-stand businesses.
Sue talks faster as she describes to me every part of the camp that has fallen so perfectly into place, and I can tell she is lit up by it all. She is the epitome, I think, of not resisting what is in front of you to do—while not getting bogged down by the details. Because, hey, when you're flowing with the current, you tend to go places—with signs and wonders all along the way.
"This is my life. I paint to accomplish the things that God puts on my heart. And it just keeps growing. Every time I think I'm done, there's another picture. So just step out."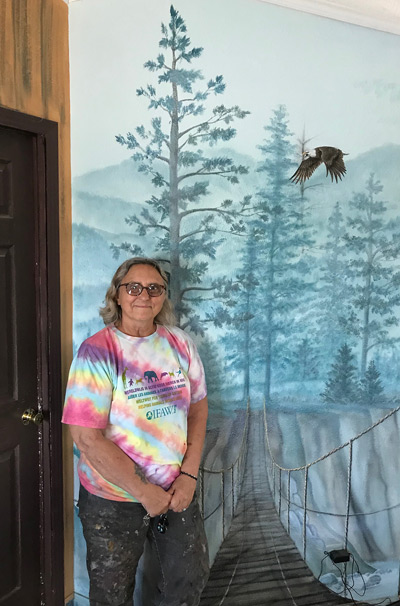 As Sue shared about her life—overflowing at the edges with creativity and service to others, and teeming with synchronicities—I was dumbstruck by how many things this woman IS. Artist, entrepreneur, teacher, world traveler, wife, mother, grandmother, (great-grandmother), renovator of houses, kids' camp creator, mentor, role model, woman of property, woman of faith, visionary, conduit of inspiration, creator of community. And here I thought I drove to Lockridge to interview a gal about her trade.
Sue also tells me that for years, she and the area kids have put on plays in the theater space she built in front of her paint shop. In fact, she has a stack of plays she's written—you know, in all of her spare time—that are waiting to be performed. Like the lightning rods, electric sparks, and eagles that stream across her motorcycle designs, this woman is seriously on fire.
She mentioned off the cuff that she's also the mayor of her town. I don't know why I was even surprised.