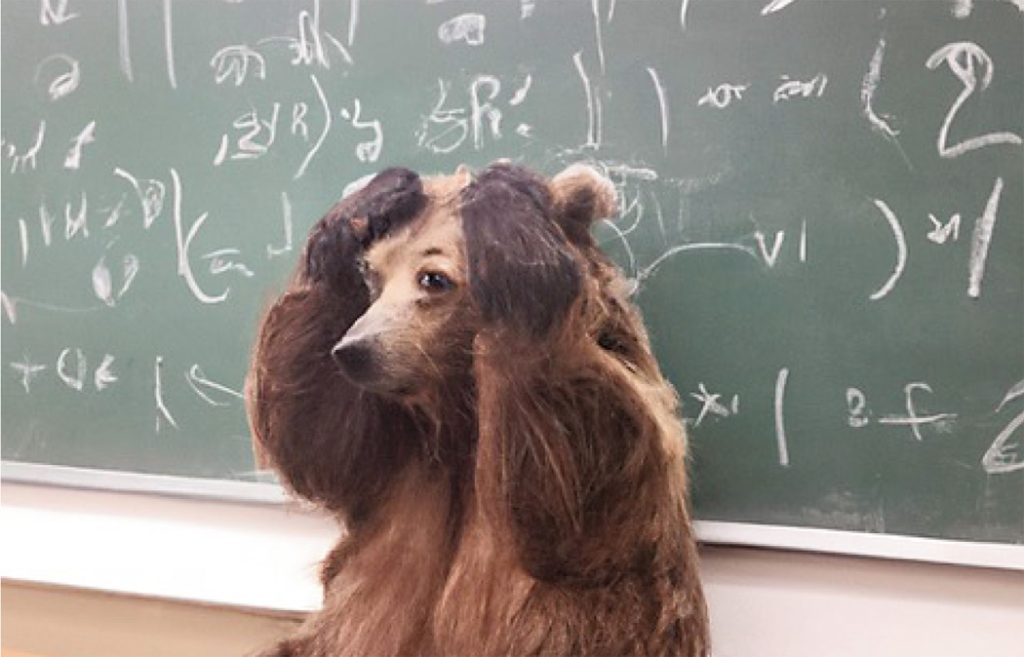 I thought I'd write about the amazing availability of artificial intelligence tools online that you can use, thinking to touch on image generators and text generators. Then I figured, what the heck! Why not use a text generator to write this month's column? From the many dozens available online, I chose "AI Article Writer 3.0" on the Writesonic website (Writesonic.com).
So I asked it to write about DALL-E, an AI system for creating art that's pretty amazing. You simply ask it to draw anything you can think of. My favorite example is DALL-E's perfectly cute drawing in response to a prompt asking it to draw a photo of a confused grizzly bear in a calculus class. The bear is sitting in a classroom with a perplexed look, and a chalkboard in the background is filled with math-like symbols.
Writesonic writes:
This article will help you understand what DALL-E is and how it works.
DALL-E stands for Digital Artist's Limited Liability Explorer. DALL-E is a computer program that lets users create simple drawings and paintings digitally. It's designed to be used by people who want to try their hand at digital art but who aren't professional artists. If you've ever looked at digital art and thought, "I could do that," DALL-E is your chance to try!
The program is very simple to use and is designed to help you create digital art whether you are a professional artist or just a beginner. You can use DALL-E to create drawings and paintings in many different styles and subjects.
The program comes with a large set of tools that let you choose colors, apply different styles and effects, create outlines, and more. DALL-E also comes with some built-in templates that let you choose a subject, such as landscapes or portraits, and then choose a style for that subject. The program will then create an image of that subject in the style you choose. DALL-E also has a series of "digital stencils" that let you create your own templates for future art. You can use these stencils to create your own drawings or paintings and save them for future use.
For many artists, the process of creating art is as important as the finished product itself. But with DALL-E, the focus is less on the process and more on the end result. This means that while techniques like sketching and planning might be useful in creating traditional art, they have less application to DALL-E. These differences in process can make the idea of creating DALL-E art a bit confusing, especially for those who are used to creating traditional art.
Once you've created your art, you need to save it so you can share it with others. DALL-E lets you save your images as JPEG files, PNG files, or BMP files.
Thanks, Writesonic. That was a bit pedestrian, but hey, it was free, thanks to their introductory offer.
DALL-E is only gradually being rolled out to the public, with over 1 million people on the waitlist as of late July. Once it's available to you, you'll be able to create a certain number of images with DALL-E for free each month. If you want to generate more, you can pay $15 to generate 115 additional images.
If you're unwilling to wait, you can try the free knockoff called Craiyon (Craiyon.com). I prompted it to draw an elephant on horseback, but didn't get much of a result.
Here's what Writesonic has to say:
Craiyon is an online community where users can create, store, and share art. Craiyon is completely free to use and lets you take advantage of many of the same features as DALL-E, such as creating art with geometric shapes, adding visual effects and enhancements, and saving art online. You can also save your art as stencils and use it again in the future. If you're looking to create DALL-E art and you don't have a computer, Craiyon lets you use a virtual computer called the Craiyon Computer. With the Craiyon Computer, you can use DALL-E and other DALL-E programs just like you would on your own computer. Craiyon also lets you use a wide range of different art programs and programs for creating other digital artwork.
Thank you, Writesonic. That will be enough for today.
Okay, suppose you don't need to create art or to write articles. What other AI tools might be of use to you? Everyone needs to make ethical judgments, and Delphi (Delphi.Allenai.org) is here to help.
I asked, "Is it ethical to use a text generator to create an article and present it as my own work?" Delphi's response in red letters: "It's wrong."
Actually, the whole purpose of Writesonic is to help writers create content—without attribution. Whoever would have thought that my Computer Frontiers column would itself eventually be written by computers?
Frankly, I'm amazed by the AI systems available online. And it's just the beginning.
Find column archives at JimKarpen.com.