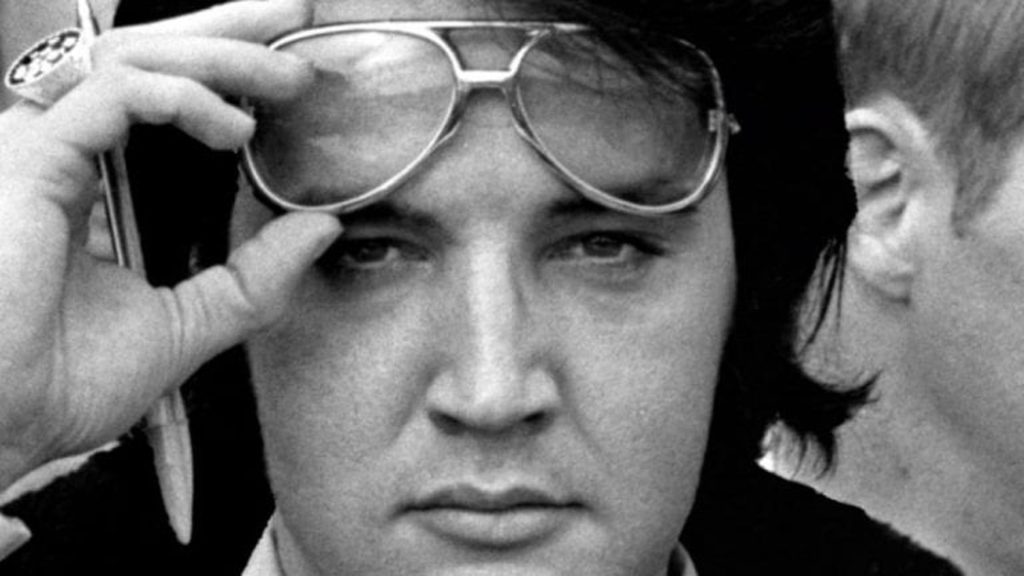 "We shouldn't make the mistake of writing off a great artist by all the clatter that came later. We should dwell in what he did that was so beautiful and everlasting, which was that great, great music."    —Tom Petty, remembering Elvis Presley
Even 45 years after his death, the legacy of Elvis Aaron Presley is etched in the American psyche. Elvis was the superstar entertainer with soul. The unrestrained performer who was born to rock. The icon. The legend. The King. And although he never wrote a song, he was the industry's greatest talent. His powerful voice, his styling that made every song as his own, and his gyrating performances and blue-eyed good looks drew millions of young fans (as well as the wrath of their parents and clergy). As Elvis rose to fame, the popular music genre got all shook up. In a good way.
Elvis died on August 16, 1977, at age 42. And 2022 seems to be All Elvis All the Time. His memory inspires reruns of his movies, as well as the new Elvis biopic in theaters, starring Austin Butler. But being an Elvis fan is not required for enjoying the exceptional documentary Elvis Presley: The Searcher, about the artist who changed the course of music and launched rock 'n' roll.
Airing on HBO (TV) and streaming on several platforms, Elvis Presley: The Searcher is a work of art, and even more timely now than in its 2018 release. Producer Jon Landau and director Thom Zimny create an up-close and personal profile of the King of Rock 'n' Roll, starring Elvis himself. The intimate, two-part series delivers three hours of entertainment, with a glimpse into the early days of the music industry as well as many details we never knew about Elvis and his rise to fame. It's also a flashback for those of us who remember his tunes: "Love Me Tender," "All Shook Up," "Blue Christmas," "Don't Be Cruel," "Heartbreak Hotel," and Elvis's first hit song, "Hound Dog."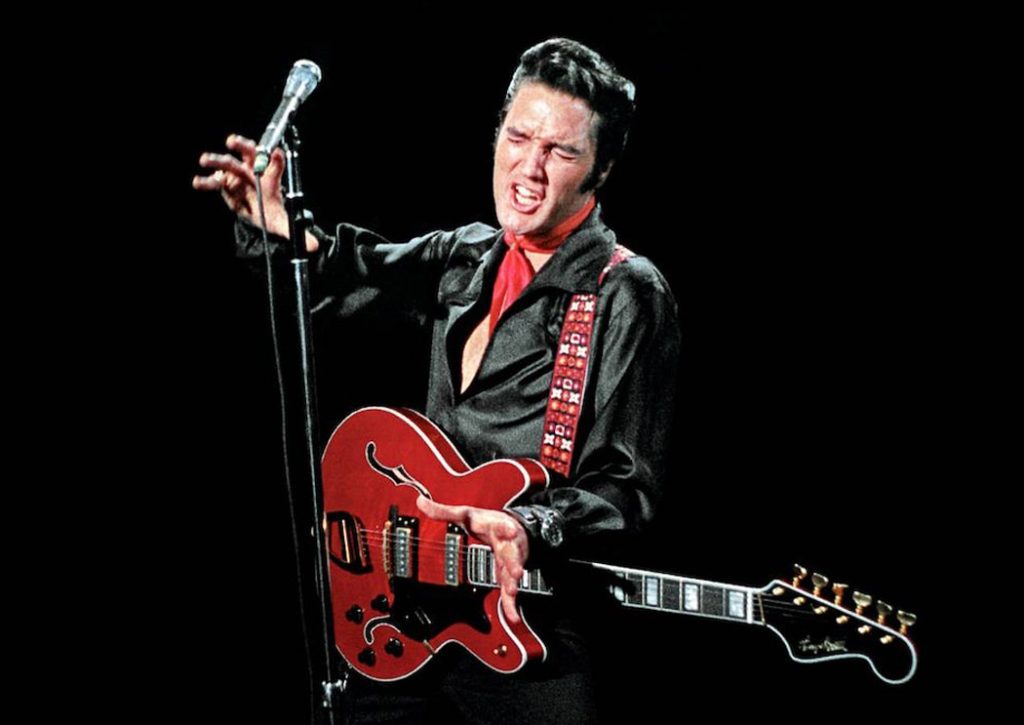 The Searcher (the term his former wife Priscilla uses to describe him) is a showcase of vintage black and white photos and footage dating back to the 1930s and '40s of Elvis's rural roots in Tupelo, Mississippi, and urban life in Memphis, Tennessee. Born to Gladys and Vernon Presley in 1935, Elvis was the sole survivor of a twin birth, growing up in the post-Depression years in utter poverty.
Elvis's youth fostered the two most important parts of his life. He adored his mother. And his passion was Southern music, including country, pop, bluegrass, and especially gospel and blues—particularly Black music with all its energy and feeling. In Tupelo he frequented Black churches whenever he heard singing. When Elvis was 13, his family moved to Memphis, with housing assistance from FDR's New Deal. He reveled in the hub of energy, culture, and music featuring great Black performers like Rufus Thomas, Howlin' Wolf, and B.B. King.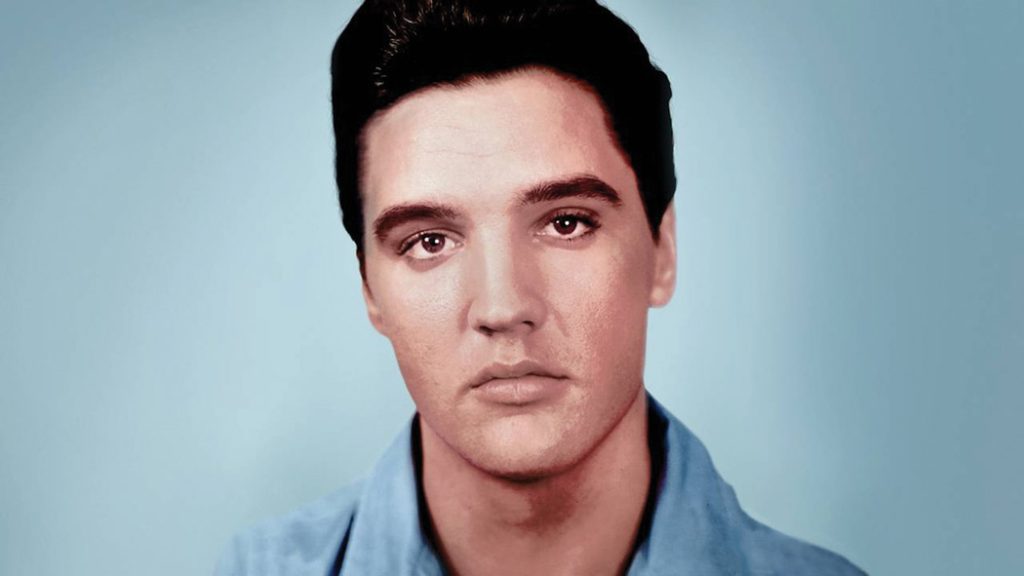 The Searcher doesn't mention Elvis's first guitar, except that he once performed at his high school, which made the quiet kid a little more popular. History.com reveals his parents bought him a guitar for his 11th birthday for $6.95 at the Tupelo Hardware Store, though apparently Elvis asked for a bike or a rifle, which they couldn't afford. As for learning and mastering the instrument, sources online offer conflicting conclusions: He wasn't a natural—or his skills were underrated. He was self-taught—or his instruction was a group effort. He mastered guitar enough to accompany himself, but his recording sessions used studio guitarists. He was a great rhythm guitarist and he also played bass, drums, and piano. (The film shows him briefly playing the piano in Graceland.) In conclusion, the jury is still out. But what we know for sure is that whatever his skills, Elvis ruled the stage and owned the audience. If he lacked expertise, we never noticed.
The film's narration includes a long roster of well-chosen voices, including contemporary artists like Bruce Springsteen and Tom Petty, and friends and industry insiders who worked with Elvis and knew him well. There is also narration by Priscilla, now age 77, who deserves recognition. With great foresight, she founded Elvis Presley Enterprises to preserve his legacy. And through her efforts, Graceland became a top tourist destination. I believe she did a great service to Elvis and his fans.
And frankly, the filmmakers also deserve recognition and gratitude for their narrative format. Each speaker remains an invisible voiceover, identified by their name on the screen. In contrast to some documentaries that alternate cuts between content and narrators, this film keeps the visuals rolling and wisely avoids disruptions to continuity. The Searcher sustains the perfect viewing experience.
In his late teens, Elvis summoned the courage to record a tune at Sam Phillips's Sun West records. In the humble, 1950s storefront, the recording session ended late at night when the tired studio group yielded to an impromptu session. Elvis started wailing "That's All Right Mama," an old classic that could make a dead man snap his fingers. The studio musicians let it rip. And Phillips found the answer to his talent search: a white man who sang Black music with soul. Phillips helped launch Elvis's recording career and continued to manage his music, until Colonel Parker stepped in.
We won't dwell on Parker, but as we will see, he was a blessing and a curse. And full of secrets, such as his illegal U.S. status, having fled the Netherlands using an invented American name. And I can't fathom why Elvis, of all people, got drafted in peace time, though I always wondered if that slippery Parker had reason to instigate it. This is my own, un-researched suspicion, but it's a fair question. Enough about the Colonel.
Studio engineer Bones Howe observed how Elvis sang from his gut, which Howe recognized as a feeling you're born with. The commitment to the music. He also remarked how Elvis was always moving, feeling the music in his bones and in his soul, not just on stage but in the studio. For Elvis, it was all one process. Moving stirred the music and music made him move.
Elvis also had the innate ability to style music with his own signature. In his book Writing for the King, Ken Sharp observed from interviewing over 140 songwriters who wrote for Elvis that he could "capture the essence of a song and make it his own." The great song stylist Frank Sinatra didn't appreciate Elvis's music, but once invited him on his TV show. Sinatra concurred that when Elvis "got through with a song, it was his and nobody else's."
In conclusion, a word from the reviewer. Though I enjoyed Elvis during his reign, I was never a serious fan. Yet watching this documentary gave me great appreciation for his talent and drive. It also made him a living, breathing person with a life and a past. And his downward spiral—not a spoiler, right?—made me so sad that I replayed some earlier segments to enjoy him again. All of which reveals that this documentary is a great success in showcasing the life of Elvis and making him real. Rock on with the King.