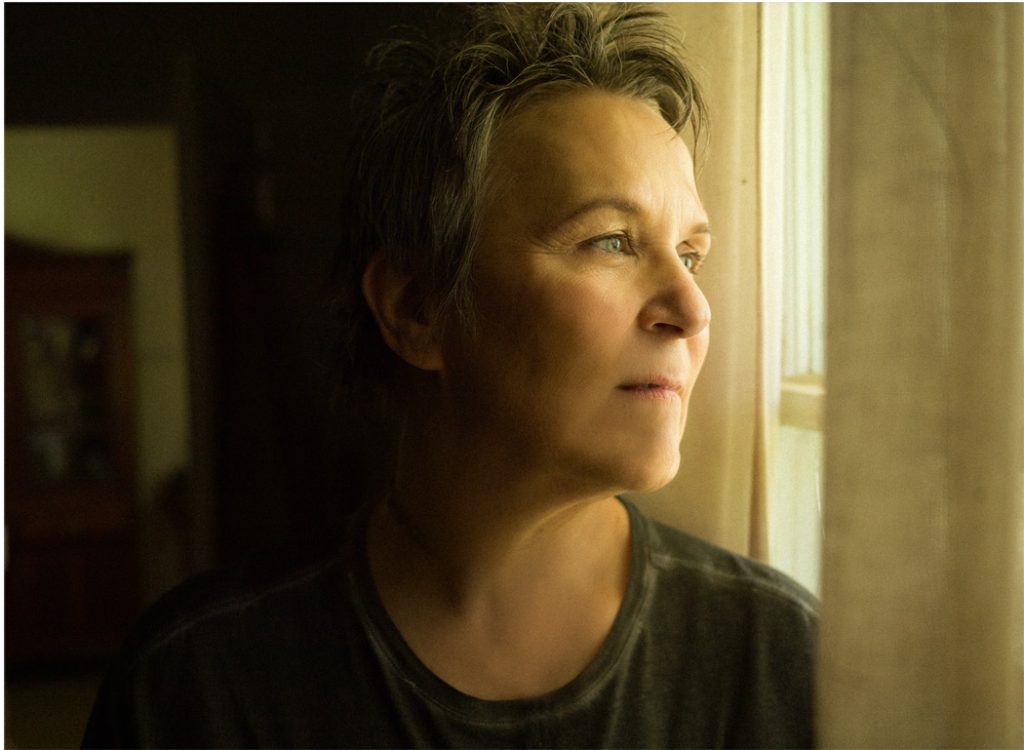 Award-winning singer-songwriter Mary Gauthier creates music with a purpose and a punch. Whether she composes tunes about happy relationships or tragic traumas, her songs simultaneously stab the heart and make one think. No wonder her music has been covered by such a diversity of talented performers, from country's Tim McGraw, Blake Shelton, and Jimmy Buffett to R&B's Bettye LaVette, pop's Boy George, and gospel's Candi Staton. Gauthier's got a way with words that allows her to use simple language to express meaningful, poetic thoughts.
Consider these random lyrics from songs off her most recent album, Dark Enough to See the Stars: "Late September, spiders spinning harvest moon sky of blue," "Every child is born to die, but the soul is born to fly," "I walk by your photograph, I hear your voice, I hear your laugh," "May a summer rain inside your dreams sing a lullaby," "My Jesus in pieces, broken as the highway lines." These emotive sentences capture the heavy, everyday, existential questions we all ask when dealing with time, life, love, death, and God. Gauthier transforms her personal concerns into art. She sings in a gruff voice that seems to have a private smile and accompanies herself on acoustic guitar to add a poignant intimacy to the proceedings.
Gauthier has released more than ten official studio albums since 1997, including a demo collection and a live disc. She recently put out a memoir/songwriting guide, Saved by a Song: The Art and Healing Power of Songwriting. She will read passages from the book when she performs at CSPS Hall in Cedar Rapids on Saturday, September 17. She has fond memories of being at CSPS in the past and was sad to hear of the closure the Mill, an Iowa City venue she had also played. Like most musicians, she is glad to be back on the road after the COVID-induced shutdown.
Gauthier has had COVID and all four shots. She's hopeful that she has enough immunity and crowds are respectful enough that she will be safe. "I made the executive decision to go out on the road," she explained. Her current tour, which begins in early September will continue until February. She'll be accompanied by her friend and lover Jaimee Harris.
"My album Dark Enough to See the Stars has just been released," Gauthier explained. "As a troubadour, it is my job to get the music to the people." While Gauthier said that she also would be playing material from her early days and reading from her book, she does plan to highlight material from her latest record. The album's title comes from a quote by the Rev. Martin Luther King Jr.
"For me, the quote as a metaphor encapsulates hope," she said. "Even though we have been living through a bad period of pandemic, political chaos, and darkness, Dr. King reminds us that it is only possible to focus clearly on our situation when times are bad. Suffering brings clarity, and from that we can move in a positive direction." She meant this as a member of society, but she has also suffered the loss of four dear songwriting friends during the past year: David Olney, John Prine, Nanci Griffith, and Bob Neuwirth.
Olney died onstage at a festival where Gauthier was also playing. "He was a good friend and a great songwriter. His death hit me especially hard," she said. The most touching song on the new album is "How Could You Be Gone," which addresses the pain of loss. She knows that many people in her audience have had the same experience during the past year or so.
Most of the songs on the new album proclaim life's joys. The world may be falling apart, and people may die, but there is still love, friendship, and joy to be found—the touch of skin on skin, the beauty of nature, and the wonder of what it all means. Gauthier's songs are often uplifting and present the good that can be found in just observing what exists.
Gauthier is very proud of Saved by a Song: The Art and Healing Power of Songwriting, which came out in 2021. "I hold prose writers in high esteem and feel a sense of gratification and accomplishment; internal rewards for being an author," she said. "I find prose writing much harder than songwriting. It is much more time consuming. It took me six years to write this book." The book's theme focuses on how writing a song can transform the writer and its audience through empathy. For the songwriter, that person no longer feels alone. For the listener, that person can find connection to another human being. "Storytelling is a noble and important way of making art," she said. That is the rationale behind her music and her prose writing.
"Love is real! Hope is real!" Gauthier exclaimed over the phone. Her writing explores the range of human emotions. She leads with her heart, but her mind is never far behind. "Without making art, there are things I would never understand," she said.
Gauthier's concerts are places where audiences can share a connection with the performer and each other. She brings everyone together through her music and the recognition of our shared humanity.