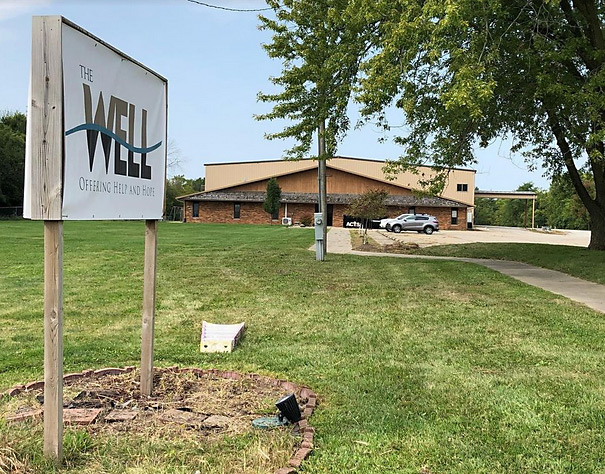 The Well, a nonprofit organization based in Pella, opened a community center in Fairfield last year to offer help and hope to those in need. As a nondenominational Christian-based organization inspired by true Christian values, The Well provides services to everyone, regardless of their religious beliefs. Located at 1700 S. Main, The Well also runs a popular Thrift Store, housed in a 24,000-square-foot former church. In addition to offering a space for community connections, The Well has partnered with local volunteers, social service agencies, and churches to provide safe spaces for people in need and to connect them to necessary resources.
A Warm Welcome
The welcoming reception room and lounge—referred to as the "hospitality area"—is furnished with comfortable sofas and upholstered chairs. A prominent community bulletin board allows visitors to check out weekly activities and available resources in Fairfield and Jefferson County. There are board games, a coffee bar, water, snacks, and friendly staff who will listen, if someone needs to talk, or hold space, if someone needs a quiet sanctuary.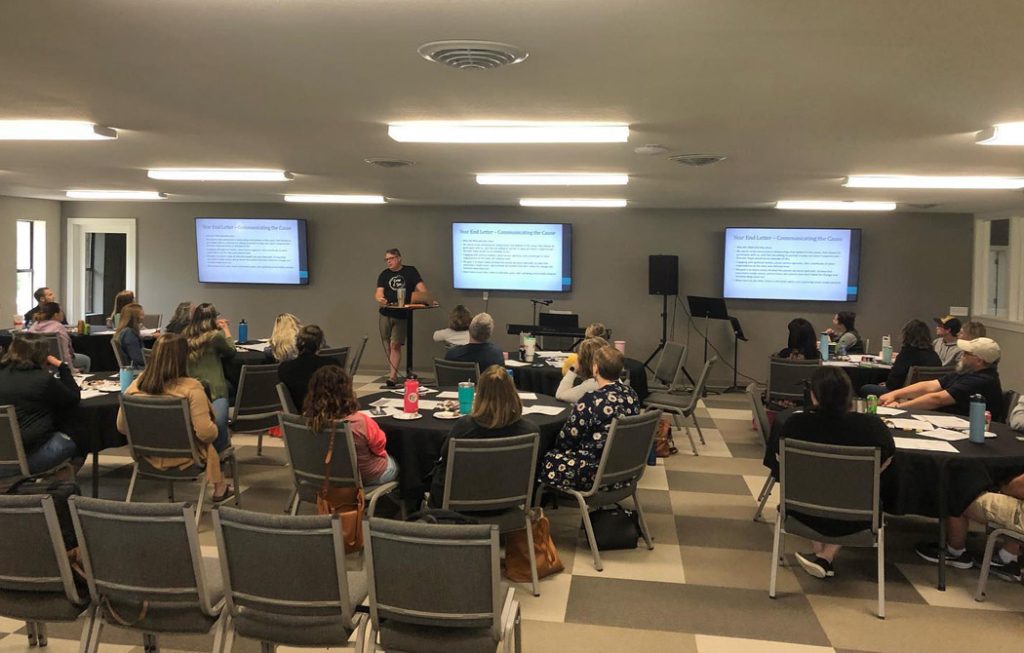 "We want it to be a welcoming experience for people," explains Kerry Dierking, the Resource Center Director. Some of those who come in are looking for assistance for housing or utilities, but many are "just looking for an ear to hear," he says.
As a community center, The Well provides a place to sit and talk, socialize, or play Scrabble. "A lot of people are lonely in this world," Dierking says. "We want to help bridge that for them. That's the purpose of our hospitality area. We like to greet everybody with a smile and make them feel welcome."
A Bundle of Resources
In addition to being a cozy place to hang out, The Well offers a number of important community outreach services, many geared toward the growing unhoused or homeless population, as well as those dealing with resource scarcity and domestic violence. Featuring counseling services, life skills coaching, household budget coaching, a work training program, a grief café, restrooms equipped with showers, washer and dryer access, and conference rooms, The Well Resource Center promises to be an important addition to the community.
Genuine Community Support
The Fairfield location is The Well's third site, the other two being the flagship site in Pella and a second site in Knoxville. These popular resource centers have had very positive impacts on those communities. When Fairfield resident Zane Safrit first toured The Well, he was "wowed by the experience." Now a passionate volunteer, Safrit was very impressed with The Well's nonjudgmental atmosphere, their high level of organization, and their shared commitment to helping people.
"Everybody is on the same page," he says, adding that while The Well is a Christian-based organization, they don't proselytize. "They're open and transparent about their faith, but they don't push it on people."
Safrit is highly enthusiastic about all of The Well's programs, adding that staff will help people fill out paperwork for things such as housing and food assistance or getting a Social Security card—which can be overwhelming for someone dealing with lack of housing, food shortage, or other serious life challenges. "They will help you fill out forms for different programs," he says, "because when you're homeless, not eating, and haven't slept, filling out a form is really beyond your skills. As sad as it sounds, you either don't have the cognitive skills to do it or you don't have the faith that it will make any difference."
Programs for Skills & Help
Renewing people's faith in community and in their own abilities is an important aspect of The Well's goals. This is especially true of Well Works, which assists people in getting back into the workforce by providing training and opportunities.
Other programs include Discover Hope 517, a recovery and restoration program for those struggling with addiction; Grief Support, which assists people through the various stages of grief; and Grounding Class, which provides tools for dealing with stress and developing healthy relationships.
Anyone who wishes to take advantage of The Well's programs can set up an appointment with staff members to go over their situation and figure out the best options. Dierking says that staff at an appointment will create a safe space with "mixed company"—there is always at least one woman present—and in cases of domestic violence, both staff members can be women, if that's preferred by the client.
"From January until now, we've had just under 1,000 appointments," he says, adding that about 60 percent are repeat guests, indicating people are finding the programs helpful and returning for more.
Well Works
Held in a 5,000-square-foot room that mimics a typical workspace, Well Works is set up so participants get the feel of what it's like to work together and how to deal with conflict. "We want to try and make it as much like an actual working facility as possible," says Well Works Manager Cameron Cooksey.
The Well currently partners with two local manufacturing businesses to provide work. Participants receive a wage and learn to adjust to having a regular work schedule. Cooksey says "the program is really to help those who have had barriers that kept them from getting or holding a job. We bring the work here."
Creating an atmosphere of nonjudgmental support is very important to everyone at The Well. "We've all had barriers in our life," Cooksey says. "Nobody's better than anybody else. We want them to feel like we're walking right alongside them. We've all been there." Cooksey says that when former team members come up and thank him, he knows he's done a good job. "That's the reward right there."
Friendly, supportive supervisors are always on hand, in case someone needs encouragement to stay on task or is having a bad day and needs to talk things out. "We want to teach them to have a healthy work-life balance," Cooksey says. They currently have two employees in the program and are looking for more. "They are paid employees, so they do get a paycheck. But it's a program. It's not something that we want them to stay in forever. The end goal is to get them a job that pays well and provides benefits, so they can provide for their families and themselves." Toward that end, The Well helps graduates create resumes and make connections to long-term job opportunities.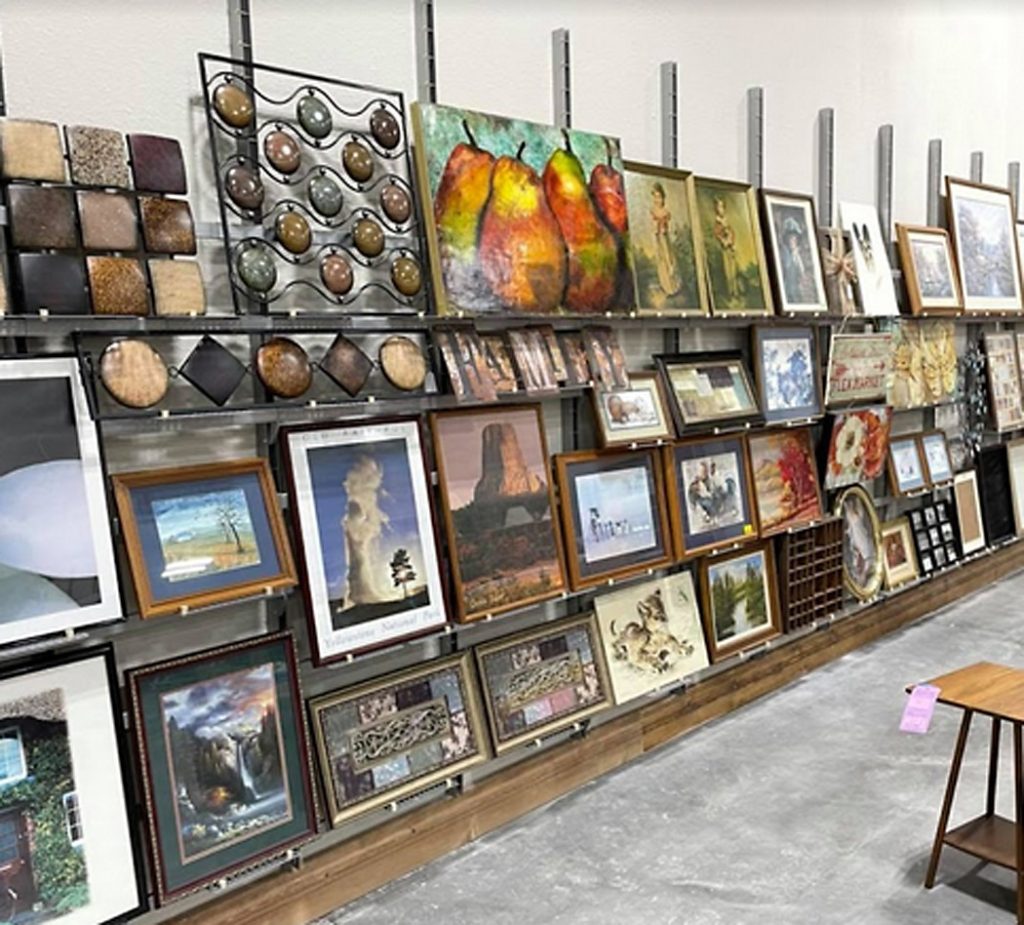 The Well Thrift Store
The massive, extremely popular Well Thrift Store generates revenue that helps cover operating expenses. "Everything that's donated to our thrift store comes from the Fairfield area," Dierking says, "and everything that's sold in our thrift store goes to support this site." He adds that they have an 85 percent sell rate, and they recycle the clothing and shoes they can't sell. They use a baling machine to package unsold clothing and shoes into large square bales, which they sell by the truckload to a third party for recycling.
The Well Fairfield is located at 1700 S. Main St. in Fairfield. You can make an appointment by calling (641) 819-4044. To learn more, make a donation, or volunteer, visit TheWellIowa.org/fairfield.
For a list of Food Resources in Fairfield, visit Jefferson Count Resource Guide: Meals and Much More.