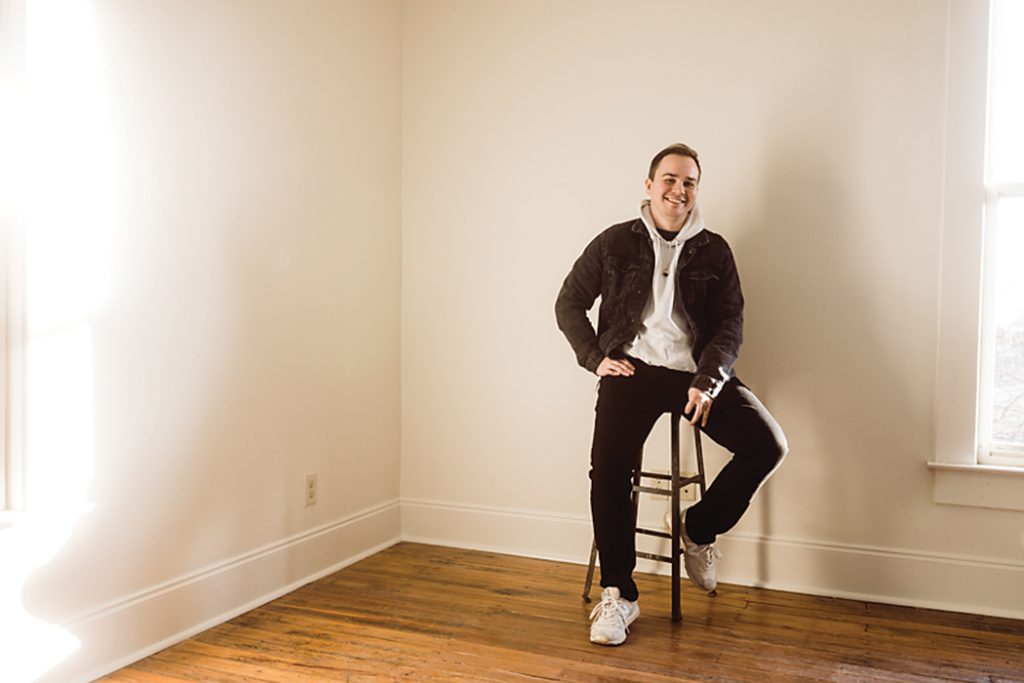 The 27-year-old singer-songwriter Tommy Prine understands patience. Although he's been writing songs ever since he was a kid, and his father ran a successful record label, Tommy was in no hurry to begin his career. On his new album, This Far South, there's a line that goes, "Tomorrow seems much too long / and yesterday's waiting on the phone." The enigmatic lyric expressively sums up what it feels like to kill time. What is next and what is over are all part of the same distressful experience.
Tommy's father was John Prine, the wildly beloved musician who created such classic songs as "Angel From Montgomery," "Paradise," "Hello in There" and "Sabu Visits the Twin Cities Alone." John won multiple Grammys, including the Lifetime Achievement Award. He's been praised by icons like Johnny Cash, Kris Kristofferson, and Bob Dylan, and he was as an influence on a host of younger artists such as Jason Isbell, Kacey Musgraves, Brandi Carlile, and Margo Price.
Tommy was nervous about following in his father's footsteps. His dad cast a big shadow. However, shortly after John died from Covid complications in April 2020, Tommy began to step out. His good friend Americana artist Ruston Kelly encouraged the musician and ended up co-producing Tommy's debut LP with Nashvillian Gena Johnson.
"The five days I spent in the studio making the record were the most fun I ever had," Tommy said over the telephone from his Tennessee home. "It was a deeply emotional experience." Even though several songs concern heavy topics such as death, love, and religion, the music is exuberant. One can tell he and the band were having a good time.
Tommy wrote all but two tracks on This Far South after his father died. He had always penned songs as a hobby, but he rarely shared them with others. It was just a way of entertaining himself, or perhaps a way of impressing girls, he admitted. They were not intended to be heard outside of a small network of friends. Now he composes tunes more frequently, both on the road and at home. In fact, Tommy put out two new singles between recording his first album and its release as a way of getting his songs heard. He may be patient, but now that he has come out of hiding, he is also persistent.
The new album begins with the raucous "Elohim," which boisterously declares there is no god, or at least no proof of one. The song is more punk than folk, with blistering guitar lines and pounding drumbeats to accompany the existential sentiments. "It's not that I don't believe in god as much as I don't subscribe to one religion," Tommy said. "I find them all valid in their own way. They are often beautiful and share a rich cultural history." Indeed, the word "elohim" is the Hebrew word for god that can mean either the one true god or the whole collective of supernatural beings other religions may worship.
While This Far South contains its share of rockin' songs, the album has softer material as well, including the title track. Tommy sings and writes in a variety of modes. The mostly acoustic song "This Far South" poetically likens a lost love to a dogwood tree in bloom. The ode to his wife, Savannah, "I Love You, Always," compares her to a magnolia in bloom. His lyricism befits the intimacy of his presentations. The instrumental accompaniment reinforces the tender feelings expressed.
Tommy will perform at the Raccoon Motel in Davenport on July 16 and xBk Live in Des Moines on August 12. He will be a solo act, although his aim is to get on the road with a band in the future. He says he is on tour "from June 30 until Thanksgiving." After all those years at home, he looks forward to getting on stage and playing before an audience. He says the two Iowa shows will be different and recommends that his fans attend both.
After not playing live for so many years, Tommy was originally scared to perform live, especially solo. "I used to have stage fright," he explained, "but now I look forward to playing. I no longer feel fear. Instead, I relish the anticipation. I can't wait to get out there on the day of the show. Time just seems to move slower on those days." He finds the excitement palpable, and he hopes his listeners feel it, too. He said that there is no better feeling than connecting with an audience. This makes all the traveling worthwhile.
Tommy knows that many people who come out and see him were big fans of his father. They may decide to see him out of curiosity, but he and his father are different. "People say I look just like you," he sings on the song "By the Way" while mourning his father. Tommy understands the love fans have and their desire to make comparisons. To them, John was a bigger-than-life artist whose skills and talents made him a legend. To Tommy, John was simply Dad. When the son croons, "I miss you and love you," he's not singing to an idol or celebrity. He means it personally.
At age 27, many artists have already established their careers. That's as old as some performers get. It's the age Jimi Hendrix, Jim Morrison, Amy Winehouse, Brian Jones, and Janis Joplin hit before dying of the so-called "musician's curse." Tommy is not superstitious. He's not worried about what happens this year. He looks forward to taking his music on the road and making new connections.