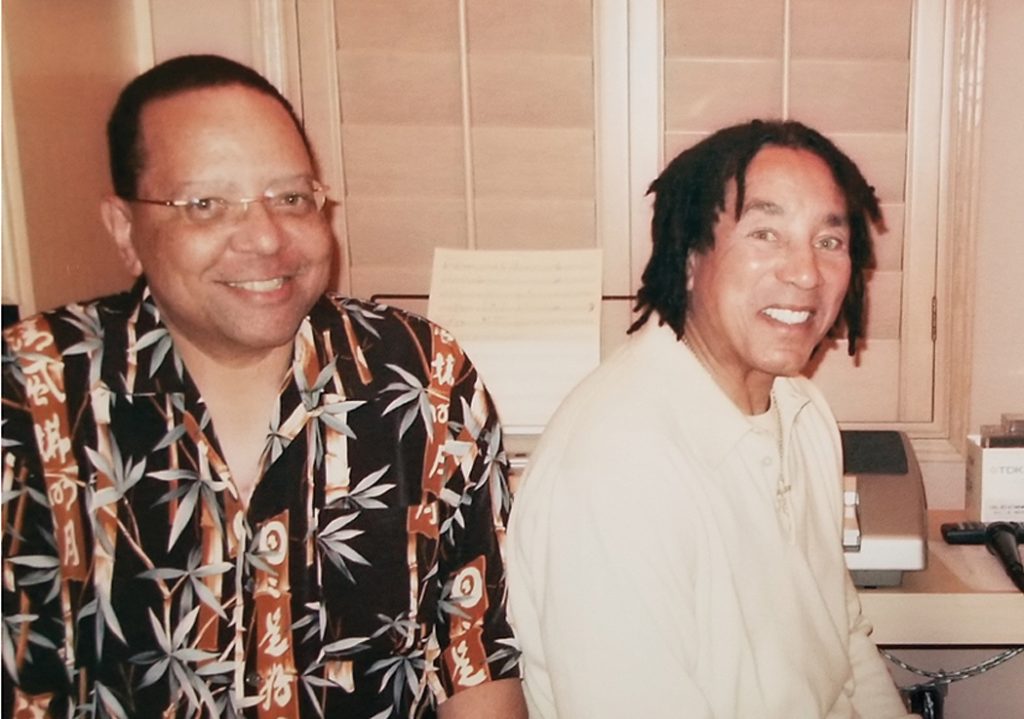 Recently, I was sitting with a friend who has a very good audio system and loves it, so he gets what I do. However, he has a pessimistic view of my business model as an AV expert with a store. He's sure that the newest generation of buyers feels that they can get all the help they need from a video blog on the internet. He's certain that they don't want to pay for expertise beyond free web advice. He also makes his living as an artist and has an MBA, so he is aware of how the internet has changed the way his art is marketed. His work is now online, so he makes far less per sale or use. He doesn't expect that store buying will ever be back.
He's not the only one in the arts whose business model has changed dramatically since the internet got popular.
When I lived in California, I had the honor of building an elaborate AV system at the mansion of Motown legend Smokey Robinson. We sometimes talked about the music business. He was sad that the industry had changed. Everyone was copying his music recordings, and his music was now being streamed, so he hardly made anything per copy. He had to step up his touring to make up the difference.
I suggested that the industry release recordings in a resolution that was so high they'd be too costly to be copied profitably. If these recordings were reasonably priced, sounded better, and were hard to copy, everyone would go back to buying. For Smokey, this has now come true. On his website, you can sample and buy his music in very high quality, and he makes more per download this way. Amazingly, he is also still doing a good deal of touring.
I just can't imagine what the audio and video industry would turn into if we weren't there to answer questions, give educated advice, and show the fun of getting into great audio and video.
One of my clients has owned very good audio and video equipment for decades, and a year ago he upgraded his three front speakers and switched to one of the latest Sony ES surround receivers. The front left and right units were Paradigm Premier bookshelf speakers that are exceptionally good, and we both agreed that his system could compete well with speakers costing thousands more. After some time, he admitted that he wasn't quite happy. He always listens so softly that the system didn't give him the impact he wanted at these low volumes.
After some serious evaluation, we upgraded him to a much larger pair of the more sophisticated 100F towers from Paradigm's new Founders line.
What? Go bigger to play softer?
It sounds counterintuitive, but if you don't like listening at loud volumes, get a big speaker—one that isn't sluggish.
The larger speakers are a triple win: three 7-inch woofers for fuller lows and more bass impact, more refined midranges and tweeters for more detail, and a waveguide (horn) around the tweeter to reveal the kick of the high notes as well. These are all vital traits for low-volume listening.
Here is a sampling of the reactions that he texted me once he started playing these speakers:
"Musicality in the bass is beautiful now at moderate levels. There are so many special details to be heard in the jw [Jennifer Warnes] CD."
"Track 6 has SO MUCH SUBTLE DETAIL FLOURISHES AND RHYTHMIC FILAGREES GOING ON IN THE BACKGROUND."
"My review at this point: Laying back with eyes closed, listening to Abbey Road, the vibrations started turning the Cheetos in my stomach to Soma."
"The vocals are already fabulous; the mid-bass is musical. I want more clarity in the lowest range. I have not done the first hour [of seven] of the loudest break-in periods yet."
I told him to plan for some neighbor-free times when he could crank the speakers so they would have a chance to loosen up and break in. No matter how long one plays soft music, the speakers will never break in correctly.
"Wow! I had no idea that the latest remaster of the Beatles' White Album was so . . . amazing. REALLY REALLY AMAZING on these speakers."
"So much colorful detail in the tweeter-ish direction on 'As My Guitar Gently Weeps.'"
"Voices are so great."
"3 separate break-in hours so far. What is the goal? 5 hours? 7 hours of break-in volume levels?"
I replied, "Now, when you play music that you know and love, is there any artifact, like too bright or too tight or too thin? Then do more sessions. If they sound wonderful, then don't worry about it, or keep it up to see if they get even better!"
"They sound great. I think the break-in time has helped both tweeter and the woofers."
"Right now I am listening to the speakers for time after the third break-in hour. I hear a lot more sibilance in Jennifer Warnes' voice on the first track. Is that a good sign or have I played them too loud?"
He essentially answers his own question:
"Here, one cut has a badly placed mic, and the next cut sounds fine. Great speakers reveal without hurting you!"
"Track 10: Seems like I am hearing more of what is going on in her voice. The details in her words are revealed more."
"'I love this!' . . . I just blurted out loud!"
Paul Squillo has been an AV consultant for 50 years. He owns Golden Ears Inc. in Fairfield.