TV Shows: May 2-8, 2012
Martin Freeman as Watson and Benedict Cumberbatch as Sherlock take to the moors on Sherlock, premiering on PBS this Sunday May 6, 2012. (Photo: © BBC/Hartswood Films for Masterpiece)
Last year, Masterpiece Mystery's "Sherlock" did Sherlock Holmes a favor by plunking him down in our own time. The contemporary setting revived the detective franchise, rescuing it from period-piece quaintness. The new Sherlock (Benedict Cumberbatch) is, in modern parlance, a hunk. ("Brainy is the new sexy," as a female admirer puts it.) He's become an Internet phenomenon thanks to a blog by sidekick Dr. Watson (Martin Freeman). And he's a recognizable 21st century type: a jerk. This Holmes is contemptuous of his fellow mortals, with a brain that works at twice the normal speed. "BORING!" he bellows, contemplating cases at the start of season two (Sundays, 8 p.m., PBS).
The case that finally sparks his interest involves a sexy dominatrix who possesses incriminating pictures of a British royal. She proves to be a formidable opponent, worming her way into Holmes' heart. Who knew he even had one of those?
Benedict Cumberbatch as Sherlock and Martin Freeman as Watson on Sherlock. (Photo: © BBC/Hartswood Films for Masterpiece)
The filmmakers, God bless them, have no reverence for Arthur Conan Doyle's source material. They merely set out to have fun. The script is witty, the pace quick, the production endlessly inventive. Expect slow-motion fights, dream sequences, onscreen text – anything to keep you watching.
Not even Holmes could find this series boring.
Rock and Roll Hall of Fame Induction Ceremony
Saturday, 8 pm (HBO)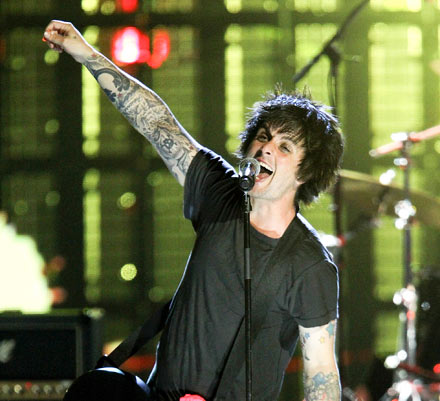 Billie Joe Armstrong of Green Dayperforms at the Rock and Roll Hall of Fame Induction Ceremony.
In the early days, it was exciting when the Rock and Roll Hall of Fame inducted one musical god after another. Take the 1989 induction ceremony, which gave Valhalla a run for its money by enshrining Stevie Wonder, Bessie Smith, Otis Redding and the Rolling Stones. A couple decades later, however, the rock and roll genre appears to be running out of immortals. The best of this year's batch are the Beastie Boys and the Red Hot Chili Peppers—great bands, certainly, but probably not Hall of Fame great. From there it gets worse. This year's list also includes Donovan, Laura Nyro and the Faces, whose names scarcely ring a bell anymore.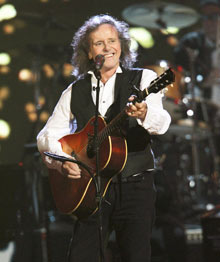 Sixties folkie Donovan plays at the Rock and Roll Hall of Fame ceremony.
Has pop music stopped producing geniuses? If the Rock and Roll Hall of Fame is reduced to inducting Justin Bieber in 2035, it'll be time to quietly shut the place down.
Flipped Off
Saturday, 9 pm (A&E)
Russell Hantz is the self-proclaimed mastermind who nevertheless got voted off Survivor three times. He continues to proclaim himself a mastermind on his new house-flipping reality series, and it's questionable here as well. It's no fun to watch this unpleasant man brag about his real estate skills, then screw up, then blame it all on his partner.
Plus, I thought the tribe had spoken. Get this guy off our TV screens.
United Stats of America
Tuesday, 9 pm (History)
Standup comedian brothers Randy and Jason Sklar try to hook the viewing public with a lively show about statistics. They look for interesting trends, then travel around the country to uncover the stories behind the numbers.
The premiere investigates America's changing shape. The Sklars reveal that we used to be the tallest country in the world but are now the fattest, with the average waistline expanding from 26 to 34.
Guys, I don't think the way to hook the viewing public is to tell us that we're looking a little flabby.
Don't Be Tardy for the Wedding
Thursday, 8 pm (Bravo)
This spinoff from The Real Housewives of Atlanta chronicles the run-up to Kim Zolciak's dream wedding. While it's a "dream" for her, it's a potential nightmare for groom Kory Biermann, who hoped for a relatively small, inexpensive affair. Kim doesn't know the meaning of "small" (a glance at her fake boobs will tell you that), and she quite literally doesn't know the meaning of "inexpensive." "$50,000—is that a lot?" she asks, genuinely puzzled when someone refers to a wedding ring's astronomical price.
I must admit that Kim is an entertaining reality-TV subject. Shamelessness plays well in this genre, and she's the foul-mouthed queen. She brags about her skills in the bedroom. She uses baby talk to get her way when Kory expresses doubts about the wedding. And she's honest about her reasons for buying the biggest diamond known to man: "Bitches need to see this from Texas."
Watching Don't Be Tardy for the Wedding is a great way to experience Kim's big personality. Not recommended: marrying her yourself.